"Win a $1000 Amazon Gift Card" scam is a message, stating that user has won a $100 gift card to shop at Amazon. The hoax is being transmitted in random pop-up advertisements, and can also be noticed on the Facebook social networking platform. From the first glance, we can guarantee that this message is just as fake as the notorious Kohl's $75 Anniversary Coupon.
Recently, the "Win a $1000 Amazon Gift Card" scam was attacking users of mobile devices. Hackers managed to include their deceptive pop-up to a legitimate Google Network. The message was displayed on the RollCall.com (No,). Owners of this domain received some questions about the pop-up and quickly generated a blog response, explaining that the Amazon-related message is a scam. However, this fake pop-up is shown to owners of computer devices as well (probably more frequently than in mobile phones).
The "Win a $1000 Amazon Gift Card" message has no affiliation with Amazon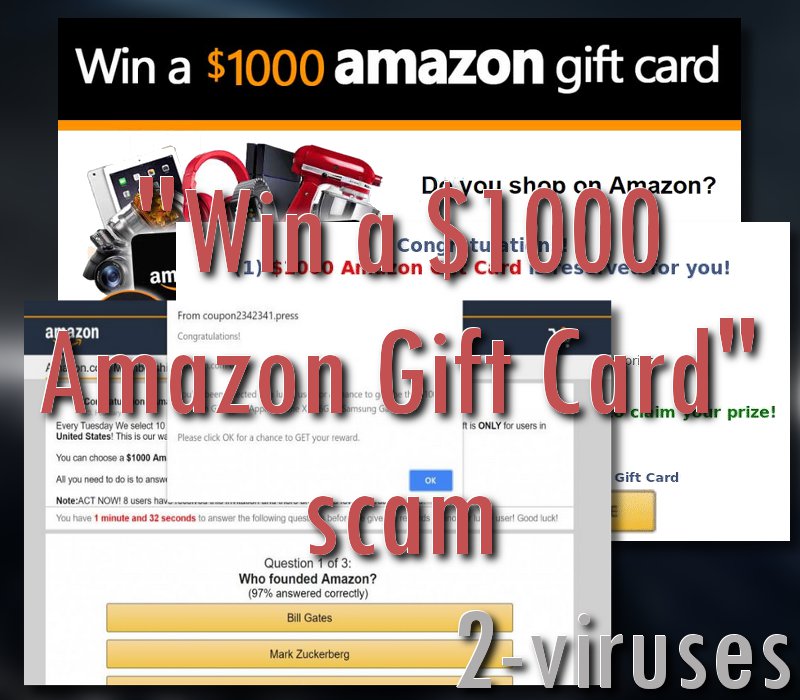 Some Facebook users have also found "Win a $1000 Amazon Gift Card" scam on this popular social platform. The rogue posts on Facebook state that people have an incredible opportunity to win a $100 gift card for Amazon. How can user participate in this lottery? It is said that people should like the post, share the page (from which the message originated), share the post, and leave a comment "done". It is also required that participants would click on the "validate your participation" button. However, even if you do follow these instructions, there is no way you will receive the promised gift card. Why? These Facebook posts are fraudulent and have no association with the legitimate Amazon Company.
This is not the first when Amazon-related scams have resurfaced. We have written an article about "Amazon Rewards Center" hoax which is similar to the scam we are discussing today. As we have mentioned, the "Win a $1000 Amazon Gift Card" message can also be displayed in a pop-up. The message will present you with information, similar to all gift card scams. There are so many deceptive advertisements. Therefore, it is important to know at least a few warning signs (Gift). For instance, gift card scams very frequently urge users to participate in a survey.
After these surveys are completed, cyber criminals can even require users' personally-identifiable information. Since "Win a $1000 Amazon Gift Card" scam has no affiliation with Amazon, you should not reveal details about yourself. By doing so, you will allow hackers to commit identity theft or steal money from your banking account (if you decide to expose your credentials).
On the official page of Amazon, there is a section, explaining Amazon-related scams Amazon-related. The owners of this popular online shopping centre urge you to never reveal your personal information to people, claiming to help you with your Amazon orders. This applies to the cyber criminals that impersonate Amazon in the "Win a $1000 Amazon Gift Card" scam.
Why is the "Win a $1000 Amazon Gift Card" scam shown on my screen?
There might be a couple of reasons for it. First of all, you might be visiting some rogue websites that feature this ad. If you encounter this pop-up, make sure to close your browser and avoid visiting the suspicious domain. However, we suspect that some people, exposed to "Win a $1000 Amazon Gift Card" fake alert, might be infected with malware. Adware parasites can easily generate this type of deceptive content. In addition to this, we have mentioned that the message can also be found on the Facebook social platform. If you find posts, promising free gift cards, please understand that it is very likely to be fraudulent.
Now, you might be interested in the ways that this rogue pop-up can be prevented from ever appearing on your screen. If our predictions are correct and your computer is indeed infected with malicious parasite, there are two options. Do you remember installing a freeware tool? It might be the cause of your problems with the "Win a $1000 Amazon Gift Card" scam. The first option is to open your Control Panel and remove the suspicious tool from your computer device. If this does not work and you are still seeing the rogue ad, you have to use an anti-malware tool. Run a scan with Spyhunter and the program will find the reason for all of the objectionable advertisements.
Automatic Malware removal tools