"2018 Annual Visitor Survey" or "Mozilla Firefox Opinion poll" scam is a fake survey, promising to reward users with gift cards, coupons and other amazing deals. Many online surfers are asking whether this message is legit and whether they have a real chance of winning laptops, iPhones and other pricy goods. However, we have to disappoint them by revealing that this "2018 Annual Visitor Survey" message is nothing but a scam, just like Mantrasurvey.com rogue survey.
"2018 Annual Visitor Survey" fake message will not give you rewards: it will steal information about you
In the official website of the United States government, fake lotteries, sweepstakes and surveys have been mentioned as potential threat (Common scams and frauds). Prize scammers attempt to steal users' money or personally-identifiable information which might also be useful. While some surveys are conducted as part of legitimate public opinion research, "2018 Annual Visitor Survey" fake survey is designed to pursue deceptive practices. This phony survey might be designed in a way that a person would willingly provide his/her personal information. Exposed details are frequently used in cases of identity theft (Survey scams).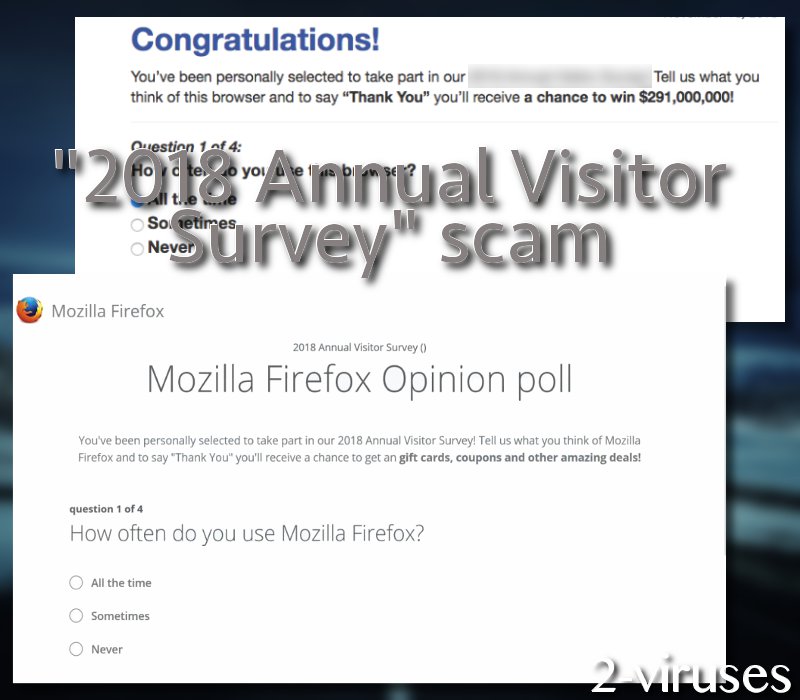 If you have become a victim of "2018 Annual Visitor Survey" scam, you should file a report about this survey scam and send it to appropriate authorities like Federal Trade Commission. Once this rogue visitor survey appears on your screen, do not answer any of its questions (Watch out for scam surveys and fake gift card offers). Nobody is going to pay you money or give you prizes for answering 4 simple questions. Please understand that such scams have become standard and you have to realize that they are not to be trusted. If you fall for them, you might lose money or accidentally download malicious files.
The "2018 Annual Visitor Survey" scam will use brand names and official logos of Mozilla Firefox to look more legitimate. However, this should not convince you that the message is real. Scams like "Chrome Security Warning" and Chrome-survey.info might use the legitimate logos of Google, but this does not mean that they should be trusted.
In addition to this, by clicking on the "2018 Annual Visitor Survey" pop-up, you might be allowing the website to plant tracking cookies into your device. Furthermore, you might unknowingly trigger a drive-by download, meaning that some sort of malicious software is going to be installed into your operating system. Therefore, we hope that you won't believe survey scammers. There is no way that they will give you prizes. Over the years, we have noticed numerous similar hoaxes on the Internet: one of them is the "Your profile has been selected by Facebook" pop-up. Many people fell for it as it used legitimate logos of Facebook.
Why is this "2018 Annual Visitor Survey" scam bothering you?
"2018 Annual Visitor Survey" scam might be randomly displayed on your screen because you have become a victim of an adware parasite. Did you recently download an unknown freeware application? It might be the reason behind the bizarre promotional content you have been noticing. However, this fake survey might also be featured in many suspicious websites, like online-streaming, gambling or pornographic websites.
If you have no idea how this issue should be solved, we have a few options. First of all, if you believe to know which program is generating "2018 Annual Visitor Survey" scam, we are providing with you with instructions for its removal. Look below and remove that tool from Control Panel. If this does not fix the issue, we an alternative.
There are so many viruses that you have to be aware of. To help people keep their computer devices malware-free, we frequently recommend them to get programs, specifically designed to remove malicious software. In our opinion, getting Spyhunter will never go wrong. It will be the opposite: you will be protected from unauthorized access and other types of malicious threats.
How to remove "2018 Annual Visitor Survey" scam using Windows Control Panel
Many hijackers and adware like
"2018 Annual Visitor Survey" scam
install some of their components as regular Windows programs as well as additional software. This part of malware can be uninstalled from the Control Panel. To access it, do the following.
Start→Control Panel (older Windows) or press Windows Key→Search and enter Control Panel and then press Enter (Windows 8, Windows 10).
Choose Uninstall Program (if you don't see it, click in the upper right next to "View by" and select Category).
Go through the list of programs and select entries related to "2018 Annual Visitor Survey" scam . You can click on "Name" or "Installed On" to reorder your programs and make "2018 Annual Visitor Survey" scam easier to find.
Click the Uninstall button. If you're asked if you really want to remove the program, click Yes.
In many cases anti-malware programs are better at detecting related parasites, thus I recommend installing Spyhunter to identify other programs that might be a part of this infection.
Automatic Malware removal tools