Wedyoulife.live sites displaying warnings about your Mac being infected is a part of a tech support scam and should be ignored. These sites are nothing but a bunch of pages that try to convince users to pay for fake tech support by telling them that their Mac is full of viruses.
Wedyoulife Live Virus quicklinks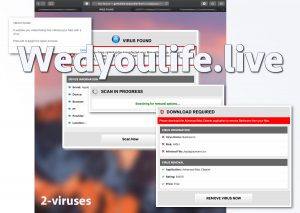 Wedyoulife.live is not a single website, but a family of sites that includes Wedyoulife1.live, Wedyoulife7.live, Wedyoulife60.live, Wedyoulife120.live, and probably everything in-between. A lot of these sites are warned about by secured browsers, but new ones are created constantly.
Wedyoulife.live is similar to CheckingForward, YourMonday pop-ups, but this one is based on the Bankworm scam. In short, these fake virus detections need to be ignored if your computer is to remain clean. Wedyoulife and similar sites are used to sell fake security software, nothing else to it.
Wedyoulife is a malicious website:
Type of threat
Red flags with Wedyoulife.live

Online virus scan
Extremely fast virus scan
Made-up malware found
Wedyoulife is not associated with Apple

How the pop-ups happen

Infected websites sometimes open Wedyoulife.live
Adware regularly opens Wedyoulife.live
Pop-ups in an infected Mac open Wedyoulife.live

Stop Wedyoulife.live pop-ups

Remove adware (Combo Cleaner)
Block malicious websites
Avoid infected sites
Wedyoulife.live tells you that you have Bankworm virus
Wedyoulife.live is spreading the Bankworm scam. While some fake virus alerts use the names of real and well-known infections, this one uses "Bankworm" – a made-up virus.
The script that Wedyoulife.live uses starts with you trying to visit some website but being redirected. A few URLs might flash in the address bar until it settles on apps2138.wedyoulife8.live, game3303.wedyoulife7.live, reward3853.wedyoulife110.live, or something similar. Then a pop-up on a blank page ominously warns you:
VIRUS FOUND

A website you visited today has infected your Mac with a virus.
Press OK to begin the repair process.
If you click OK (and you shouldn't, it's better to ignore warnings like this), a table is loaded that a virus was found and that you need to scan your Mac. This looks like it could be official, from the real Mac support. It's not, though. The Wedyoulife.live page knows your IP, your service provider, your location, but this doesn't mean anything – any website can find out that info when you visit it.
VIRUS FOUND
A website you have visited today has infected your Mac with a virus. A full system scan is now required to find and remove harmful files or applications from your Mac OS X … device.
DEVICE INFORMATION
…
Scan Now
If you now press the "Scan Now" button, it will pretend that it's scanning your folders and files, detects the Bankworm virus, and is searching for removal options. Keep in mind that a website can't scan the files on your computer without explicit permission. Online virus scans exist, but they are more complicated than just a simple loading bar. Also, Wedyoulife's scan is way too fast – so fast that it's physically impossible, like all fake online virus scans.
And the end result is exactly the same, no matter which Mac you're on or which version of Wedyoulife.live you visit:
DOWNLOAD REQUIRED
Please download the Advanced Mac Cleaner application to remove Bankworm from your Mac.
…
REMOVE VIRUS NOW
If you click on the "REMOVE VIRUS NOW" button, you'll either be redirected to a website that hosts some fake Mac optimizer made by PCVARK, or just have download the pkg file that's meant to remove the mysterious Bankworm virus. Advanced Mac Cleaner is supposedly being offered, but that bears no relation to which application will actually be downloaded. One thing is for sure, though – it's malware.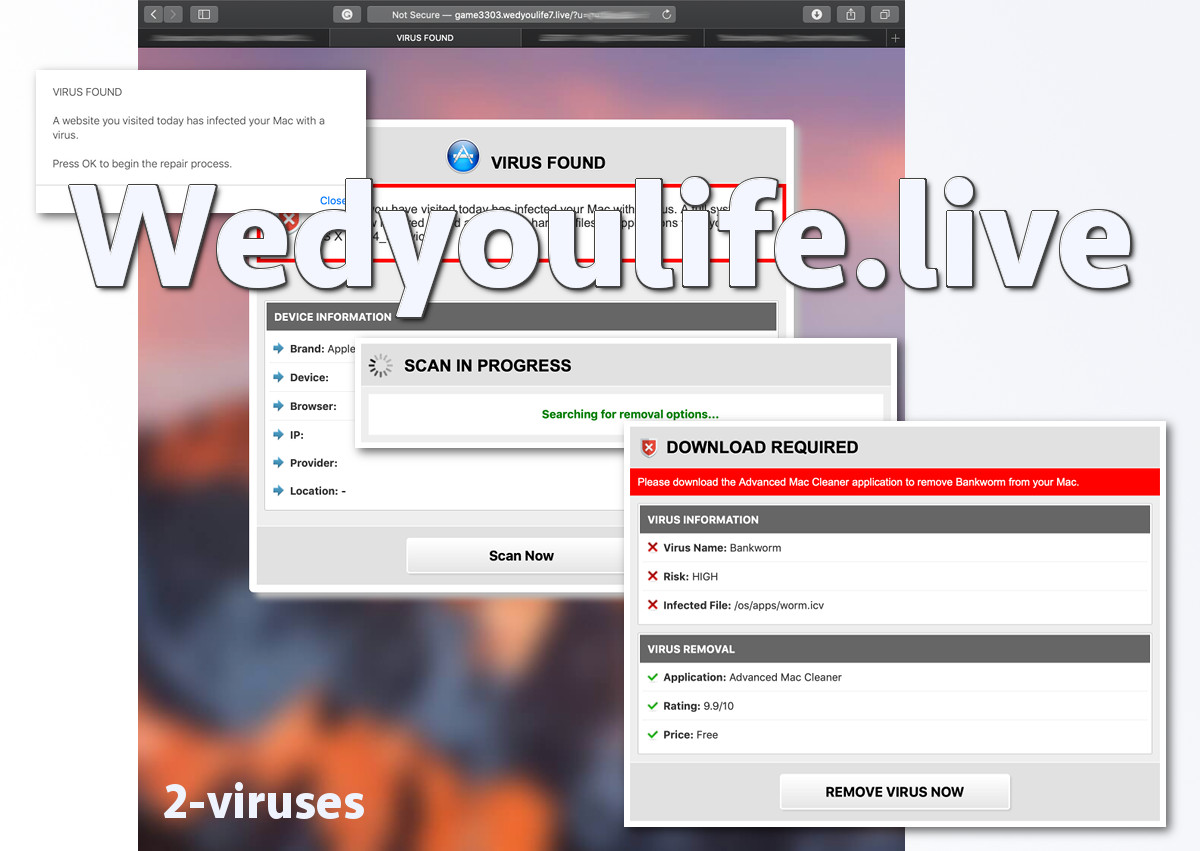 Wedyoulife.live spreads fake optimizers
Wedyoulife.live might be used to spread Smart Mac Booster, Cleanup My Mac, or other Mac malware. These programs are notorious for faking a virus or two on your computer, as well as presenting harmless files as problems and errors in scan results. It seems impossible to have a Mac that they'd find to be in a good state. This sort of deception earns these programs a really ban reputation, which is why new ones with different names are released all the time. The UI doesn't change, though, so just keep it in mind and avoid these "optimizers" like the plague.
If Wedyoulife.live convinced you that your Mac is infected, you're probably eager to remove the malware as soon as possible. After all, we use our computers for online shopping, banking, job, personal conversations. But don't lose your head – these apps only want your money. They make your Mac seem like it's in danger with their alarmist language and declaring every browser cookie to be a critical problem, all so that you're more willing to spend some money on a fake security app. The apps that were downloaded from Wedyoulife.live use the subscription model and offer free scans, but not free fixes.
These fake optimizers might even change file permissions to make themselves difficult to delete and install additional malware to promote their own products. They're a pain to get rid of and can slow down your Mac to a crawl if they're allowed to run every day. This is why malicious sites like Wedyoulife.live are so dangerous. The junkware they promote is harmful:
they can cost you money,
they can cause ou unnecessary stress,
the fake optimizers will waste your time with their useless pop-ups,
the infection can be difficult to get rid of.
How to deal with the Wedyoulife.live alerts
First of all, if you encounter a Wedyoulife.live page, close the browser tab. You can use the Cmd+W keyboard shortcut. Apple themselves warn their users to ignore these alerts.
If the Wedyoulife.live pop-up shows up when visiting a certain website (I mostly encounter them when visiting old, infected webpages), take note of that and maybe try avoiding that site. If Wedyoulife.live shows up without any consistency, then some adware might be messing with your browser – it could be a hijacker, a notification spammer, or an application on your Mac. It's recommended to scan your device with an antivirus program (like Combo Cleaner) if you want to find if malicious files are present on it.
Finally, if you want to avoid malicious ads like the fake virus alert on Wedyoulife.live, you can get real-time web protection. It might cost a little, but if you regularly encounter malicious websites, it's worth getting an application that blocks them. You could also use an ad-blocker, which should be free, just make sure its quality is good.
Automatic Malware removal tools