Super Mac Cleaner is a potentially dangerous program that's being spread by fake virus alerts online. It's somewhat functional, mostly useless, and a total ripoff – gets people to buy it by telling them that their computer is full of "issues" and problems that are hurting the performance of their Mac. In the end, Super Mac Cleaner is the real infection – just take a look at this VirusTotal report – multiple reputable antivirus programs consider this optimizer to be unsafe.
Super Mac Cleaner quicklinks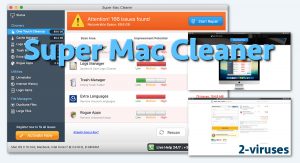 How to remove Super Mac Cleaner
To remove the program, it might be enough to remove it from the Applications folder. Check your Library folders, too. Look for files called something like "Super Mac Cleaner" or "sprmc". Check Library/Application Support, Library/LaunchAgents, look for Library/Super Mac Cleaner. It might be useful to use a program that finds files related to a program automatically.
It's advisable to also scan your device with a strong anti-malware tool, such as Combo Cleaner (it also has a feature for uninstalling applications), as the programs that seem related to Super Mac Cleaner have been observed installing other junkware in the background and promoting related products using system pop-ups. Some files and folders that are scattered over the infected Mac by Super Mac Cleaner might be used to cause trouble later, such as display annoying pop-ups right in your operating system, so it's better to take care of things now.
Another reason for scanning your Mac is that the types of bad ads that promote fake optimizers can be caused by adware infections. Adware causes promoted (often malicious) websites to be opened automatically. For example, we know that Super Mac Cleaner is definitely spread by fake virus alerts.
Overall, Super Mac Cleaner is a useless and potentially dangerous application:
Classification

Rogue application
PUP (potentially unwanted program)
Scareware

Distribution

Freeware bundling
Fake virus alerts

Problems with Super Mac Cleaner

Scaring the user by pretending that their Mac is in a bad state
Offering redundant features for a very high price

Solution

Remove malware and adware using antivirus tools (Combo Cleaner)
Uninstall Super Mac Cleaner manually
Super Mac Cleaner spreads using fake virus pop-ups
Usually, unwanted programs spread by being attached to more desirable free applications and getting installed together. This is a strategy occasionally used by legitimate software, but mostly – by various potentially unwanted programs. If it arrived in a bundle, Super Mac Cleaner would probably just appear on your Mac one day. But that's not the only way for a fake optimizer to get installed.
One of the main reasons for why Super Mac Cleaner is so suspicious is that I downloaded it after encountering a fake virus alert, something similar to WedFunToday or Apple.com-mac-optimizer.icu. These fake alerts appear when you click on an infected ad or a virus on your own Mac forces the browser to open it. These sites are made to look like they're by real Apple support and they appear to Mac users, always claiming that you have some sort of a virus, like Tapsnake, Bankworm, or e.tre456_worm_osx.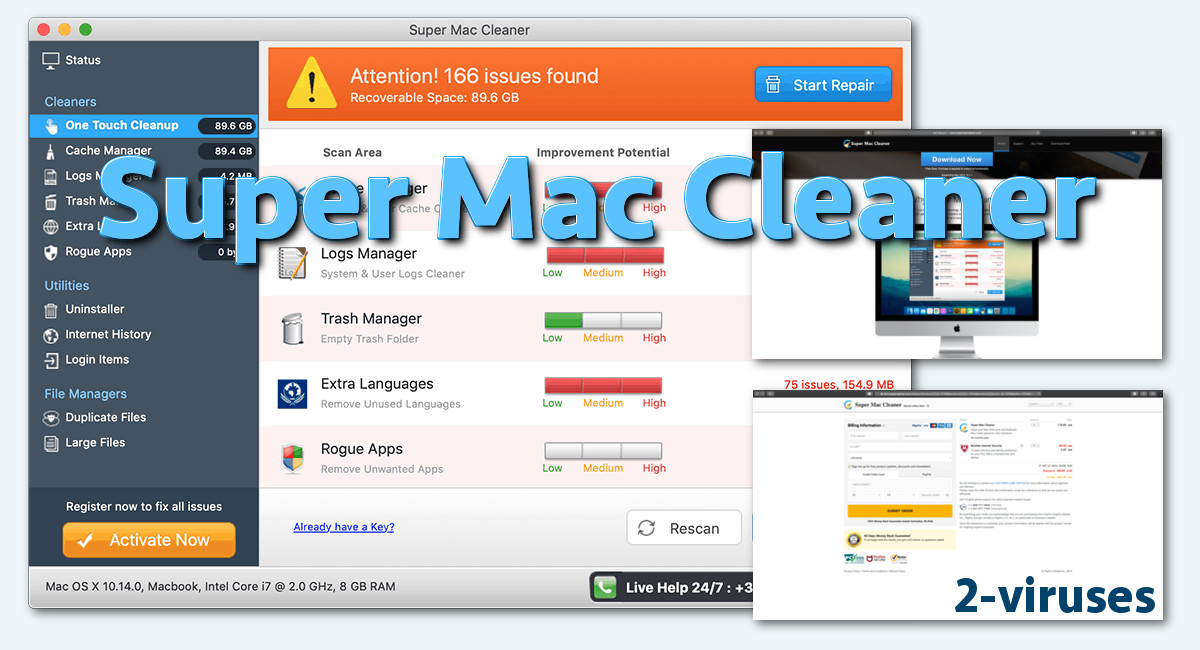 So, I was on one of these fake virus warning sites. After the page finished pretending to scan my Mac, it gave me a "Remove virus now" button that ended up downloading Super Mac Cleaner. You might think that running this application would reveal that my Mac is clean after all, but that's not how fake optimizers work – they always, always find something. Even browser cookies, additional languages, cache files, and items in Trash are considered problems. Your Mac's system status is declared Critical, though Super Mac Cleaner might only find a few Megabytes of unnecessary files.
All that serves is to scare the user. If you don't read what Super Mac Cleaner says to you carefully, you might think that it really did find a virus. And when it asks for money to fix the "issues" it found, desperate users might give in. As the scheme of fake virus pop-ups downloading fake antivirus software has been going on for a few years now, it must have been profitable, which means that a significant number of people suffered from this scam.
Super Mac Cleaner is not a good Mac optimizer
As an optimizer, a Mac utility, Super Mac Cleaner is incredibly basic. Let's leave aside the fact that it's pretty much an exact clone of other PCVARK-like applications, like Qbit Mac Optimizer, Mac Tweaker, and Smart Mac Booster, which haven't evolved in years and are constantly observed doing something unethical.
Super Mac Cleaner's features are redundant and only needed very rarely.
For example, the program offers to find duplicate files for you. This could be useful, but once you've deleted the duplicates, it's unlikely that you'll need to do that again for a few months or even years. Another feature of Super Mac Cleaner is managing startup applications, which is a feature that Macs already have. It also helps you manage your browsing history, which your browsers can do anyways – for free.
And so it goes, features that are rarely needed and already available for free on your Mac OS – except that Super Mac Cleaner asks for over a hundred dollars for a year of subscription. By the way, the price listed on the home page of Super Mac Cleaner is for a month, but only a year subscription seems to be available when buying it – shows you how important it is to be careful. For the price that Super Mac Cleaner is asking for, you could buy three years of actually good antivirus programs! And while Mac optimizers can be useful, Super Mac Cleaner should not be considered when you're looking for a utility tool for your Mac – it's more likely to just cause problems.
Automatic Malware removal tools