Apple.com-mac-optimizer.icu is yet another malicious website that aims to promote SpeedupMy Mac PUP (potentially unwanted program). Considering the domain name, the pop-up only attacks Mac computers and its associated browsers – Safari, Google Chrome and Mozilla Firefox. The peculiarity of the attack is that the website displays misleading and very scary notifications mentioning that the system is infected with serious malware and needs to be immediately fixed. The information provided by apple.com-mac-optimizer.icu is absolutely fake and must not be treated as genuine.
Com Mac Optimizer quicklinks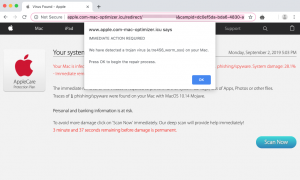 Apple.com-mac-optimizer.icu uses the Apple logo and the name of AppleCare Protection Plan. This is done in order to make the people think that the message is legitimate. Additionally, the pop-up is able to switch the browser into the full-screen mode, so the users are not able to open any other browser tabs. Even when they succeed to close the specific pop-up window, there may be other similar notifications opening randomly without the user's participation.
Origin of apple.com-mac-optimizer.icu pop-ups.
The users who encounter apple.com-mac-optimizer.icu alerts keep wondering why exactly then see these notifications randomly popping up. The analysis of similar websites reveals that they are produced by certain adware active in the system, for example, MyCouponsmart or MyShopcoupon. Once the adware is activated, all available browsers get hijacked and start randomly forwarding people to many suspicious pages, including apple.com-mac-optimizer.icu.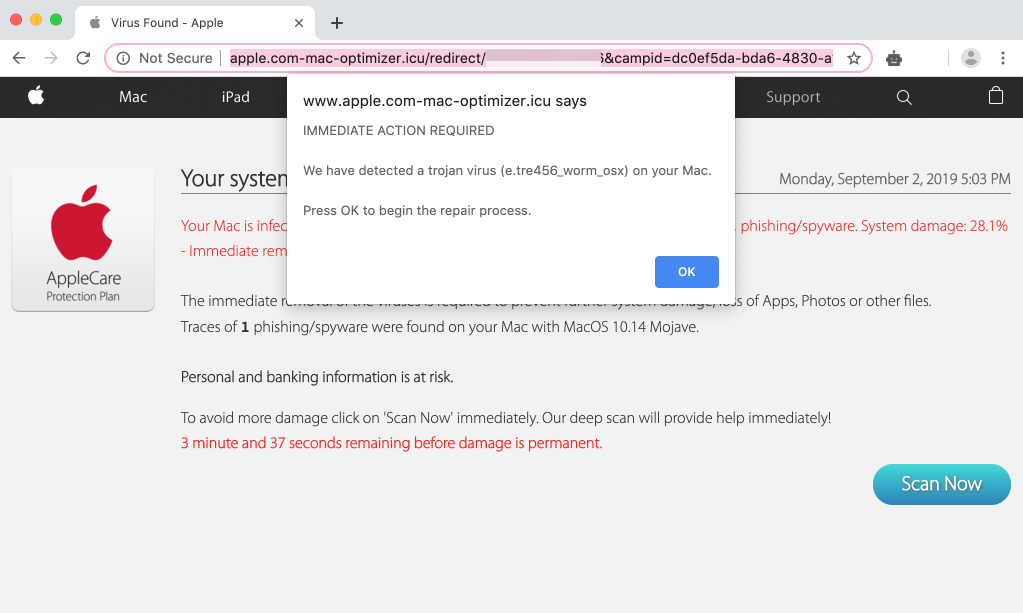 Installation of the adware into Mac computers often occurs as a result of people downloading and installing free programs through dubious resources. It is very important to always pay attention to the EULAs (End User License Agreements) associated with free applications you intend to make the part of your computer. These documents clearly show what other software may be included in the setup file. In order to uncheck these extra utilities from the default installation, it's important that you always select the "Advanced" or "Custom" installation option where you may easily uncheck all additional programs from being installed by default. When the users do not pay attention to the important details and click on "Next" or "I agree" buttons, they automatically allow third-party programs to be installed.
Fake alert by apple.com-mac-optimizer.icu.
Once apple.com-mac-optimizer.icu attacks the browser, the following faulty information is displayed:
Your system is infected with 3 viruses!
Your Mac is infected with 3 viruses. Our security check found traces of 2 malware and 1 phishing/spyware. System damage: 28.1% – Immediate removal required!
The immediate removal of the viruses is required to prevent further system damage, loss of Apps, Photos or other files.
Traces of 1 phishing/spyware were found on your Mac with MacOS 10.14 Mojave.
Personal and banking information is at risk.
To avoid more damage click on 'Scan Now' immediately. Our deep scan will provide help immediately!
4 minute and 29 seconds remaining before damage is permanent.
When the pop-up switches the browser into the full screen, the users are not able to open any browser tabs through which they could investigate the problem more thoroughly. After interacting with the alert, there is another fictitious information displayed about numerous threats allegedly to be the part of the device. Finally, the users are told to download and install some software that is supposed to fix all the above-said fake (invented) threats. Depending on the regional settings, the users may be told to download CleanupMy Mac, Mac Cleanup Pro or some other pseudo system optimization tool. The only purpose of such programs is not to help people get rid of real malware but rather to force Mac users into wasting their money for nothing. Therefore, we strongly advise you not to interact with apple.com-mac-optimizer.icu alerts and not to download and dubious software they promote.
How to remove apple.com-mac-optimizer.icu scam?
The first very important step to get rid of apple.com-mac-optimizer.icu scam is to carefully examine your Mac and remove the adware that could cause the aforesaid fake alerts. Therefore, access your available applications, locate suspicious software and remove it by dragging the offending item to the Trash bin.
The fact that your Mac got infected by the adware means that your current security software failed to protect your system from unwanted software installation and allowed the intrusion of PUPs and, possibly, other malicious software. We recommend you to scan your device with the reliable anti-virus software, such as Combo-Cleaner or Malwarebytes, for proper cleanup of your system and removal of all other residual malware.
Automatic Malware removal tools