Track.spzan.com redirect virus has been determined to bother thousands of people that are stripped of their right to browse without any interruptions. We have come across this website back when we were investigating Track.aptitudemedia.co redirect and Track.spzan.com was one of the domains that lead to it. In addition to this suspicious detail, we found out that the more recent threat is hosted on the same IP address as Zgwxh.redirectvoluum.com pop-up. These are only the preliminary mentions of why we believe that Track.spzan.com domain might be operated for the sake of committing cyber crimes (Meaning of cybercrime).
Alarming features of Spzan.com malicious domain
Let's begin by stating that if users attempt to access the latter domain, they are introduced to this message: "page not found. If you want to change the content of this page, go to your account Settings/Root domain". Nevertheless, it is the 256th top-website in Thailand and the 3,932 domain in the world. Nearby regions are targeted by Ad.adpop-1.com redirect which has also been classified as a sign of infections.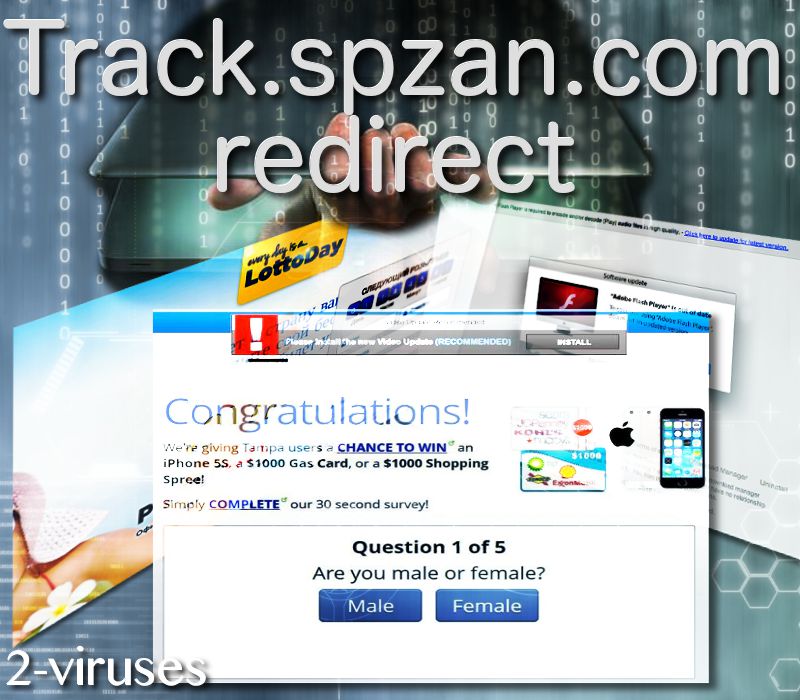 Thanks to the input from Indonesia, Japan, Malaysia and Philippines (and a lot of other countries), the worth of Spzan.com website has reached a gigantic amount of 5 and a half million dollars. It is unbelievable for a domain that does not offer any services or content to be this successful. The only way to profit was for the website to co-operate with ad-networks like Propeller Ads Media, Adcash, AdsTerra, Adk2 and AdSupply.
We have no doubt that the content Track.spzan.com presents will have some sort of level of fraud. Some of them might be displaying propositions to install low-quality, disruptive applications, that will be only interested in generating profit from displays of advertisements or tracking (Adware explained).
Activities similar to spyware viruses could be taking place in users' computers during the time they allow automatic redirection to Track.spzan.com malicious domain to take place. Redirect regularly occurs from a variety of websites, but technical analysis reveals that some sites initiate referrals more frequently:
u1trkqf.com, cpm20.com, putrr18.com, cdn.bobblewrite.com, redonetype.com, rawfile.co, uou.io, opeanload.co, mediafire.com.
Some of the social networking sites also promote Spzan.com redirect, like Reddit, Vkontakte, Twitter and Facebook. The website might be included into deceptive messages that are posted on these networks (Social media, the gateway for malware). We also discovered that some percentage of the web traffic is generated by people that access the suspicious domain from emailing accounts.
Therefore, we suspect that surfers might be offered to enter the suspicious domain in deceptive email letters. No wonder we repetitively discourage our visitors from entering unknown domains that are recommended in letters, originating from bizarre sources (Deceptive emails). It is very likely for people to become infected with malware due to drive-by downloads or hosted exploit kits. The same dangers described Go.trafficshop.com redirect as a threat to Internet communities.
Recover your operating system from malware infections
If this specific website is constantly a destination link of redirection, we have very strong suspicion that an operating system is infected with an adware parasite or another piece of malware. For instance, browser hijackers also have a tendency to initiate referrals, but then browsers' preferences should have also been modified without authorization. It is also possible that redirection takes place because of the domains you enter. If you are a frequent visitor in video-hosting, streaming services, they are one of the services that will include many ads.
However, the best option would be to run a scan with Spyhunter and become aware of every potential security threat in your device. This will surely help you remain protected in the future as well, since you will have no issue in running scans on demand. Remember that software should not be downloaded from suspicious developers. If a company is questioned for producing potentially unwanted programs (PUPs) or any other type of disruptive programs, it is best to neglect their products. Look for suspicious applications and remove them using Control Panel.
How to remove Track.spzan.com redirect using Windows Control Panel
Many hijackers and adware like
spzan redirect
install some of their components as regular Windows programs as well as additional software. This part of malware can be uninstalled from the Control Panel. To access it, do the following.
Start→Control Panel (older Windows) or press Windows Key→Search and enter Control Panel and then press Enter (Windows 8, Windows 10).
Choose Uninstall Program (if you don't see it, click in the upper right next to "View by" and select Category).
Go through the list of programs and select entries related to Track.spzan.com redirect . You can click on "Name" or "Installed On" to reorder your programs and make spzan redirect easier to find.
Click the Uninstall button. If you're asked if you really want to remove the program, click Yes.
In many cases anti-malware programs are better at detecting related parasites, thus I recommend installing Spyhunter to identify other programs that might be a part of this infection.
Automatic Malware removal tools