Track.aptitudemedia.co redirect virus has achieved impressive success: it has a global traffic rank of #1,334 in the world. However, this progress occurred because controllers of this website exploited fraudulent marketing and advertising strategies, like, making Track.aptitudemedia.co pop-ups appear because of adware parasites like MediaPlayAir. Considering this possibility, you have to realize that if your browsers are being automatically transferred to this bizarre website, take it as a symptom of a malware infection.
Symptoms Track.aptitudemedia.co malware
Owners of Aptitudemedia.co virus receive over 6,000 dollars daily, and the websites' worth is estimated to be nearly 7 million dollars (Web analysis). People from Japan make the highest number of surfers that visit this domain as the pop-up leads to the 324th top-website in the country.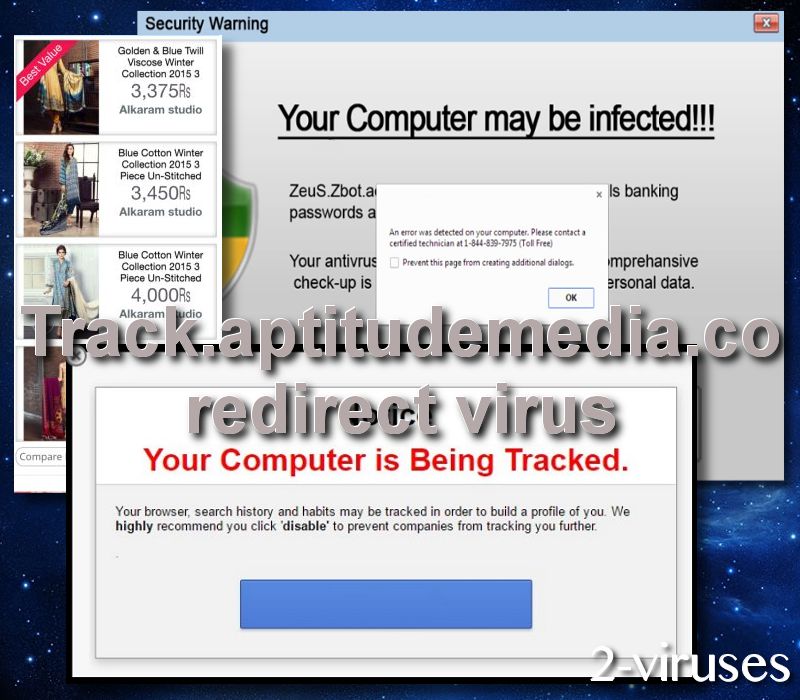 Browser hijackers have also been noticed to be active in Japan: for instance, Picpac.info virus. Other countries have also been noticed to contribute to web traffic of Aptitudemedia.co infection: Thailand, Indonesia, Malaysia and Philippines. Over 60% of visits are initiated by rogue websites, aiming to promote the service:
track.spzan.com,
u1trkqf.com,
redonetype.com,
cpm20.com,
yts.ag,
ouo.io,
openload.co,
mediafire.com,
tq.adventurefeeds.com,
4dsply.com,
pulseonclick.com,
adexchangeprediction.com.
Aptitudemedia.co redirect virus has a bunch of subdomains, but Track.aptitudemedia.co generates the most web traffic. However, there are such domains like Facetrack.aptitudemedia.co, Comtrack.aptitudemedia.co, Youtubetrack.aptitudemedia.co and Gmail.aptitudemedia.co. From the look of these domains, we have to emphasize that these domains will aim to spy on users' online activities in Facebook, Youtube, Gmail and basically any other visited website. Therefore, it will have strong tendencies of spyware threats (Spyware: a hidden threat). The fact that malware can monitor users activities is no news: FoxyDeal has done it since 2014.
Referrals will lead users straight to Track.aptitudemedia.co/redirect?target= website which is definitely bad news. It was presented because of an adware in your system, or it was featured in one of the domains we mention in the list above. However, this is not the only strategy for transmission that we discovered. The suspicious website can be involved in some spam campaigns (What is spam?) or rogue posts in social media networks.
In the fraudulent messages this virus presents, people can be deceived and left penniless by phishing scams (Meaning of phishing), hoping to clean your banking accounts. Also, some advertising networks have been noticed to incorporate their promotional material into Track.aptitudemedia.co redirect. Adcash, Adf.ly, AdsTerra, AdSupply and Propeller Ads Media are all going to be involved with this harmful pop-up.
Be prepared to be introduced to deceptive surveys, lotteries, announcements about rewards, technical support warnings, propositions to install additional software and so much more unreliable offers. Some of the ads that Track.aptitudemedia.co virus displays will not be malware-laden or involved in hoaxes, but the majority of promotional material will be either useless or fake.
Strong recommendations to scan operating systems for malware
Deceptive message such as this does not mean anything positive. In fact, it is a sign of a malware infection which should be taken care as much as possible. Spyhunter will deal with malicious parasites in no time, meaning that you won't have to find a source of harmful activity yourself. Since we do not know which adware parasite specifically is generating this pop-up, we cannot indicate which tool should be deleted.
Nevertheless, you can take a look at the active programs and processes in Windows Task Manager. If you spot anything out of place, check whether that application is not labeled as a malware threat. Remove the unwanted software with the instructions below. Please bear in mind that you should not be oblivious to the activity that happens around you.
During browsing, always pay attention to the amount of displayed advertisements. For instance, if you AdBlocker is active and some promotional material manages to slip in, you are either compromised by viruses or have visited a dangerous website. Lastly, keep the number of freeware tools to a minimum. During their installation, select advanced/custom modes and be certain that no recommended apps would be given permission to be installed.
Automatic Malware removal tools