Go.trafficshop.com redirect virus has been noticed by people from all over the globe since it has obtained the 6,124th position in the rankings of the top-visited websites in the world. However, messages and notifications from this domain are equally deceptive to rogue information, presented in Track.aptitudemedia.co and Adskpak.com pages. Presentations of this domain has been noticed to be very active in India, Russia, Vietnam, Germany and Indonesia (Analysis). According to analysis of web traffic, nearly 75% of referrals are initiated from inappropriate pornographic material. Adult-oriented websites have frequently include advertisements for suspicious domains.
Go.trafficshop.com redirect could lead to fraudulent websites
We have to emphasize that Trafficshop.com is the official website of an online advertising network, monetizing over 150 billion ad impressions monthly. It is described as an adult mobile and desktop traffic manager, meaning that adult-oriented content will presumably be displayed in banners, popunders, in-apps and other types of ad formats.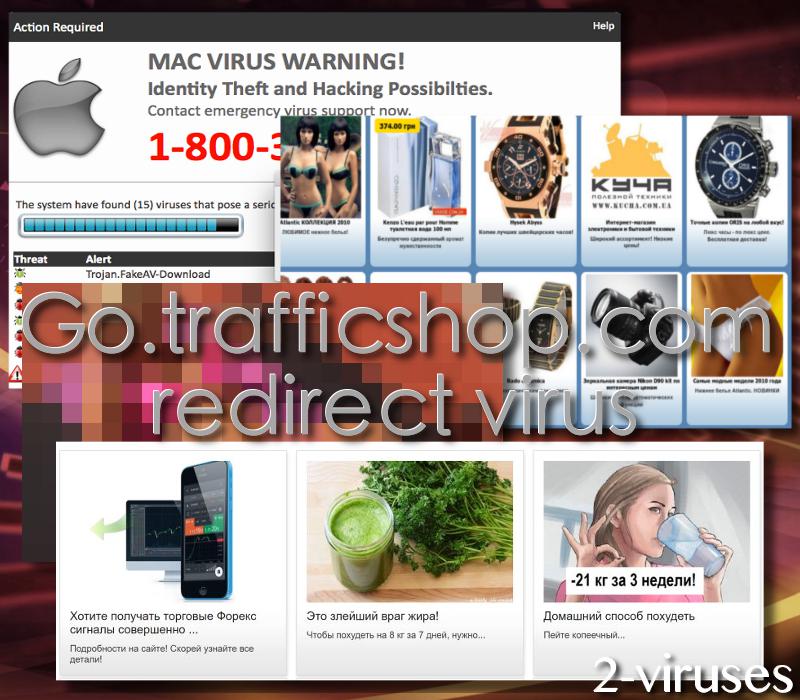 However, we do feel like material which has potential of presenting pictures that are offensive to children is supposed to be treated with a high level of cautiousness (Dangerous things one can do online). We have discussed similar adult-focused ad-networks, like JuicyAds and we found that its material might not always be properly reviewed.
Furthermore, we noticed that ads from other adult advertising networks are going to be co-operating with Trafficshop.com redirect. Clickadu is one of them. Also, the platform will present promotional material from Mediahub, AdSupply and PopAds. With all of these ad-servers combined, users will have a difficult time browsing the Internet. It has been confirmed that pornographic websites are one of the most dangerous domains (Porn sites hit by malware hidden in adverts). Ads and redirects from such domains have the biggest chance of leading to malware-laden or similarly unreliable domains.
Regular occurrences of getting transferred to Go.trafficshop.com might not be pleasant, especially since disturbing material could be displayed in all sorts of ad formats. If you are visiting domains that provide pornographic content, there is no doubt that they are the ones making you witness disturbing promotions. In this case, you should no longer be accessing those websites and wait for inappropriate advertisements to no longer be featured during your browsing. Disruptive material like Russian ads and QIPApp ads can presented content.
However, it also could be that an adware parasite is currently influencing your operating system and presenting adult-oriented material. Users could be introduced to harmless ads by Trafficshop.com that are promoting some sort of domains or goods. In worst case scenario, you will be presented with domains or ads that are filled with malicious parasites, aiming to infect you. Also, phishing scams (Meaning of phishing) are also common when it comes to infections with adware.
Ways to prevent malware infections from damaging users' computers
We have already explained the two reasons behind the repetition of Go.trafficshop.com redirect. First of all, you could aim to stop visiting adult-oriented domains, or run a scan with Spyhunter to make sure that no potentially unwanted programs (PUPs) or malware parasites would be responsible for flows of ads.
It is important that every article shall contain information about how malware infections should be avoided in the future. First of all, you are advised to never download unknown programs, interact with random pop-ups or click on suspicious links. Keep your emailing accounts well-managed and delete odd letters without being tempted to download malicious attachments or follow fraudulent URLs.
Furthermore, many security specialists have also emphasized on the necessity to be careful when it comes to choosing which free programs to download. Be careful when it comes packaged freeware. During installation of one application, you could be recommended to try out different tools as well. Refuse such offers. Also, read EULA and Privacy Policy documents to be certain that malware would be taken care of.
How to remove Go.trafficshop.com redirect virus using Windows Control Panel
Many hijackers and adware like
trafficshop redirect virus
install some of their components as regular Windows programs as well as additional software. This part of malware can be uninstalled from the Control Panel. To access it, do the following.
Start→Control Panel (older Windows) or press Windows Key→Search and enter Control Panel and then press Enter (Windows 8, Windows 10).
Choose Uninstall Program (if you don't see it, click in the upper right next to "View by" and select Category).
Go through the list of programs and select entries related to Go.trafficshop.com redirect virus . You can click on "Name" or "Installed On" to reorder your programs and make trafficshop redirect virus  easier to find.
Click the Uninstall button. If you're asked if you really want to remove the program, click Yes.
In many cases anti-malware programs are better at detecting related parasites, thus I recommend installing Spyhunter to identify other programs that might be a part of this infection.
Automatic Malware removal tools