Ad.adpop-1.com ads are generated by an adware virus, strongly influencing your operating system. It could be that you can recall downloading a free tool from unknown developers or have been tricked into installing a packaged software. People that are forced to see these advertisements can also have their browsers' settings modified. A Russian Time-to-read.ru search engine can be a destination link of constant redirection. Additionally, Searchinme.com is assigned as start and new tab pages and users have reported to be unable to get rid of it.
Adware will generate repetitive Ad.adpop-1.com pop-ups
This specific website is associated with AdPop advertising network which is a legitimate company, but even these organizations can expose people to malware-laden and privacy-violating ads. We have noticed that when Ads by Ad.adpop-1.com are being displayed, address makes a transition from this link to Buzzonclick.com. Soon enough, the actual ad is presented and could be adjusted to users' geographic locations (GeoEdge).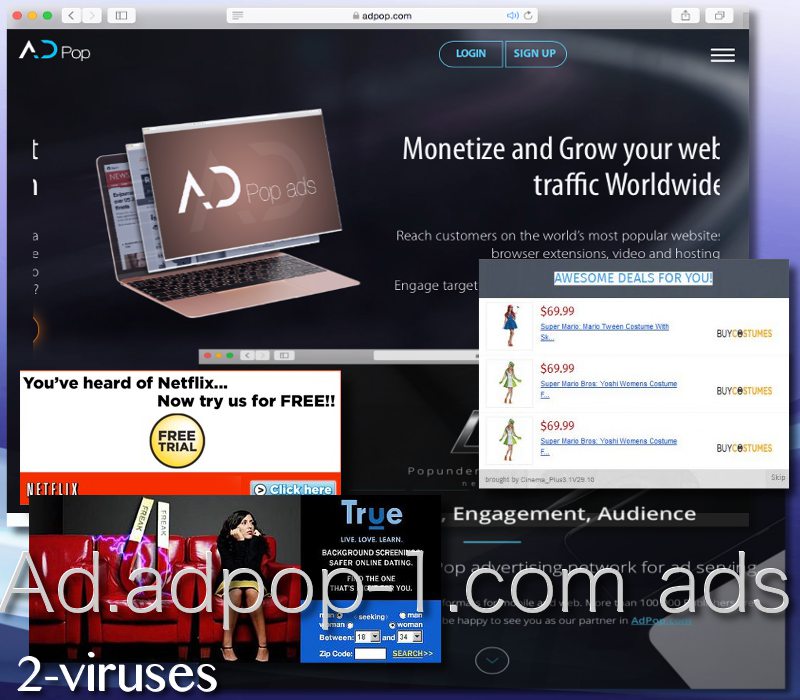 Ad.adpop-1.com virus is bothering people from regions that are close to one another. Surfers from Indonesia should have noticed its deceptive ads at least once as it is the 1,938 top-visited domain in the country. Unsolicited promotional content has also been detected in Vietnam, India, Pakistan and Thailand. Multiple Russian websites have been noticed to initiate referrals to Ad.adpop-1.com ads. Kolytorelflbe.ru, Hishtrafleaben.ru, Ostrafflaba.ru and Trafesmay.ru domains contribute to the growth of AdPop's web traffic.
Ad.adpop-1.com ads can be compared to promotional content which is served by Ad.dumedia.ru and Ad.directrev.com. Annoying messages will flood your browsing. However, despite irritating people, these adverts could also be transferring them to remote website. As you should already know, infectious domains could exploit vulnerabilities in operating systems or software applications to insert malware (TrendMicro).
To be completely transparent, we have to mention that we found reviews, suggesting that AdPop network is helpful and convenient. However, due to the fact that Ad.adpop-1.com virus can present fake installations of Adobe Flash Player, rogue security software and deceptive surveys is enough evidence to warn surfers about it. If this website begins displaying promotional content, do not respond to them. We were also redirected to several technical support scams. If user is to click on such a warning, his/her computer could be influenced by malware. Take a look at the image below to see the services and products that could be advertised by Ad.adpop-1.com virus.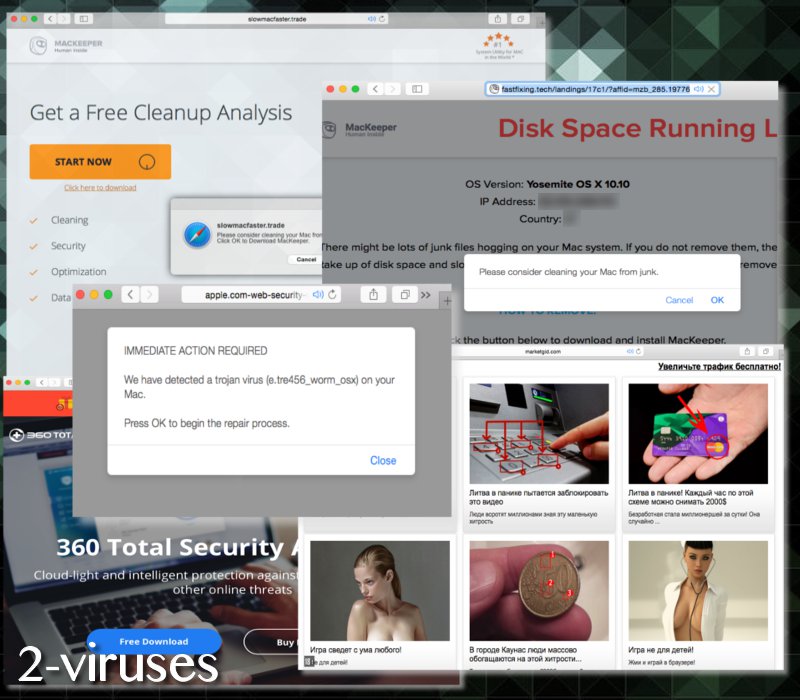 As you can see, many of the presented pop-ups and pop-unders are addressing the topic of cyber security. These miselading advertisements claim to report that disk spaces are running low, that Tre456_worm_osx are affecting your operating system, or offer free cleanup analysis. Additionally, we also see some Russian advertisements from Marketgid.com. This Ad.adpop-1.com ad includes clickbait articles, leading to websites that are filled with malicious scripts.
This pop-up is a sign of malware infection: you have to take care of it
We cannot state which software tool is making modifications to your settings and helping Ad.adpop-1.com virus influence browsing. We predict that an adware infection is responsible for it. Therefore, we hope you will find a suspicious program in the list of active programs and remove it using Control Panel. Instructions on this action can be found at the end of this article. However, if the ads continue to appear, you have to try a more effective strategy.
Run a scan with Spyhunter security software. The toll will detect all malicious threats that might be currently influencing your operating system. Also, removing malware samples is very easy. To be protected from influence of malicious programs, you should have a reliable anti-malware tool. Run regular scans to clean your device from potential threats. Also, never download unknown software from random websites or pop-ups.
How to remove Ad.adpop-1.com ads using Windows Control Panel
Many hijackers and adware like
adpop-1 ads
install some of their components as regular Windows programs as well as additional software. This part of malware can be uninstalled from the Control Panel. To access it, do the following.
Start→Control Panel (older Windows) or press Windows Key→Search and enter Control Panel and then press Enter (Windows 8, Windows 10).
Choose Uninstall Program (if you don't see it, click in the upper right next to "View by" and select Category).
Go through the list of programs and select entries related to Ad.adpop-1.com ads . You can click on "Name" or "Installed On" to reorder your programs and make adpop-1 ads easier to find.
Click the Uninstall button. If you're asked if you really want to remove the program, click Yes.
In many cases anti-malware programs are better at detecting related parasites, thus I recommend installing Spyhunter to identify other programs that might be a part of this infection.
Automatic Malware removal tools