Smart Sys Care, not to be confused with Smart System Care, is advertised as PC optimizing software that improves the performance of the computer. It's also considered malicious by many cybersecurity experts and is detected by antivirus tools. Smart Sys Care is another creation of Econosoft, along with Advance PC Solutions, PC Booster Pro, and PC Speeder Pro.
Smart Sys Care quicklinks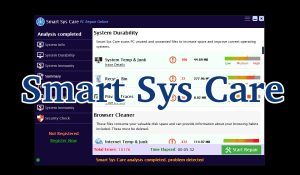 PC optimizers is a suspicious software category because so many programs that belong to it are malicious. They convince people to download that by promising that they can make their computers run faster and better. By promising the world, they worm their way into PCs and then use psychological tricks to convince them to buy the paid version. Smart Sys Care specifically is seen with a lot of suspicion, as this page of VirusTotal shows.
The reality of PC optimizers is that they are not helpful, in general. Most people do not benefit from their features and, contrary to their promises, these programs introduce slowdowns to the system they're installed on. For example, Smart Sys Care schedules scans and starts up every time you log on, displays pop-ups and makes itself difficult to close. These things actually make the PC unnecessarily busy running a useless program.
Features of Smart Sys Care
The application has a beautiful and professional-looking website that describes the various features that this application offers. These include:
System junk remover
Browser junk remover
Malware detector
Registry cleaner
PC optimizer
PC cleanup
PC repair
PC speed up
The Smart Sys Care page promotes the pogram by claiming that occupied memory in the disk and cookies and data in your browser cache slow down your PC and browser. This information is blatantly false. In fact, deleting browser cookies and cache will result in websites loading slower than before! Registry cleaning will not speed up your computer because unnecessary keys do not slow it down. And lack of free space on your PC only matters to the speed of your PC when very little of your space is left — at which point, a Windows built-in tool can do the job of removing unnecessary files. After all, a new program will only take up more of the precious memory.
Smart Sys Care does not offer new tools that aren't already accessible on WIndows (like a startup manager) but it tries to look like it is useful and doing a lot. Smart Sys Care goes so far as to display every single unnecessary file as an error in bright red, using vague gouges of green-to-red to scare the user into believing that something is wrong with their computer. Ultimately, Smart Sys Care is created to make money for the developers, despite not offering useful features.
In fact, Smart Sys Care could be considered scareware because of the way it tries to convince the user that their computer is in danger. For example, it always finds errors, even on a nearly fresh Windows installation. This is because it's created to scare you into buying it.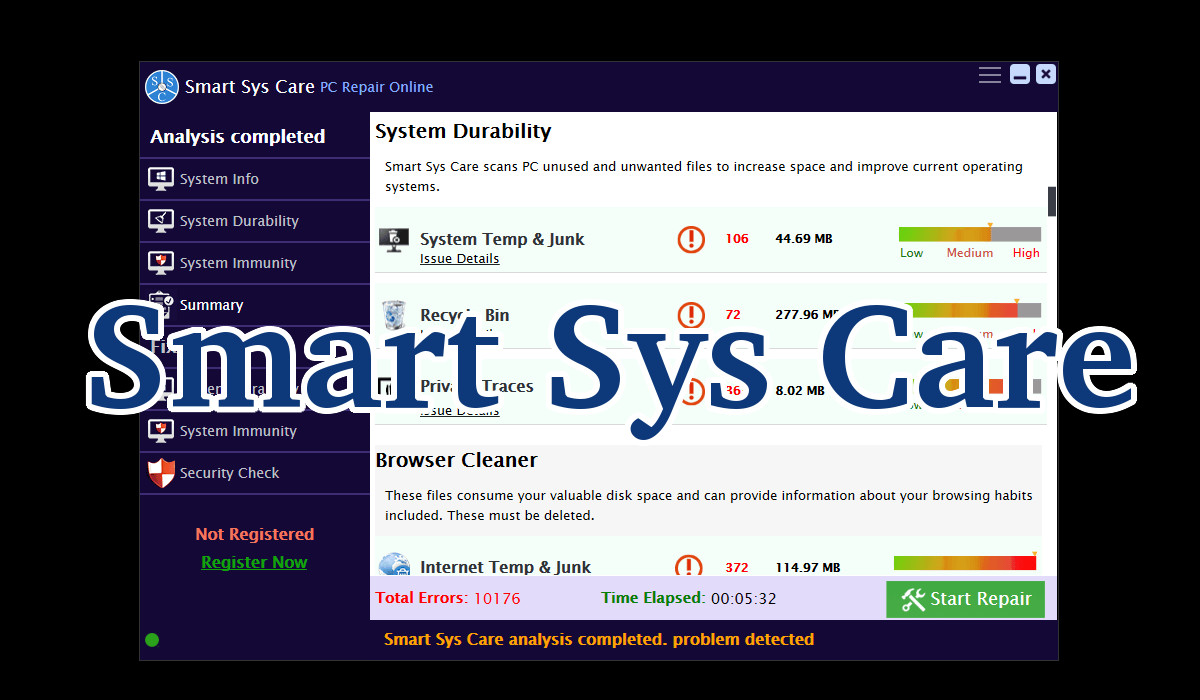 How to remove Smart Sys Care
It is advisable to remove Smart Sys Care from your system. If you have up-to-date software, you will already have difficulty downloading and installing the program as the various antimalware measures will refuse to let Smart Sys Care through. But downloading the program isn't the only way to install it. As a potentially unwanted program, Smart Sys Care is likely to come bundled with other, free programs, installed in the background. Bundling is used often to promote programs that are not attractive enough to be installed on their own. So, if you have Smart Sys Care but didn't install it, then it's worth being suspicious of the program that brought it along.
Luckily, professional antivirus tools should be able to take care of the vast majority of malware. End any malicious processes or use safe mode to stop malware from interfering with the cleaning process and use an antivirus tool that you trust, such as Spyhunter, to find the malicious files and programs. Then remove them manually or automatically. This should get rid of malware and actually, genuinely have a positive effect on your computer's performance.
Uninstalling unnecessary programs, updating your software, learning how to manage startup applications and delete unnecessary files yourself will be better than using an application like Smart Sys Care. However, upgrading your hardware might be necessary to take advantage of new software. Maybe your computer isn't getting slower, just new programs are more demanding.
Automatic Malware removal tools
How to remove Smart Sys Care using Windows Control Panel
Many hijackers and adware like
Smart Sys Care
install some of their components as regular Windows programs as well as additional software. This part of malware can be uninstalled from the Control Panel. To access it, do the following.
Start→Control Panel (older Windows) or press Windows Key→Search and enter Control Panel and then press Enter (Windows 8, Windows 10).
Choose Uninstall Program (if you don't see it, click in the upper right next to "View by" and select Category).
Go through the list of programs and select entries related to Smart Sys Care . You can click on "Name" or "Installed On" to reorder your programs and make Smart Sys Care easier to find.
Click the Uninstall button. If you're asked if you really want to remove the program, click Yes.
In many cases anti-malware programs are better at detecting related parasites, thus I recommend installing Spyhunter to identify other programs that might be a part of this infection.