Using the same computer for a few years will probably result in that computer seeming to get slower ad slower. At the same time, new software is being created to require increasingly powerful hardware. PC Speeder Pro promises to "help you boost and protect your PC" by cleaning unwanted files. This optimizer also includes a registry cleaner and other modules that supposedly help you remove malware and unnecessary files.
Pc Speeder Pro Pup quicklinks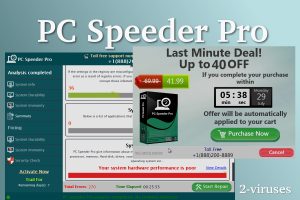 Unfortunately, you're unlikely to notice any increase in performance even after you use PC Speeder Pro to "repair" all the "issues". That's because, like most optimizers, PC Speeder Pro actually does very little: its functions are completely redundant, its actions might result in a slower computer instead of a faster one, and it's rather expensive.
Is PC Speeder Pro harmful?
A lot of reputable antivirus programs choose to label PC Speeder Pro as malware or, at least, potentially unwanted software (PUP). These are not false positives, so there must have been a good reason for PC Speeder Pro to be labeled this way.
This application insists on finding as many errors as possible and goes so far as to highlight any temporary file in bright red. No matter that deleting a few files that aren't doing anything wrong isn't hurting your system at all and, in fact, might be useful — such as cookies and some temporary files (unnecessary files do not cost you speed except in the extreme cases where you barely have any space left on your disk). PC Speeder Pro wants to evoke the feelings of urgency and so, labels every little finding as an error. Then, after scaring the user with a bright red "You PC performance is poor" alert, the program promises to solve the problems if you just buy the subscription.
The functions that you'd be paying for already exist on the Windows operating system without any additional costs: temporary file remover, interface for editing the registry, even a competent antivirus program. Still, you might like PC Speeder Pro and not mind paying it to get rid of the temporary files to free up a few Megabytes. The problem — people have noticed that this application does not actually permanently fix the issues. Instead, it stops displaying the errors until the next scan, when the same problems are detected again.
There are other issues, too, such as how difficult it is to quit this application. When PC Speeder Pro is in the system tray, right-clicking it does not display an option to close it. I had to use Task Manager to end PC Speeder Pro. Trying to uninstall this program is made intentionally difficult, too. The option to uninstall is tiny, faint-colored, nearly invisible. If you look at the illustration for this article, the uninstall screen is the one on the right and the button to continue with the removal of PC Speeder Pro is on the bottom left, the one in gray on gray background. You'd be forgiven for missing it and thinking that the program is uninstallable by normal means.
In conclusion, PC Speeder Pro is a program that tries to get people to pay money for it but does not really offer useful functions. It is also somewhat dishonest, made difficult to close and uninstall. PC cleaners, in general, are not a good long-term solution for improving the performance of your PC.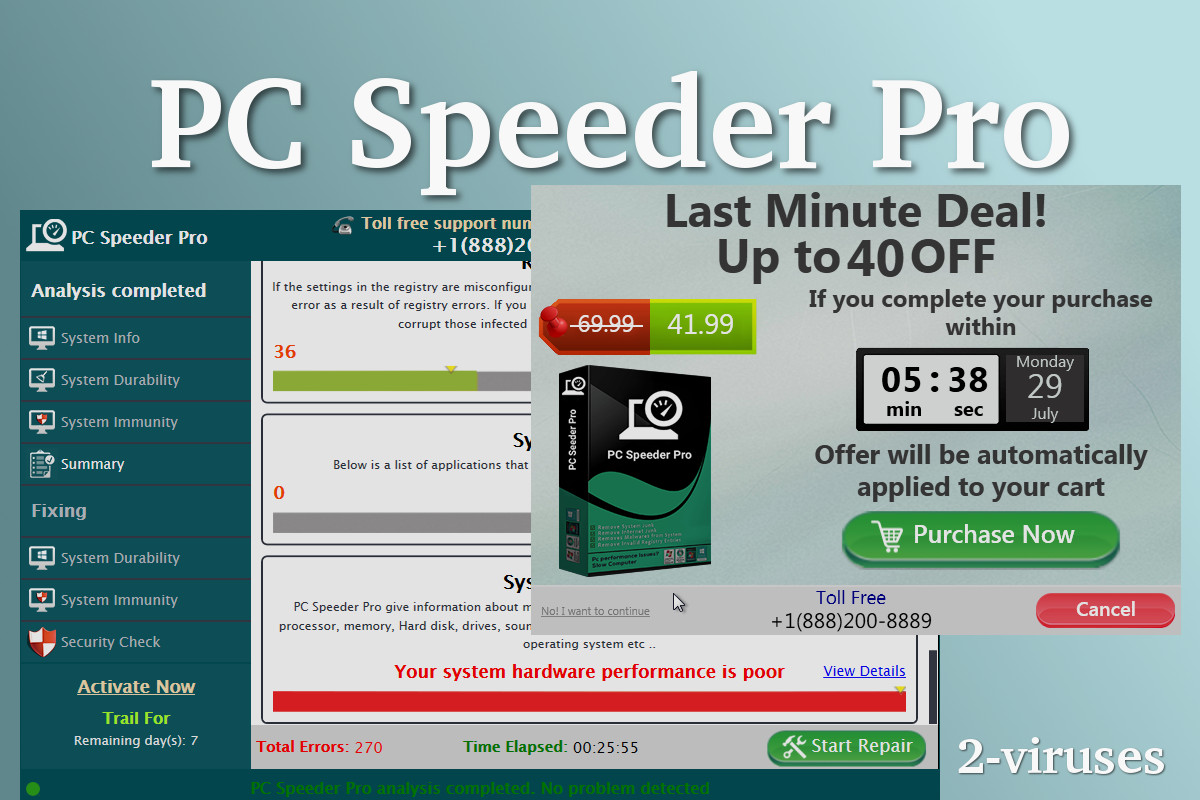 How to remove PC Speeder Pro
You can manually uninstall PC Speeder Pro by using the Control Panel. Because the program is detected by most professional antivirus tools (if you choose to detect potentially unwanted programs), any tool that you trust will probably work (for example, Spyhunter).
To avoid unwanted installations and dishonest marketing that's often used to promote these products, you can do a few things:
Avoid websites with excessively aggressive ads.
Ignore PC security alerts when they originate in a website (websites can't know if you have malware or not).
Don't install programs when you don't know who their developers are and how reputable they are.
Don't reveal your credit card details unnecessarily.
Read the setup wizard screens very carefully: sometimes the warnings about bundled software are made so obscure that the only way to catch them is to read every word.
Learn how to kill processes when a program like PC Speeder Pro doesn't provide a way to close it.
Avoid PC Speeder Pro and similar programs that promise to make your computer run like it's new and even boost its performance — they're rarely honest. PC Repair PRO, Auto PC Speedup, PCActivator are only a few out of many programs that exist mainly to collect money from their users, not to actually help them.
Automatic Malware removal tools
How to remove PC Speeder Pro PUP using Windows Control Panel
Many hijackers and adware like
PC Speeder Pro Fake Optimizer
install some of their components as regular Windows programs as well as additional software. This part of malware can be uninstalled from the Control Panel. To access it, do the following.
Start→Control Panel (older Windows) or press Windows Key→Search and enter Control Panel and then press Enter (Windows 8, Windows 10).
Choose Uninstall Program (if you don't see it, click in the upper right next to "View by" and select Category).
Go through the list of programs and select entries related to PC Speeder Pro PUP . You can click on "Name" or "Installed On" to reorder your programs and make PC Speeder Pro Fake Optimizer easier to find.
Click the Uninstall button. If you're asked if you really want to remove the program, click Yes.
In many cases anti-malware programs are better at detecting related parasites, thus I recommend installing Spyhunter to identify other programs that might be a part of this infection.