PC Booster Pro might look like it could be a useful PC optimizer, unfortunately,  it's considered to be unsafe and deceptive by some very reputable cybersecurity sources. While, unlike the similarly named PCBooster, it is not known to try to hijack your device though Remote Desktop or to secretly mine cryptocurrencies, it does still have some issues that make it dangerous and dishonest.
Pc Booster Pro Pup quicklinks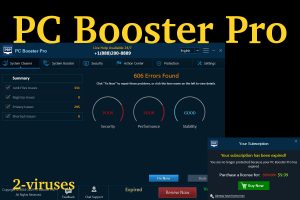 According to its homepage, PCBoosterPro.net:
PC Booster Pro thoroughly cleans all unwanted files that accumulate in your PC with repeated use. It deeds as a PC Optimizer Tool and also as a PC Cleaner Software
This program is very similar to PC Speeder Pro and Advance PC Solutions, other applications made by the same developer — Econosoft. The behavior is very similar, too, such as:
Can't quit the program normally.
Minor issues and non-issues are labeled as errors.
Uninstalling made difficult by dishonest design.
Unwanted and expensive offers made over the phone.
No free trial, won't fix the "issues" for free.
No wonder so many antivirus utilities are suspicious of PC Booster Pro.
Is PC Booster Pro a potentially unwanted program (PUP)?
Microsoft has been taking Windows security, optimization, and user experience more and more seriously over the years, and consequently, PC optimizers have been less useful. That's forced them to get more desperate: bundling dubious software for money, showing alarmist warnings, some of them even becoming gateways to tech support scams. A tech support scam is when you're being falsely convinced (through browser redirects and pop-ups or fake security software) that your computer is infected. You're told to contact tech support and the person on the other end then sells you bogus security products and hijacks your computer.
Most users of PC Booster Pro won't fall for that, but they're still better off removing this program. It's not very useful. PC Booster Pro says that freeing up space on your computer (something that Windows already has tools for) or deleting unnecessary Registry entries (something that has no perceptible impact) will make your computer run faster, which is only true for machines with barely any free space left (in which case, you probably don't want to install another program). Most users would not see any improvement by removing a few megabytes worth of data.
Besides improving performance by deleting files, PC Booster Pro claims to improve the internet speed by 300%, but not only is that incredible (a program can't get around hardware issues), its changes would result in slower webpage loading in many circumstances. It also says that it ends useless processes and makes startup faster, which would make sense if PC Booster Pro didn't hypocritically insist on being in startup and refusing to close. Also, Windows already provides tools for managing processes and startup, plus many other minor settings.
The price for PC Booster Pro might seem small ($9.99 for a year) but some of those who used similar software with the same monetization complained about being talked into buying products for hundreds of dollars. Claims that the PC Booster Pro support tries to convince people to buy expensive software are concerning because most of us are very vulnerable to psychological manipulation. Social engineering, after all, is the most powerful hacking tool.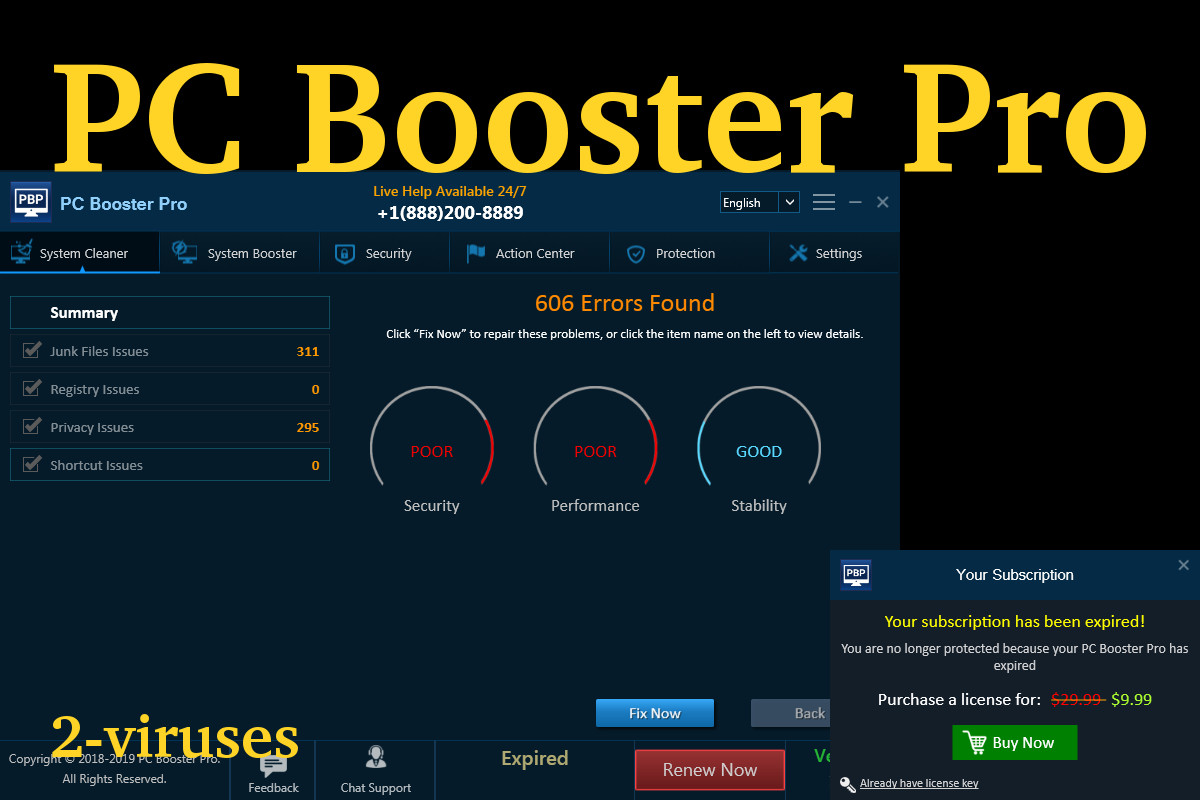 How to recognize PUPs
A way to not fall for the traps of junkware is by recognizing the red flags early on.
Aggressive ads are a bad sign. Whether the ads lead you to the program or the ads started after you installed a particular application, excessive advertising is very suspicious and potentially dangerous.
PC Booster Pro dislays the support number very prominently. That's not necessarily bad, but it does remind me of numerous tech support scams which advertise phone numbers.
Being installed without your knowledge is a very clear red flag. If you downloaded and installed one application but ended up with three unfamiliar apps, feel free to remove them. These are programs that can't get users on their own merit, so their developers pay other programs to distribute them.
When each unnecessary file and minor setting that PC Booster Pro doesn't like being labeled "error" and "issue" gives you a false sense of urgency and stress — in fact, your computer is probably fine, or will be if you just remove a few unnecessary programs (like PC Booster Pro).
Don't trust various watermarks that are supposed to ensure that a piece of software is safe. Whether it's some "Gold Certified Partner" or "Guaranteed Safe" sticker. These are very difficult to verify and very easy to fake. Even when they're real, they don't usually mean much anyway.
Watch out for ads that are shaped like download buttons on download portals. Usually, it's browser hijackers and PUPs trying to get accidentally installed.
Stay away from freeware sites as much as possible and download from original sources when you can. That won't make potentially unwanted software safer but it will reduce the instances of bundling that you have to deal with.
How to remove PC Booster Pro
Potentially unwanted software is not as tricky to remove as real viruses, so normal security tools should be enough. If your installed antivirus does not detect PC Booster Pro, then you have either not configured your antivirus to detect PUPs, or your antivirus tool actually does not detect PC Booster Pro.
PC Booster Pro can be uninstalled using Control Panel (though PC Booster Pro tries to hide the removal option by making the button nearly invisible — it's on the lower left) but it's also worth scanning your device with an antivirus tool. You can use Spyhunter, or another competent program to scan your device and see if any potentially dangerous software is found. If you never installed PC Booster Pro, it must have been bundled with anoth erapplication, which means that it's likely that there's more junkware present on your system. Ironically to PC Booster Pro, removing it and other PUPs will likely to have a positive impact on your PC performance.
Automatic Malware removal tools
How to remove PC Booster Pro PUP using Windows Control Panel
Many hijackers and adware like
PC Booster Pro
install some of their components as regular Windows programs as well as additional software. This part of malware can be uninstalled from the Control Panel. To access it, do the following.
Start→Control Panel (older Windows) or press Windows Key→Search and enter Control Panel and then press Enter (Windows 8, Windows 10).
Choose Uninstall Program (if you don't see it, click in the upper right next to "View by" and select Category).
Go through the list of programs and select entries related to PC Booster Pro PUP . You can click on "Name" or "Installed On" to reorder your programs and make PC Booster Pro easier to find.
Click the Uninstall button. If you're asked if you really want to remove the program, click Yes.
In many cases anti-malware programs are better at detecting related parasites, thus I recommend installing Spyhunter to identify other programs that might be a part of this infection.