Qbit Mac Optimizer might look like a professional and trusted program for keeping a Mac in pristine condition. And really, there could be a benefit from using such a program — the more people use Macs, the more junkware is created for the platform, so it makes sense to be conscious of the security of your computer.
Qbit Mac Optimizer quicklinks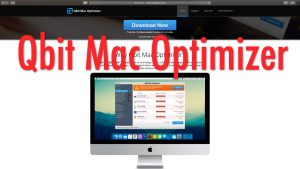 The application claims to keep your computer secure and fast, offering various utilities of freeing up disk space, as well as a rogue applications scanner. It's funny, then, that Qbit Mac Optimizer is an example of junkware for Mac. Just look at its detections by various security programs.
It's often installed without clear permission, it asks for money when it does things that your Mac already does for free, and it tries to scare you with over-the-top detections where non-issues are presented as real problems threatening your Mac's performance.
The best thing you could do for your Mac is to uninstall Qbit Mac Optimizer right now, because it's nothing more than a scam:
Type

Scareware
PUP (potentially unwanted program)

Issues

Misrepresents scan findings
Gets installed without permission
Functions are rudimentary and redundant

Distribution

Adware
Bad ads
Bundling
Manual installation from Qbit Mac Optimizer's main website

Removal

Manually uninstall Qbit Mac Optimizer
Delete the additional files left behind by the program
Scan your device for adware and other malware (Combo Cleaner)
Problems with Qbit Mac Optimizer
Qbit Mac Optimizer is a potentially unwanted program specifically developed for Macs. There are many of these applications, for example, Qbit Mac Cleaner, Cleanup My Mac, Speedup Mac Pro. They all do the same stuff:
Start automatically when you turn on your computer.
Performs frequent and unrealistically short scans.
Use obnoxious voiced instructions that are quite distracting and make the application difficult to ignore.
Find lots of "problems" on your Mac.
Require you to purchase the full version of the program to remove all those "problems" and display constant pop-ups to remind you of that.
The functionality of Qbit Mac Optimizer is extremely limited, most of it is a show to manipulate your emotions and cause unnecessary anxiety, then offer a paid relief.
In fact, allowing Qbit Mac Optimizer to run on your Mac will have a negative effect on it. Any program consumes resources and makes your computer a bit slower. When a program is useless, that's just wasting your time and electricity. Especially when one optimizer can try and get you to, against your will, install more of these optimizers by using dirty tricks.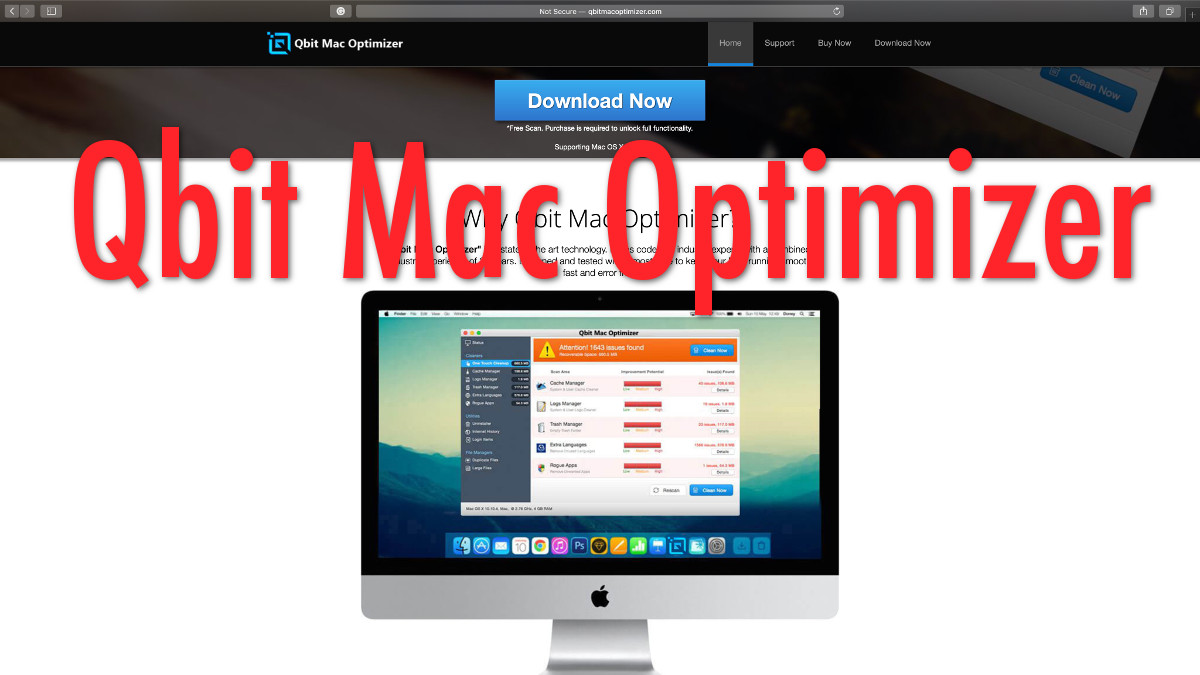 How Qbit Mac Optimizer is distributed
Qbit Mac Optimizer looks exactly like PCVARK products, which are notorious for using deception to sneak their programs onto people's Macs and PCs. It can be downloaded from the program's main website, but it can also use adware, bad ads, or bundling to spread.
One of the most innocent ways they get installed is by bundling. A free program that you download from the internet might have modified installer that, in addition to the main applications, also installs some shady optional items. If Qbit Mac Optimizer just pops up on your computer soon after some other installation, bundling could be responsible.
It gets worse. Qbit Mac Optimizer could use adware to install itself deceptively, here is a video of something similar happening. Adware can display fake windows to trick users to download programs they don't want.
Malware hidden on a Mac can later mess with your user interface to display fake pop-ups, usually stuff that tells you that you have viruses and need to download Qbit Mac Optimizer or a similar program.
Such pop-ups could also open up on your browser, after clicking on some bad ads. They tell you that "Your system is infected" with a bunch of viruses and to perform scans that inevitably pretend to find those viruses and tell you to download a fake optimizer to "repair" the system. There might be no viruses on your computer at all, but Qbit Mac Optimizer will have no problems finding something.
How to remove Qbit Mac Optimizer
Getting rid of Qbit Mac Optimizer is done in a manner similar to removing other unwanted software. Please follow these steps:
Use the "Command-Option-Esc" hotkey combination to open "Force Quit Applications".
Find Qbit Mac Optimizer, make it highlighted and click on "Force Quit".
Open Finder, go to "Applications".
Look for Qbit Mac Cleaner and move it to the Trash.
Remove Qbit Mac Cleaner from the Trash.
Reboot your Mac.
It might not work if it hid some files in the /Library and /Volumes folders under names like "Qbit Mac Optimizer" and "qmo". You can also scan your computer with a real anti-malware program, like Combo Cleaner, which could help find out if any suspicious programs, like adware, are installed.
Automatic Malware removal tools