Apple.com-scan-mac.live pop-up windows now massively attack popular Mac browsers – Safari, Google Chrome, and Mozilla Firefox. The pop-ups claim that they are related to Apple or AppleCare Protection Plan. Nevertheless, these statements are absolutely faulty. There are online criminals standing behind massive campaigns that attempt to infect as many Macs as possible today. The messages delivered by apple.com-scan-mac.live may be presented in several world languages depending on the regional settings and the IP address.

Com Scan Mac Adware quicklinks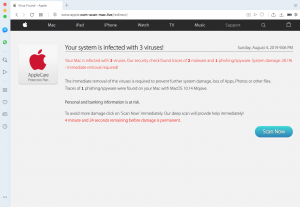 The main purpose of apple.com-scan-mac.live alerts are to make you think your Mac is infected so that you would be convinced to interact with the alert. The main intention of this
scam
is to force you into downloading and installing fake system optimization software, for example, Cleanup My Mac, Mac Cleanup Pro or MacMechanic. Some other rogue security applications may be also promoted by means of the apple.com-scan-mac.live scam.
Apple.com-scan-mac.live – why is it a scam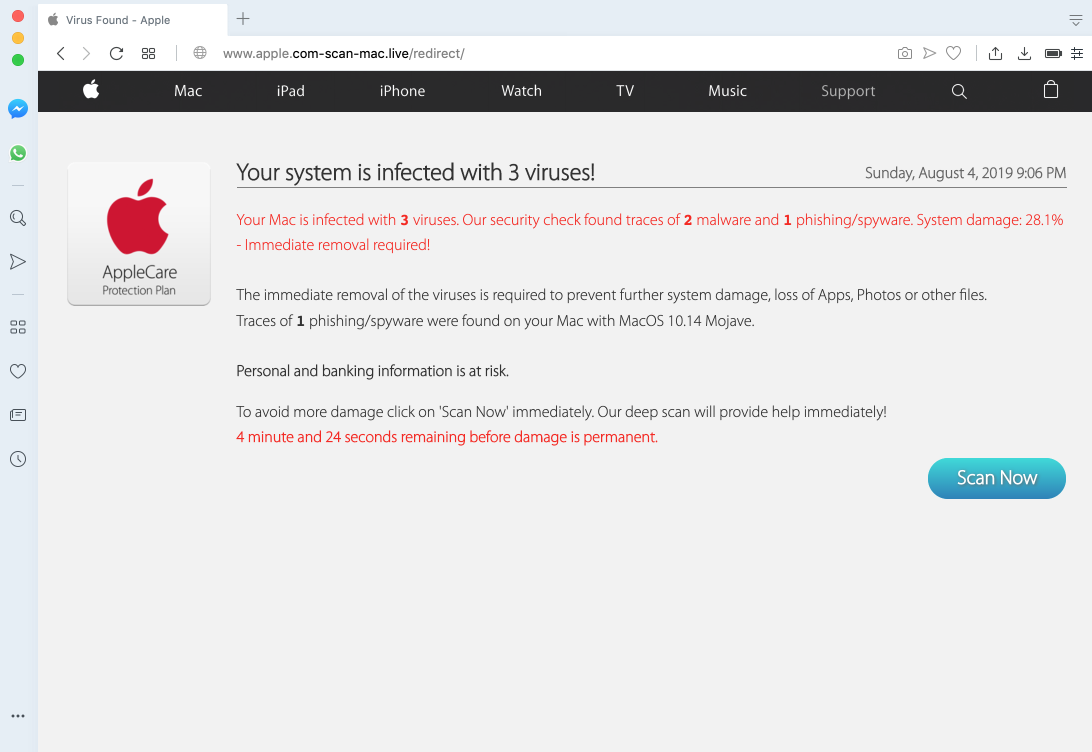 The right to report apple.com-scan-mac.live as extremely malicious is based on the faulty alerts delivered by the pop-up. Often browser redirection to the scary page occurs unexpectedly, whereas there may be several similar pop-ups open simultaneously. Once the website is loaded, the following misleading information is delivered:
Your system is infected with 3 viruses!
Sunday, August 4, 2019
Your Mac is infected with 3 viruses. Our security check found traces of 2 malware and 1 phishing/spyware. System damage: 28.1% – Immediate removal required!

The immediate removal of the viruses is required to prevent further system damage, loss of Apps, Photos or other files. 
Traces of 1 phishing/spyware were found on your Mac with MacOS 10.14 Mojave. 

Personal and banking information is at risk.
To avoid more damage click on 'Scan Now' immediately. Our deep scan will provide help immediately!
4 minute and 2 seconds remaining before damage is permanent.
The alert disguises itself as the message allegedly related to AppleCare Protection Plan. The logo of Apple is also used, making people think that this is some genuine warning. The message reports 3 viruses supposedly to be found during the primitive online scanning. Finally, the alert says that is important to download some application that is supposed to remove those fake threats. The investigation shows that the programs promoted through the scary alerts similar to apple.com-scan-mac.live can't be considered as genuine applications. The majority of these applications are detected as malicious on VirusTotal, so it is strongly advised that you do not download them in the first place.
Is your Mac really infected
The information reported in the apple.com-scan-mac.live online scam is not true, however, the reality is that your Mac may indeed be contaminated by adware generating the aforesaid faulty messages. The research of similar fake alerts points to several adware programs attacking Mac OS X, for example, MyShopcoupon or MyCouponsmart. Therefore, as long as apple.com-scan-mac.live massively attacks your device this means that your Mac is infected with certain adware controlling your browser settings and periodically forwarding you to malicious pages. Some other redirections by the adware may lead you to the following shady websites:
intrusive surveys and questionnaires collecting your personal information;
landing pages of third-party browser extensions (search engine hijackers);
online games, adult dating websites and other filthy content;
online casino, lotteries, and similar irrelevant pages.
It is hard to predict to what particular website the adware may redirect you, however, it is certain that your Mac is vulnerable before many other computer infections as long as the adware is controlling its important settings. We strongly advise that you immediately examine your Mac to detect and delete the adware generating apple.com-scan-mac.live and other misleading pop-ups.
How to block apple.com-scan-mac.live scam
When it comes to removing the adware from Mac computers, the process involves several important steps. First of all, it is important to visually inspect your available programs and delete the entries that do not look familiar. Many adware samples right now are spread through bundling with free programs. If you have recently installed some free application and did not pay attention to the information provided in the setup wizard, the chances are that some other unwanted programs were also installed unintentionally. Similarly, check your available browser extensions, especially in Safari. Delete the items like AnySearch 1.2.3, ChillTab, SearchPage, or other add-ons not installed directly by you. Finally, in Mac System Preferences, get rid of unwanted profiles. Restart your Mac and check its performance after the unwanted software was uninstalled.
Note that the adware right now can be very tricky and may not be found during the manual examination. We recommend that you additionally scan your Mac with the Spyhunter that will help to properly analyze the safety of your system and will fix other issues that may negatively impact its performance.

Automatic Malware removal tools
TopRemoving Apple.com-scan-mac.live Adware from Safari (Mac OS X)
Click on the Safari menu.
Choose Preferences.

Click on the Extensions Tab.
Click on the Uninstall button near the com-scan-mac. Remove all other unknown or suspicious entries too. If you are not sure whether you need the extension or not, you can simply uncheck the Enable check-box to disable the extension temporarily.

Restart Safari.
(Optional) Reset your browser's settings
If you are still experiencing any issues related to Apple.com-scan-mac.live Adware, reset the settings of your browser to its default settings.
Click on the Safari menu on the top left corner of the screen. Select Reset Safari.

Select which options you want to reset (usually all of them come preselected) and click on the Reset button.

If you cannot reset your browser settings and the problem persists, scan your system with an anti-malware program.