Pirate Chick VPN — a program that says that it's a free-trial VPN tool — has been caught distributing a dangerous Trojan. And though it might not be distributing anything so dangerous at the moment, it's worth considering using another VPN if you care about keeping your passwords private. Pirate Chick VPN is not much different from other programs that infect computers with serious malware while under the guise of being safe, no-nonsense product: Securedisk.exe, Cloud Packager, the recent  Aurora Cheat tool.
Pirate Chick Vpn Pup quicklinks
Attractive VPN service
Usually, VPNs can be useful when trying to reach a private network while not being on a location, for example, connecting to a university's resources while not being on campus. However, more people use VPN connections to get around censorship, access country-specific content, and hide their identity. So when Pirate Chick VPN boasts of having servers in 32 countries and allows anything to be downloaded with no restrictions, it sounds very attractive.
Suspicious distribution
Pirate Chick VPN has its own slick website where it's presented as a professional VPN service, and it's also distributed by bundlers. Bundling can be harmless other than installing bloatware), but is also commonly used to spread computer viruses (as well as less malicious applications, like PUPs). Because of the way that bundling is often set up, it can result in people installing programs unknowingly, by accident, or because they feel like they must.
This is too much like what Trojans do — having people install a virus by making them think that they are installing a legitimate program.
Freeware bundles should be avoided altogether. Some of the most popular free software distributing sites, like Softonic or Download.com, have a history of distributing malware with some installations.
Offers that are too good to be true should not be trusted. Commercial software that costs dozens or hundreds of dollars will not be legally available for free unless it's a trial version (temporary), cracked version (illegal), or some ancient version. And pirated software has been known to be distributed with ransomware, miners, and other viruses, too.
Sophisticated installation
We know about Pirate Chick VPN spreading a Trojan because MalwareHunterTeam and BleepingComputer discovered this malicious behavior. Kudos to them, as Pirate Chick VPN makes it difficult for researchers to figure it out by not installing malware when it detects that it's on a virtual machine, or when it finds some developer tool running in the background.
Virtual machines are invaluable for experimenting with computer viruses, but some viruses are smart enough to know when they're on one and refuse to show up, knowing that security researchers are likely to be watching. The same for the developer tools — they are generally used by people who know well how malware works, and who would be unlikely to miss Pirate Chick VPN downloading suspicious files in the background.
Pirate Chick VPN also refuses to install the virus when it finds that the computer it is on is from a certain selection of countries (Russia, Belarus, Kazakhstan, Ukraine). Possibly, this is a way to avoid the wrath of law enforcement from those places. After all, PirateChick Software claims to be located in Belarus.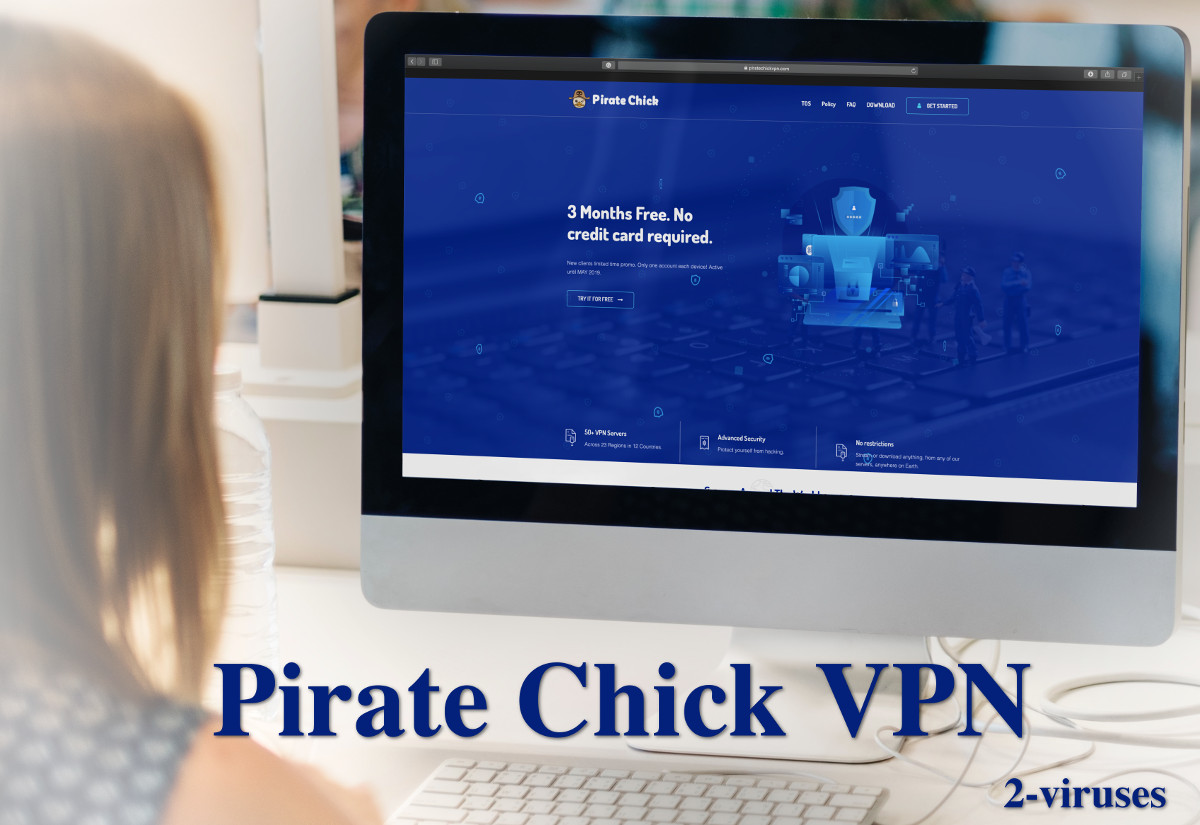 AZORult
AZORult is a banking Trojan. Banking Trojans focus on getting information which would help hack people's bank accounts and steal money. This means finding out which bank a person uses, what their passwords and usernames are. It's associated with Emotet, another serious and sophisticated Trojan. Emotet has been used to introduce AZORult to infected computers, as well as turn computers into zombies for a botnet. This isn't something that happens once in a blue moon. Trojans like that are not rare — Astaroth, CamuBot, SmokeLoader are all dangerous, harmful, and active (for example, botnets are being used all over the world to attack organizations and steal financial data).
How to remove Pirate Chick VPN
If you had Pirate Chick VPN installed, it' not really safe to keep it. It might not be distributing spyware now, but it could start doing it at any time. You can uninstall Pirate Chick VPN on your Control Panel. Some antivirus tools detect Pirate Chick VPN as malicious, so you can have them remove it, too.
It's not certain that Pirate Chick VPN infected your computer with malware. Scan your machine with a strong antivirus program, like Spyhunter, and see if anything is found. Remove malware, repeat the scan to make sure that the malware does not return. Some viruses have strong persistence. As long as there is spyware on your machine, do not use it for online banking, shopping, or anything else that you don't want to be leaked to online criminals.
Automatic Malware removal tools
How to remove Pirate Chick VPN PUP using Windows Control Panel
Many hijackers and adware like
Pirate Chick VPN PUP
install some of their components as regular Windows programs as well as additional software. This part of malware can be uninstalled from the Control Panel. To access it, do the following.
Start→Control Panel (older Windows) or press Windows Key→Search and enter Control Panel and then press Enter (Windows 8, Windows 10).
Choose Uninstall Program (if you don't see it, click in the upper right next to "View by" and select Category).
Go through the list of programs and select entries related to Pirate Chick VPN PUP . You can click on "Name" or "Installed On" to reorder your programs and make Pirate Chick VPN PUP easier to find.
Click the Uninstall button. If you're asked if you really want to remove the program, click Yes.
In many cases anti-malware programs are better at detecting related parasites, thus I recommend installing Spyhunter to identify other programs that might be a part of this infection.