Securedisk.exe CPU Miner Trojan is an infection with a very specific purpose: to slither into operating systems and secretly mine various types of cryptocurrencies. It pretends to be a legitimate version of LaCie Private-Public encoding software. However, it actually is a Trojan, hidden behind a legitimate name. This miner is bound to generate a scheduled task named LaCieS which launches a WebService.exe program (found in the C:\ disk). In order to generate Bitcoins, Monero or other currencies, it will connect to mine3.12finance.com.
For context, we provide some examples of previously-discussed miners: Cloud Packager and Quick Searchers. During the recent months, we have noticed a clear increase in the amount of crypto-miners. While the mining of digital currencies can also be a clean and beneficial activity for some, it becomes a hoax for hackers. For instance, we have spoken about Coinhive service and the incident when their DNS was hacked. Security researchers emphasize on the fact that people should start blocking crypto-miners with the help from AdBlockers and certain anti-virus programs (How).
How to recognize that your system is infected with Securedisk.exe Trojan?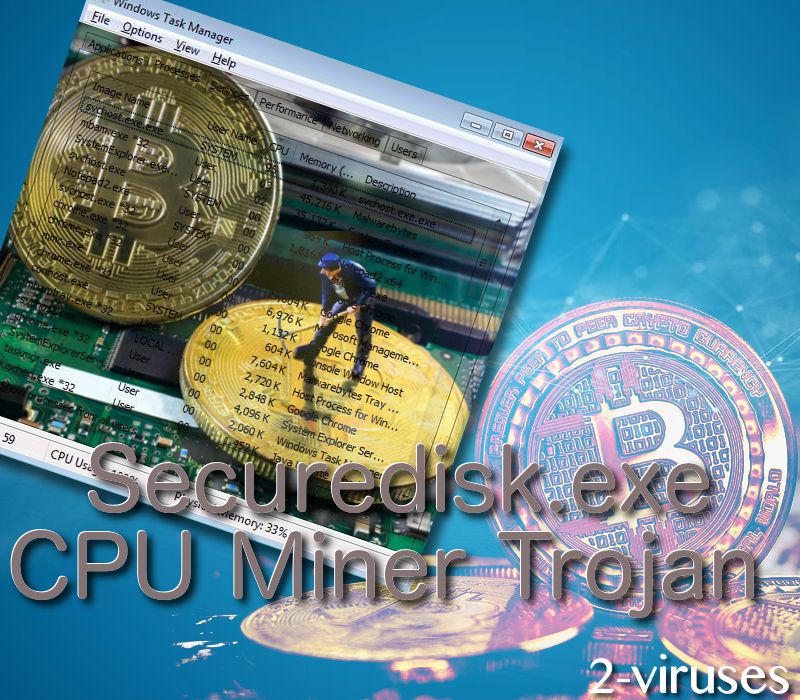 Securedisk.exe miner should be featured in "Task Manager" as one of the ran processes. Pay attention to the percentage of exploited CPU resources: a miner could use more than 90% of them. Most of the infected users have reported that the process took up 99% of exploited CPU power. Consequences of crypto-mining include idle computer behavior, slowly launching programs and even fatal effects on CPU (Crypto).
Even though crypto-miners like Securedisk.exe Trojan do their best to remain undetected, there are certain warning signs (Cryptocurrency). People should evaluate whether their computers do not suddenly start malfunctioning and failing to work as efficient as before. The first thing you do is run a scan with respectable anti-malware applications. After that, you could also try to look for miner in the Task Manager. After you open this window, look at the active processes. If you find something out of the ordinary, check whether that file is not considered malicious.
Unfortunately, not a lot of people know how they can be protected from crypto-miners. It is possible to block some websites that are involved in these activities. In addition to this, some anti-virus applications have been adapted to protect users from these CPU-consuming parasites. Furthermore, Google has also expressed plans to prevent crypto-mining in Chrome. People would be warned about the fact that a crypto-miners like Securedisk.exe are being implanted into their computers. Currently, websites are able to automatically inject mining-Trojans into devices (even without receiving permissions from users).
What is the best way to protect yourself from infections like Securedisk.exe crypto-miner?
We have already mentioned some of the techniques that miners of digital currencies are distributed. In addition to them, it is also possible to download a Securedisk.exe miner together with a desktop application or a browser extension. SafeBrowse was the first extension to deliver a miner, but definitely won't be the last. Therefore, you should not download programs from unknown developers. Before installing them, check their reviews. Some people are quick to notice suspicious features and won't hesitate to post their experiences online.
If you wish to have your operating system protected by a legitimate anti-malware tool, we recommend downloading Spyhunter. It will provide protection which is highly necessary due to improvements in hackers' strategies. More and more new techniques are being detected. Therefore, your operating system could use all the help it can get. Make sure that the Securedisk.exe Trojan would be appropriately removed.
Of course, remember to stay way from suspicious websites and online advertisements. Malware-laden content is becoming a very big issue and we hope that you cybersecurity won't become threatened by it. Also, install only those applications that you are certain won't be involved in any malicious activities.
Automatic Malware removal tools