OptiSpeed is a potentially unwanted program made by Auslogics, the same company that released Tweakerbit Registry Optimizer. Auslogics specializes in making PC optimizers that are meant to help computers run better, faster, and smoother. Its products, especially OptiSpeed, are considered to be dishonest and suspicious by antivirus experts.
Optispeed Pup quicklinks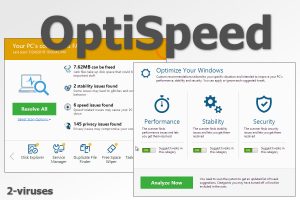 For those who have used at least a few PC optimizers, OptiSpeed's windows will look familiar. A dashboard that quickly displays a verdict on the health of your system, red-to-green color indicators, problem counters, monetization by subscription. At first glance, there is hardly a difference between OptiSpeed and PCVARK's products like Advanced Clean Pro — known fake optimizers.
Is OptiSpeed useful?
OptiSpeed presents a large list of varies functions, including:
Task manager,
Junk and temporary file removal,
File recovery,
Service manager,
Hard drive checker,
System information display,
Uninstall manager,
Disk defragmenter,
Startup manager.
These functions also happen to already be available on the newest Windows operating systems by default. OptiSpeed, a paid program, offers to do what Windows already does automatically: defragment the disk, display system information, remove junk files, all of the above and more. OptiSpeed doesn't seem to offer anything original or unique tha would make it worth downloading.
Applications like OptiSpeed are published to get money from users at any cost. They employ psychological tricks to convince you that, in order to be healthy, your computer needs the constant care and supervision of the optimizer. That's not accurate. Microsoft has done a lot to make PCs very simple to take care of, repair issues, and manage settings. On the other hand, installing a program like OptiSpeed is more likely to have a negative impact on the long run: pop-up ads, scheduled scans, alarm about non-issues is only going to waste your time.
The installation of OptiSpeed
Besides being redundant bloatware, OptiSpeed's distribution methods were very problematic. While some people downloaded the program because they wanted it, others had it essentially forced on them.
Some people would discover OptiSpeed already on their computers despite never looking for it and never downloading it intentionally. Most likely, they were victims of bundling: the promotion of programs by including them with the installation of other programs. The promoted software is installed with minimal or no warning in the setup process. Bundling is easily abused by malware and is looked down on as something only unethical companies take part in.
Not everyone has OptiSpeed forced on them. Auslogics is trusted and liked by a lot of people, many look for and install the program themselves. However, during the installation, it is detected by some antivirus-tools (if you have them installed). When a program called Malwarebytes detects OptiSpeed as potentially unwanted, OptiSpeed tells the user that it's false positive and to disable its settings of detecting PUPs. That's ironic when  PUPs are one of the main reasons why some computers run too slow.
You don't need to look for reasons to be suspicious of OptiSpeed, the Hybrid Analysis report handily provides them. Currently, the majority of the reputable antivirus tools that scan OptiSpeed's setup file detect it as malicious. Some of it is because OptiSpeed displays exaggerated warnings to scare the user. Some — because the program installs itself without the user's permission or knowledge. A lot of people would consider OptiSpeed to be a scam. And a lot of experts would advise you to uninstall it.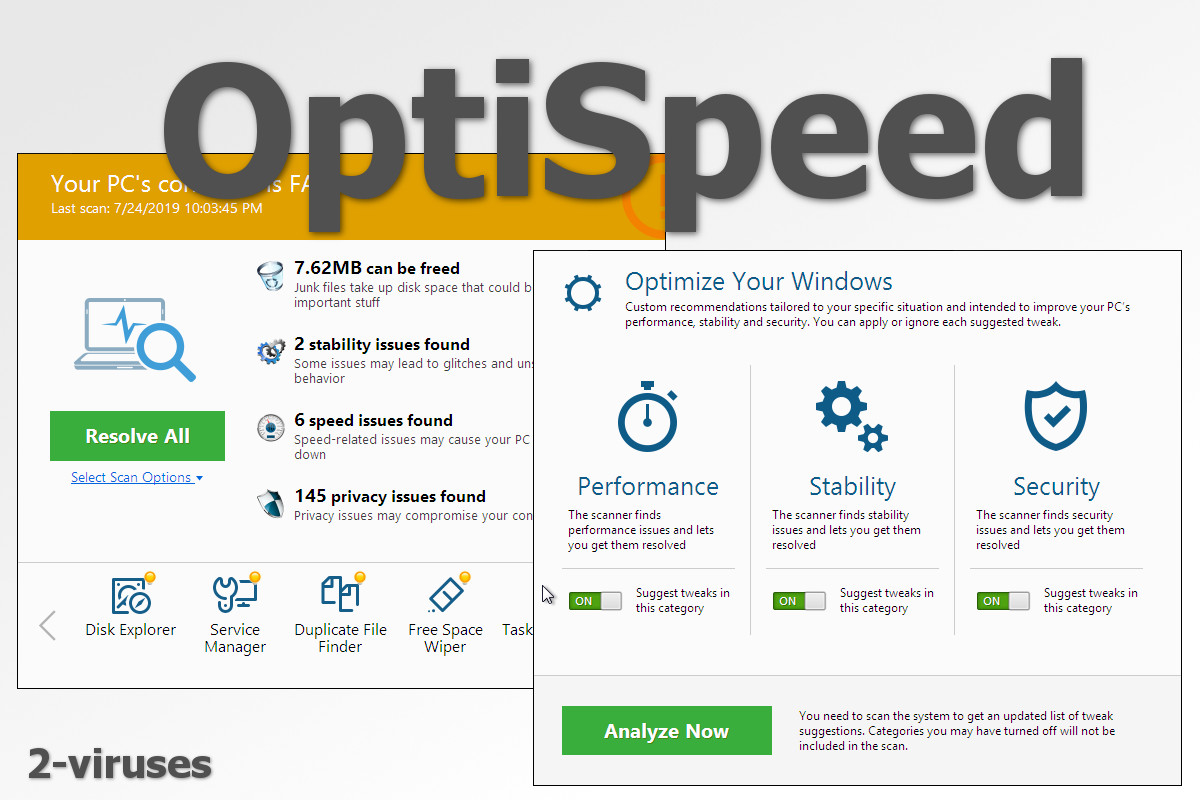 How to remove OptiSpeed PUP
OptiSpeed can remain installed on a computer, but there are good reasons to be suspicious of it. If you do want to remove it, it can be done manually, but it might not be simple. If some files remain on the computer, the program shows pop-ups that encourage you to reinstall it. You can track down those files or employ an automatic scan by Spyhunter, or another strong antivirus tool. You might also need to start your PC in Safe Mode to stop OptiSpeed's processes form interfering with the removal. Don't forget to cancel your subscription to avoid what some users experienced when they were charged money despite not using the program anymore. Don't delay, either, because some have had difficulty canceling the subscription or contacting the support.
Review the settings of your antivirus program and make sure that it warns you about potentially unwanted and poor reputation programs. These warnings are not useless and are based on real qualities of these applications and their developers. Learn from others' experience and avoid suspicious programs.
While you're removing OptiSpeed, it's a good idea to review what programs you have installed that you don't use regularly. Not running unnecessary programs can free up some computer resources for other, important tasks. Various driver updaters, registry fixers, disk defragmenters, and junk file removers are unlikely to ever be genuinely useful, despite their attractive presentation. The Windows operating system can take care of its PC reasonably well and you should only install new programs that you actually trust.
Automatic Malware removal tools
How to remove OptiSpeed PUP using Windows Control Panel
Many hijackers and adware like
OptiSpeed
install some of their components as regular Windows programs as well as additional software. This part of malware can be uninstalled from the Control Panel. To access it, do the following.
Start→Control Panel (older Windows) or press Windows Key→Search and enter Control Panel and then press Enter (Windows 8, Windows 10).
Choose Uninstall Program (if you don't see it, click in the upper right next to "View by" and select Category).
Go through the list of programs and select entries related to OptiSpeed PUP . You can click on "Name" or "Installed On" to reorder your programs and make OptiSpeed easier to find.
Click the Uninstall button. If you're asked if you really want to remove the program, click Yes.
In many cases anti-malware programs are better at detecting related parasites, thus I recommend installing Spyhunter to identify other programs that might be a part of this infection.