Tweakerbit Registry Optimizer by Auslogics Labs Pty LTD. is an optimizer for operating systems and it specializes in making high-quality innovative software that lets you easily tweak, clean, speed up, fix and optimize your computer without having to learn any special technical skills. Even though they describe themselves as professionals, security researchers regard products by Tweakerbit as other potentially unwanted programs (PUPs). Recent examples of this group are Driver Navigator and Master PC Cleaner. Similar applications were discovered even in 2008: one of those old tools is System Booster.
Tweakerbit Registry Optimizer is a potentially unwanted application which will show false positives
We ran one of the Tweakerbit products through a number of security programs. Result clearly showed that their applications are not to be trusted and different scanners indicated it as a different threat (VirusTotal scan). Take a look at the few of the labels: Win32:SilentInstaller-A [PUP], Auslogics (fs), Application.Win32.Auslogics.D, W32/TweakBit.D.gen!Eldorado, Adware ( 004f86b41 ) and BehavesLike.Win32.Obfuscated.hc.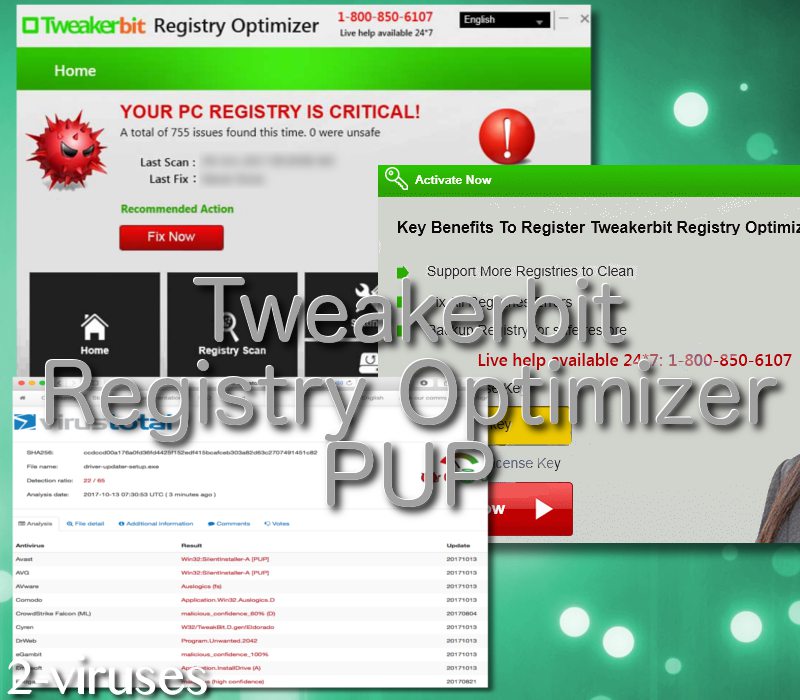 Tweakerbit Registry Optimizer rogue tool has received some negative feedback from its clients. (TrustPilot.com) provides quite informative testimonials and some of them indicate products by Tweakerbit as a total sham. Take a look at a couple of eye-opening statements that should definitely discourage you from utilizing this tool:
"1. I used the program once, and it caused more harm than good. Months later, I received a mail that something I never asked for was being billed in my credit card. This is an outright fraudulent hoax.
2. Unacceptable behaviour, money taken from card without authorisation. Very difficult to find customer service help. Legal action needs to be taken against such companies. DO NOT sign up for anything from this company.
3. I received a charge on my PayPal account for this program. Somewhere, some how I purchased this unbeknownst to me. I petitioned it but was denied a refund as it was not an unauthorized purchase. Strange. I never purchased it. So, cut up the credit card and got a new one.
4. It is not a good software. It suppose to repair my PC and it didn't. Surprisingly after scanning using Norton or CCleaner, the same errors are still there even though PCRepairKit have confirmed that my PC is error free. About the recurring subscription, they do not inform me 2 or 3 days before doing a transaction on my card. I have stopped using it and continue using CCleaner instead which is much more trustworthy. This is unacceptable. I demand a refund & cancel my recurring subscription.
5. I purchased this software today for £23.36 using PayPal and when I checked my PayPal account I was charged £39.51 and it had set up a quarterly payment for £39.51. The software was also not fit for purpose and was continually trying to extort more money from me. Please do not use this software, or arrange payment, many other people have experienced similar results from this company".
As you can see, most of the testimonials we selected warn other surfers about the financial losses that they have suffered due to involvement with products of Tweakerbit. Tweakerbit Registry Optimizer potentially unwanted program (PUP) is clearly a deceptive tool which will be causing issues for people and operating systems. In fact, many respectable authorities have emphasized the redundancy of getting a system optimizer. These software applications are either rogue or useless. They offer very little function and do not fix any of the issues they promise. Furthermore, this suspicious application has been indicated to bring additional .pkg files that might be malware-related:
"It tagged on a additional pkg I didn't want. Then the program knocked out my Norton security system. I asked for a refund and emailed my reciet. I doubt very much I'll ever get a refund unless I go to court".
In addition to this, this service is advertised by suspicious ad-networks that we have enumerated among one of the possible malvertising-serving parties. We are referring to DirectREV, Adf.ly, Propeller Ads, AppNexus and other. Also, the Tweakerbit Registry Optimizer potentially unwanted program will show false positives.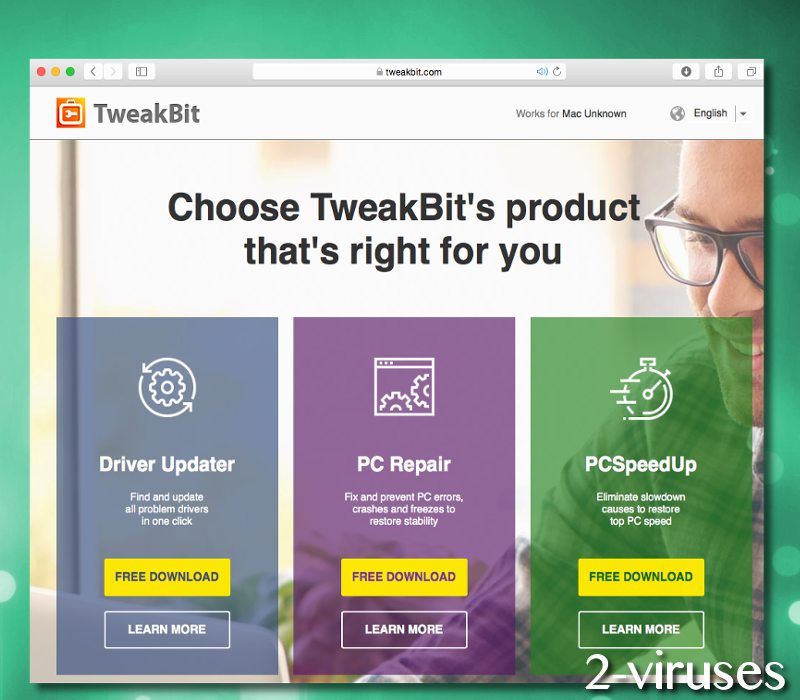 This means that it will alert you about fake security issues in your operating systems in order to convince you that downloading the premium version is a wise idea. However, system optimizers or registry cleaners/fixers should be avoided as they are mostly always regarded as scams. Instead, choose Spyhunter and run a scan to check the condition of your operating system.
Remove the unwanted tool
For the elimination process, we hope you will select the option which involves a new anti-malware tool. However, you can also get rid of this tool manually by following the guidelines we have provided below. For the future, remember that registry cleaners, system optimizers and similar products are to be avoided.
How to remove Tweakerbit Registry Optimizer PUP using Windows Control Panel
Many hijackers and adware like
Tweakerbit Registry Optimizer PUP
install some of their components as regular Windows programs as well as additional software. This part of malware can be uninstalled from the Control Panel. To access it, do the following.
Start→Control Panel (older Windows) or press Windows Key→Search and enter Control Panel and then press Enter (Windows 8, Windows 10).
Choose Uninstall Program (if you don't see it, click in the upper right next to "View by" and select Category).
Go through the list of programs and select entries related to Tweakerbit Registry Optimizer PUP . You can click on "Name" or "Installed On" to reorder your programs and make Tweakerbit Registry Optimizer PUP easier to find.
Click the Uninstall button. If you're asked if you really want to remove the program, click Yes.
In many cases anti-malware programs are better at detecting related parasites, thus I recommend installing Spyhunter to identify other programs that might be a part of this infection.
Automatic Malware removal tools