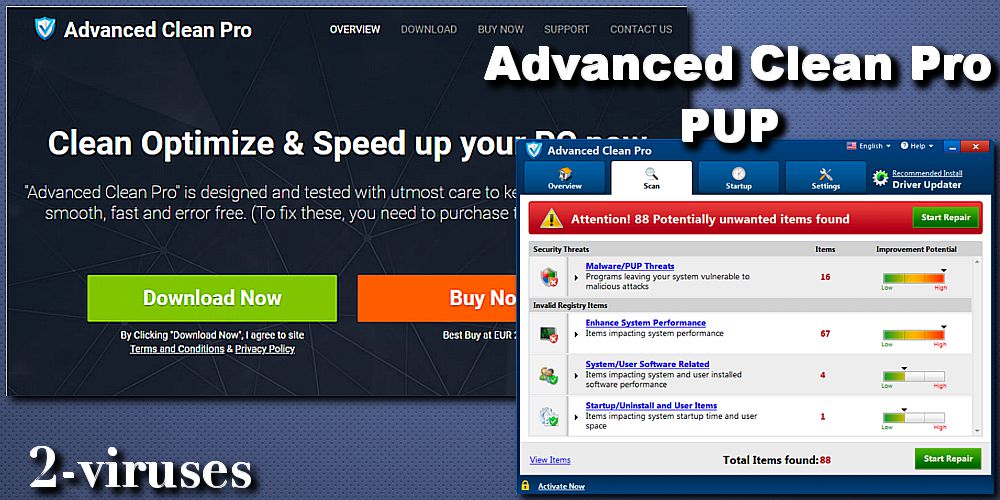 Advanced Clean Pro is a potentially unwanted program that disguises as a Windows system optimizer, which scans the machine and fixes all the errors which slow down the computer. Unfortunately, this too-good-to-be-true tool is nothing more than another copy of rogue applications released by the infamous PCVARK, that simply displays false exaggerated results in order to influence users into buying the full version of the product, so that these urgent issues would be solved instantly. Although Advanced Clean Pro is not too expensive, yet there is no reason paying for some software that is not helpful and later emptying your bank account because of the auto-renewal charges that you forget to cancel.
Advanced Clean Pro Pup quicklinks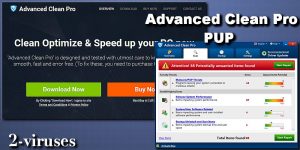 You may know or have heard about other similar applications, which behave or look just like Advanced Clean Pro PUP, for example, System Clean Pro, Mac Tweaker, PC Repair PRO or etc, and just like them, this fake utility tool does not possess any features that would benefit the user. The only difference compared to some other older versions, and the name, of course, is that this time the main product's website even before the installation makes sure to mention that 'To fix errors, you will need to purchase the activation key'. Other than that, everything starting with the design of the scanner and up to the redirect to the payment page is the same.
It does not matter if you have installed Advanced Clean Pro PUP yourself voluntary, or it appeared on your machine without prior consent and knowledge, it is important to remove it before you or other users of the computer decide to finally pay for the premium version. In addition, having a program like that will not help your PC to become faster, and on the contrary, will be a waste of space and energy.
Is Advanced Clean Pro PUP a virus
In short, Advanced Clean Pro is not a virus, yet it does belong to another malware category, which is called potentially unwanted programs, or rogue applications.  The reason why so many people call it a virus is because it performs a variety of shady acts, like installation without proper warning, constant nagging to make a purchase, imitated results and so on, which are not acceptable in a reputable program. Advanced Clean Pro PUP technically, doesn't do anything malicious to your computer, yet some variants are noticed to be extra persistent and hard to remove.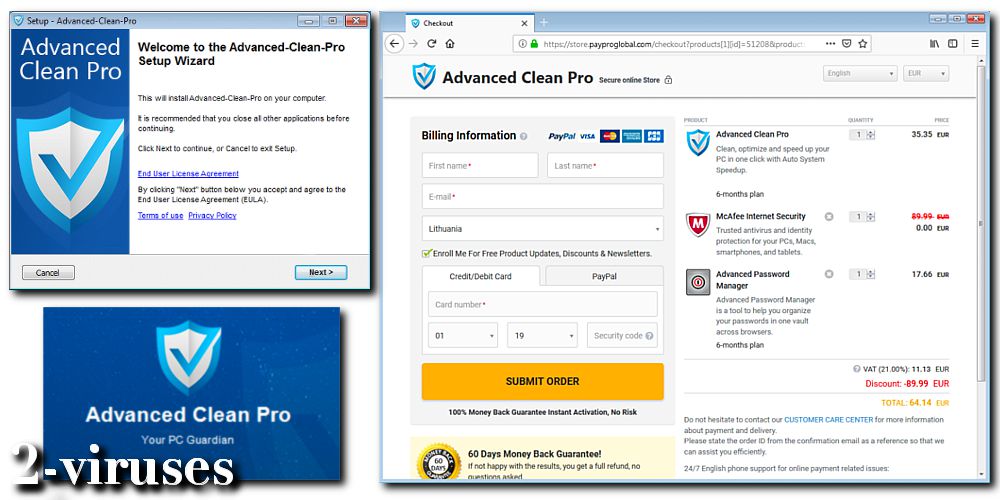 The main purpose of Advanced Clean Pro PUP is to make money for its developing company – PCVARK by pretending that the compromised system is very infected (showing hundreds of issues found even on fully clean computers, constantly reminding users of errors and their urgency) and trying to scare user into paying for the activation key. This business has already brought a negative image on itself in the malware world for creating multiple rogue applications and boldly deceiving people for years. Not only do these programs pretend to find tons of errors even on the freshly installed systems, but they also try sneaking in other potentially unwanted applications during the installation and the purchase.
Advanced Clean Pro's Setup Wizard offered to install Driver Updater together with the main software, what is more, later after going to the payment site, it tried adding free McAfee antivirus (which will generate some affiliate money if the user upgrades it) and Advanced Password manager for additional 18 EUR into the cart. This all added up to 64.14 EUR for 6 months (Advanced Clean Pro cost was 35.35 EUR). Mind you, the purchase is done through a third-party, which has completely different policies than Advanced Clean Pro PUP, that is why you can very easily not be eligible for the refund or become a victim of auto-renewal services, even after the software is removed completely.
Quite a few sophisticated antivirus engines recognize Advanced Clean Pro PUP as malware and offer detection and removal of this supposedly helpful system optimizer. 2-viruses.com team recommend deleting Advanced Clean Pro and other related applications and avoid the irritating pop-ups or scary reports about your system, which most likely is just fine.
How does Advanced Clean Pro spread
Advanced Clean Pro has a couple spreading techniques which allow entering computers in various ways. Some methods are shadier, while some are typical for any trusted software. Since Advanced Clean Pro PUP wants to appear as close to the real utility program as possible and ensure victims that there is nothing shady about it, developers invested some time creating its official website, where online surfers can go and download the tool themselves. This, of course, is a great way to self-promote the product, yet the bigger part of the popularity comes from Bundling.
Advanced Clean Pro PUP gets compiled in various other software installers as an additional program and sets up with the main app if the user does not select differently. The only way to uncheck all of the unwanted programs in Setup Wizard is to run the installation in Advanced/Custom mode, where you will see all the recommended apps, which the distributing vendor added without your knowledge. Typically, this happens when you get software from Freeware sites, torrents or other unofficial sources.
How to uninstall Advanced Clean Pro PUP from Windows
Thankfully, Advanced Clean Pro PUP is not the most notorious kinds of malware, therefore the elimination is also fairly simple. We suggest by simply uninstalling the program from your Control Panel, just as any other application. Then, if necessary, run a system scan with either Spyhunter anti-spyware programs to check if there are no other leftover files or compromised folders, which could have sneaked in at the same time, that require additional attention and removal.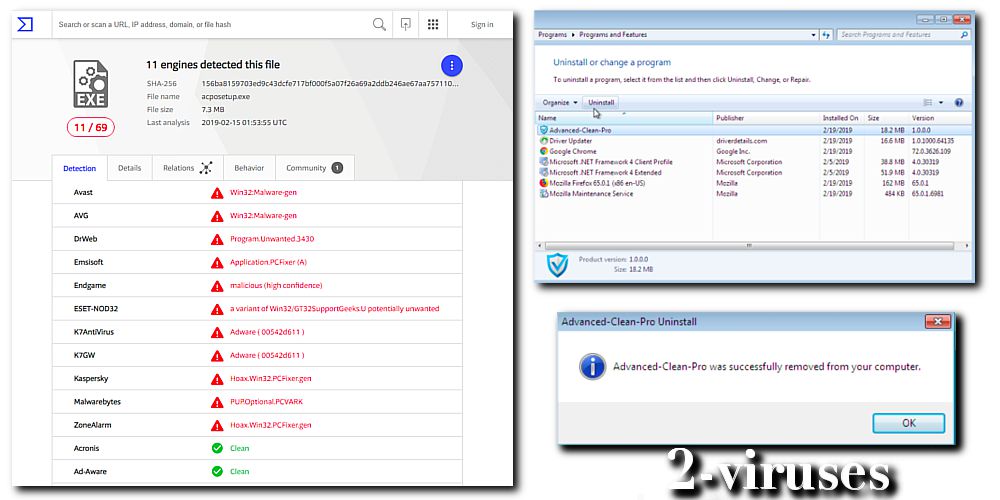 Below you will find Advanced Clean Pro removal guide, which we designed to help our readers which may experience some issues during the process in order to get back on track. If you really do not have any time nor interest/technical skills to remove the program manually, Malwarebytes security program is a great solution, because it detects all kinds of PCVARK's creations and viruses and offers free ways to remove them.
Automatic Malware removal tools
How to remove Advanced Clean Pro PUP using Windows Control Panel
Many hijackers and adware like
Advanced Clean Pro PUP
install some of their components as regular Windows programs as well as additional software. This part of malware can be uninstalled from the Control Panel. To access it, do the following.
Start→Control Panel (older Windows) or press Windows Key→Search and enter Control Panel and then press Enter (Windows 8, Windows 10).
Choose Uninstall Program (if you don't see it, click in the upper right next to "View by" and select Category).
Go through the list of programs and select entries related to Advanced Clean Pro PUP . You can click on "Name" or "Installed On" to reorder your programs and make Advanced Clean Pro PUP easier to find.
Click the Uninstall button. If you're asked if you really want to remove the program, click Yes.
In many cases anti-malware programs are better at detecting related parasites, thus I recommend installing Spyhunter to identify other programs that might be a part of this infection.