Who doesn't want their computer to run so smoothly and fast just as it was brand new? We all certainly do, therefore digital product market has plenty of 'quick and effective solutions' to offer for those who want to optimize their system and boost the performance of their PCs. OneSafe PC Cleaner is one of many of these miracle tools that have so many useful features, allowing users to clean the registry, delete duplicate files, get rid of the unwanted applications and browsing history, fix corrupted files. Sounds too good to be true? Indeed, the OneSafe PC Cleaner program is no better than Safe PC Cleaner, PC Cleanup 2018, Auto PC Cleaner 2019 or Quick PC Tuneup, which are all just potentially unwanted programs, deceiving gullible users to make a profit. 
Onesafe Pc Cleaner Pro Pup quicklinks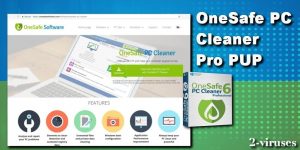 It's well explained in this HowToGeek.com article how you don't really need all these system optimization tools to have a well-performing computer. Yet you probably know that addictive feeling of satisfaction when such application fixes all the issues found on your Windows displaying a 'Your system is clean!' message and dyeing its interface bright green. And no matter that these alerts were all mostly fake, the placebo effect takes over, making you almost feel like your computer really is running faster. But…
This is where OneSafe PC Cleaner PUP decides to play with you and, after offering the free scan, asks to get the full PRO version in order to clean the system fully. But don't fall for this smart marketing trick and read our article to find out more about OneSafe PC Cleaner system optimizer.
OneSafe PC Cleaner is a dubious application that slows down your computer after it infects it using shady methods:
OneSafe PC Cleaner classification

PUP (potentially unwanted program)
Scam

Problems with the program

Harmless files are presented as urgent issues
Redundant functionality
High price for low-quality service
Phone numbers that are associated with adware pop-ups
Unwanted installation

OneSafe PC Cleaner installation methods

Manual installation
Downloaded bundled with freeware
Promoted by fake virus scans online and by other tech support scams

OneSafe PC Cleaner removal

Uninstall the program manually
If it doesn't work, use an antivirus scanner like SpyHunter to remove it
Is OneSafe PC Cleaner PUP a virus
In a nutshell, OneSafe PC Cleaner is not a virus, but it does fall into the malware category under potentially unwanted programs (PUP). This means that PC Cleaner demonstrates some undesired and shady behavior features, yet is not necessarily malicious. Users simply tend to refer to OneSafe PC Cleaner as a virus because sometimes it sneaks in unnoticed and starts working without the user's consent. It consumes system resources despite not providing a lot of value. It is unclear how well OneSafe PC Cleaner detects existing registry errors or file duplicates, yet we can guarantee that even if your system is clean this PUP will show false results just to scare you and push towards purchasing the PRO version. (PC cleaning apps are scams).
On paper, the software might not even lie to you, and yet still show deceptive results. This is because OneSafe PC Cleaner shows harmless findings like temporary files, deletable registry keys, cookies, and certain system settings (for example, turned on shadows under your windows or window minimization animations) as issues, implying a negative tone. The truth is that if you were to listen to OneSafe PC Cleaner and "fix" all the issues that it finds, your experience, especially browsing experience, might be affected badly. Don't delete cookies or registry keys for no reason – them existing doesn't hurt the speed of your PC. Deleting browser cache and cookies could mean longer site loading times and having to re-login to every site. Deleting unnecessary registry keys, if OneSafe PC Cleaner makes a mistake, could brick your PC.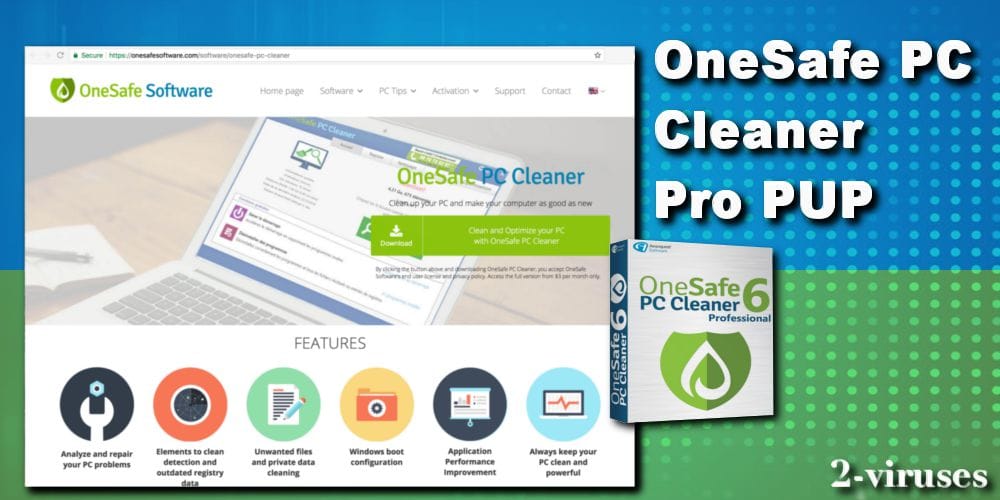 OneSafe PC Cleaner 5 full membership for a year comes to around 36$ (30€) on the official site onesafesoftware.com, but the OneSafe PC Cleaner 6 version, which is only available on avanquest.com, will end up costing almost a double – around 64$ (55 €) per year. These fees compared to other rogue optimizations tools are significantly bigger (which are usually around $19.99), but the French developing company called Avanquest Software is targeting mainly economically well-standing countries like Germany, United States, Canada, France, and United Kingdom, which are not that much affected by such difference. As well as OneSafe PC Cleaner, Avanquest has other similar PUP products – OneSafe Mac Cleaner, OneSafe Driver Manager, Safe Passwords, FixIt, and amuleC. 
System maintenance is important but OneSafe PC Cleaner is not going to be the right tool to help. Despite it not causing that much damage (most of the time), the service and EULA are so slick, that this simple PC Cleaner PUP can turn into a spyware that tracks your personal data, places inappropriate third-party ads and changes the fees without your knowledge (you will only find out about it after your Credit Card will get charged) very suddenly, and you won't be able to do anything about it legally. Take a look at this excerpt for yourself:
We may modify the prices at any time and without notice. The prices payable for Products are those in effect at the time of our acceptance of your order.

In order to provide, operate, maintain, serve and improve the Site and Services, so as to be able to further offer additional products, we use 3rd party services. Such Services include payment processors, feedback feature, support and ticketing systems, operational tools, analytics and statistical tools," that will be available via the Services.

Some of our third party services may collect non-identifiable information about your interaction with the Site. Such information may be used by such third parties for serving and displaying ads and offers of the Site and/or content and services offered via the Site ("Ad/s") when you browse other websites across the web ("Retargeting"). You will have the choice to opt-out at any time of such type of advertising, directly from the Ad when you encounter it, from the ad setting of the providing third party services, or by following our opt-out instruction, that are available in our cookie policy.

When you share your information with such 3rd party services, it will be treated and handled according to their own privacy policies, that are required to be made available to you. When such privacy policies cannot be available, for example, when the services include a hosting or storage service, we require such services to treat your information according to the requirements of applicable laws.
Another reason why you should not trust Avanquest's OneSafe PC Cleaner PUP is that, according to  detection results by various reputable antivirus programs on VirusTotal.com, it is recognized as PUP.Optional.OneSafePCCleaner, Program.Unwanted.2450 or Trojan.IGENERIC – basically, a program that shoudl be avoided. Not to mention their customer service phones 1-877-788-0319 (for Canada and the US), https://www.shouldianswer.co.uk/phone-number/02033182514 (for Britain) and 1-888-353-6617, which are likely nothing but tech support scammers, who will charge you exorbitant fees (usually, a couple hundred dollars) for fake security if they successfully convince you that dangerous viruses infected your machine. 
What are the distribution methods of OneSafe PC Cleaner PUP
OneSafe PC Cleaner is currently most popular in the USA, Italy, Spain, Japan, and Argentina. Although you can download this program normally form its home page, it definitely looks like redirects and pop-up ads are involved in popularizing this software. Fake Microsoft pages that tell you that your PC is infected, fake online virus scanners – some sites that spread these tech support scams lead directly to OneSafe PC Cleaner's installation pages, according to web analytics. This is extremely suspicious because users might be given the impression that OneSafe PC Cleaner is some sort of a first-party Windows program but it's not, it's no more trustworthy than any other third-party program. You certainly should not trust a developer who uses blatant lies and malvertising to push their program to users – it's nothing but a scam.
There is a possibility that OneSafe PC Cleaner virus might have appeared on your Windows unexpectedly ad without visiting any shady websites, which would mean that you could have downloaded it in a bundle with some other unwanted applications. This often happens when you install programs from the freeware distributing pages because developers pay well to compile their applications with popular software. To avoid this always get programs from official sites and pick Custom installation mode, instead of the Recommended and uncheck all the unnecessary apps from setting up by the default. 
OneSafe PC Cleaner tricks users with their professional and sophisticated exterior, which just overcompensates for the lack of actually useful functions. What may be pushing people to install OneSafe PC Cleaner virus voluntarily is the free trial that at first seems like a good idea, but later surprises with unwanted features, charges, additional installs and etc. If you really are looking for a decent system for optimizing the program, you should be willing to spend a dime for its reputable worth. We recommend Spyhunter, which is on the contrary legitimate and helpful tool. Also, take a look at this article about free programs – Is downloading free computer software is safe.
How to remove OneSafe PC Cleaner tool
Hopefully, this article convinced you to save your privacy, computer, and wallet and to stop using OneSafe PC Cleaner virus completely. Fortunately, uninstalling the OneSafe PC Cleaner PUP is no different than any other software from your PC – simply go to the Control Panel —> Programs and find the application with its removal button. In very rare cases the developer may decide to hide the uninstall button or make it invisible, so that simple users could not delete it. In that case, you may want to get Spyhunter, which will wipe out the persistent PUP like it was never there, and for the future, you may want to get Malwarebytes antivirus, which would have been useful detecting this rogue application even before you get to install it. 
Automatic Malware removal tools
How to remove OneSafe PC Cleaner Pro PUP using Windows Control Panel
Many hijackers and adware like
PC Cleaner
install some of their components as regular Windows programs as well as additional software. This part of malware can be uninstalled from the Control Panel. To access it, do the following.
Start→Control Panel (older Windows) or press Windows Key→Search and enter Control Panel and then press Enter (Windows 8, Windows 10).
Choose Uninstall Program (if you don't see it, click in the upper right next to "View by" and select Category).
Go through the list of programs and select entries related to OneSafe PC Cleaner Pro PUP . You can click on "Name" or "Installed On" to reorder your programs and make PC Cleaner easier to find.
Click the Uninstall button. If you're asked if you really want to remove the program, click Yes.
In many cases anti-malware programs are better at detecting related parasites, thus I recommend installing Spyhunter to identify other programs that might be a part of this infection.