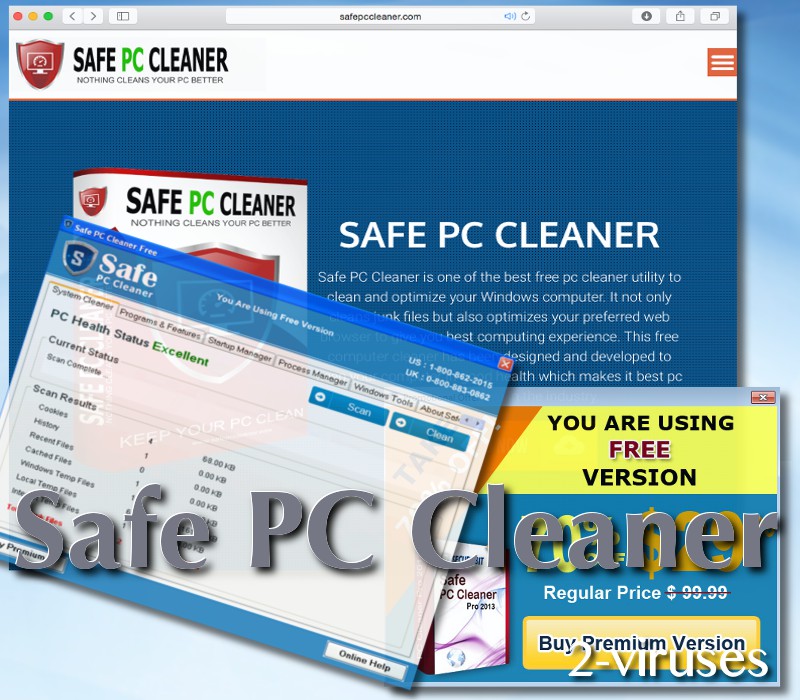 Safe PC Cleaner rogue system optimizer can be described as a potentially unwanted program (PUP) which had its first steps in this industry in 2013. Over the years, it continued to promote its alleged top-notch functions like browser optimization, privacy protection, management of startup, and auto-cleaning of outdated apps, junk files, and other errors. It is a well-established truth, approved by developers of legitimate security software, that registry cleaners and system optimizers fail to be productive and pursue deceptive strategies from their developers' minds.
Safe Pc Cleaner quicklinks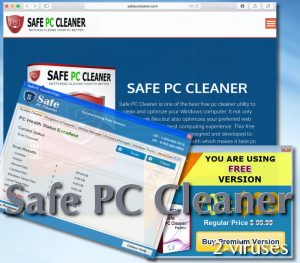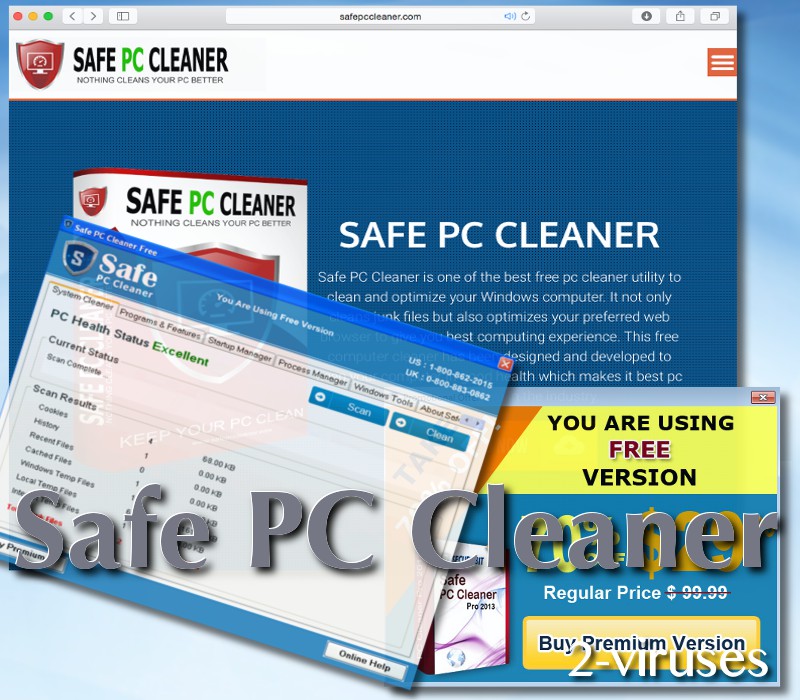 The optimizing-tool was available for approximately 5 years and its utilities were promoted in websites like Safepccleaner.com, Download.cnet.com, and Softpedia.com, yet at the moment the main website for self-advertising has been shut down and is up for sale, meaning that safe PC Cleaner can be only obtained through freeware distributing sites. But ignore all of the glorifying that the developers from Secure Bit Technologies Pvt Ltd. throw your way. We managed to obtain Safe PC Clean rogue security tool and Ran an analysis on it, which showed that this system optimizing application is actually marked as Malware.Heuristic!ET#95% (rdm+) and Riskware.Win32.Unwanted.ebwzyj. Therefore you should no longer trust Safe PC Cleaner virus and read our instructions on how to remove it.
Is Safe PC Cleaner safe to use
Safe PC Cleaner seems to be a nice piece of software that should help you to manage your files, clean your hard drives and improve the performance of your PC in several ways. However, the reality is a little bit different. It is a fake system optimization utility that will not clean your computer but vice versa will cause some problems. Actually, the official source of Safe PC Cleaner unwanted software might look as if it is promoting this website, but in fact, it installs Swift PC Optimizer unwanted software which is the product of the same company, compatible with Win XP, Vista, 7, 8.1 and 10. After getting our hands on a sample, the investigation took place: it delivered us these names: Malware.Heuristic!ET#91% (cloud:Rcdxw02FWkL), Suspici.A0F1CA68 and Pua.Sweetpacks.
While Safe PC Cleaner rogue optimizer has been replaced by a newer variant, we doubt that Swift PC Optimizer fake antivirus will have any better features. It exploits the same strategy of displaying fabricated results to registry scans: they will strongly suggest that a user must contact premium technical support. You are merely going to tempt to download a premium version which will not make any positive changes to your operating system. The same fake warnings were exploited in the case of Safe PC Cleaner unwanted program.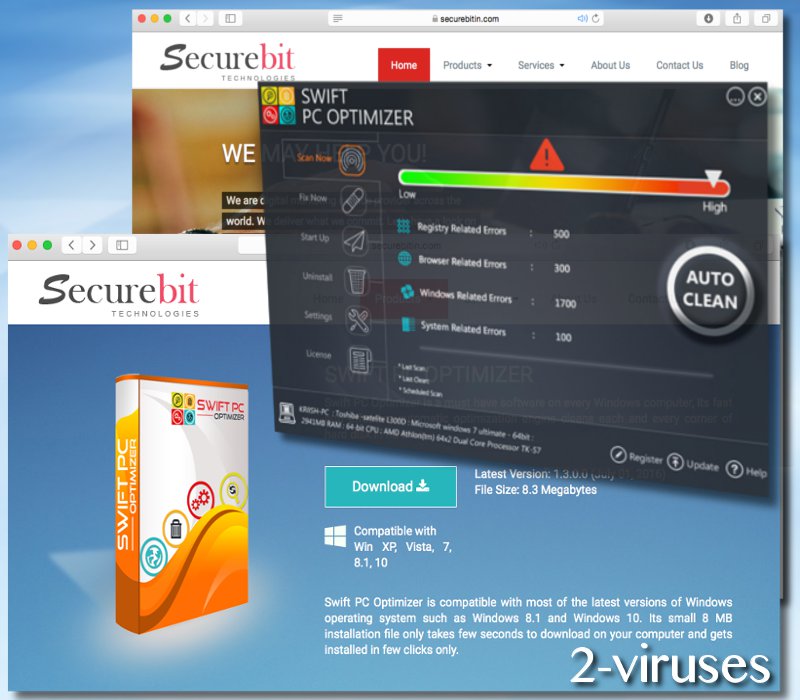 It is known that more than half of installs come from the United States and the rest is from India, Philippines, Romania, Canada, Malaysia, and the UK. This malicious application is listed as a PUP (potentially unwanted program) because it tries to convince users to pay for upgrades that would improve the computer performance. In reality, you should not pay money for this rogue PC cleaner at all, because it will not solve any problems or boost your computer. use other, more trustworthy anti-malware applications to remove it from your system and eliminate the harm that was caused by Safe PC Cleaner.
Once installed, Safe PC Cleaner will make some changes to your computer's settings. Those setting are made with an intention to allow Safe PC Cleaner to automatically launch every time your machine starts and to block most legitimate anti-malware and anti-virus programs. Furthermore, it will annoy you with fake errors and infection messages. If you won't comply and get the premium version you may expect the call from the Safe PC Cleaner's customer service (1-800-6622015) which is most likely belongs to scammers. You wonder how will they find out your number? Tracking online activity is not unusual for such programs, therefore they will know much about, actually more than you think. (See what happens when your phone is taken by the international hackers)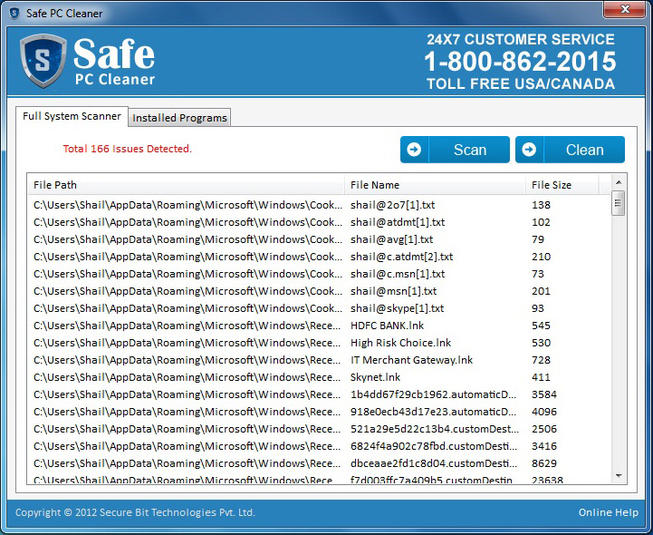 Another unreputable characteristic of Safe PC Cleaner is that this application pretends to scan your system and detect various threats. In order to remove them, you will be asked to pay for the premium version of this application. However, you should not do that because most of the time there is no infection and you are just tricked to pay the money for actually nothing. Even if you pay for the 'upgrade', you will not receive any upgrade and you will still be unable to remove infections. That is why there is no reason for you to keep using Safe PC Cleaner and you should remove it without waiting any longer, or else it will keep torturing you with offers and excessive pop-ups.
How did Safe PC Cleaner PUP install on my computer
Safe PC Cleaner is distributed the same way as most adware. If you don't remember installing it, that's absolutely alright. It's because it is distributed Bundled with other free software. For example, if you download and install some freebie from a suspicious distribution website, there is a chance that Safe PC Cleaner was added alongside. If you want to avoid this malicious application being installed on your computer, you should be very careful during the installation of various free software downloaded from websites with a questionable reputation. (Is free software safe?)
Do not skip any steps and make sure to opt out for a custom or advanced install mode if possible. This will allow you to see all the available options. It would be wise to read all terms and conditions as well. If you see that some additional software that you are not aware of is being installed alongside, you should not allow it, as this possibly can be Safe PC Cleaner or some other PUP (potentially unwanted program). There are some other methods that Safe PC Cleaner could have sneaked into your computer, which you can read about on Blog.emsisoft.com.
How to get rid of Safe PC Cleaner rogue application
Safe PC Cleaner application is usually protected from uninstalling it, meaning that it may not have the removal button in the Control Panel section or that it could even not appear as an installed software, for that reason you should start your system in Safe Mode and only then remove the parasite. However, if you are not an experienced computer user with a big IT knowledge, you are advised to use an automatic rogue removal tool, such as Spyhunter. Please follow our instructions on how to remove Safe PC Cleaner rogue cleaner, given below.
Start your computer in Safe Mode. You will find instructions how to do this right here https://www.2-viruses.com/how-to-reboot-windows-into-safe-mode
Download a trustworthy anti-malware, such as Spyhunter or Malwarebytes.
Scan your computer with it and remove Safe PC Cleaner from your computer. Check for other malware as well because this rogue application can infiltrate some unwanted applications on your computer.
Automatic Malware removal tools
How to delete Safe PC Cleaner PUP yourself
You can also try removing Safe PC Cleaner without any additional software, yet this method does not always work, because of the deceitful features of this rogue application we mentioned before, like interrupted removal or invisibility. But we still advise to try it.
How to remove Safe PC Cleaner using Windows Control Panel
Many hijackers and adware like Swift PC Optimizer install some of their components as regular Windows programs as well as additional software. This part of malware can be uninstalled from the Control Panel. To access it, do the following.
Start→Control Panel (older Windows) or press Windows Key→Search and enter Control Panel and then press Enter (Windows 8, Windows 10).
Choose Uninstall Program (if you don't see it, click in the upper right next to "View by" and select Category).
Go through the list of programs and select entries related to Safe PC Cleaner . You can click on "Name" or "Installed On" to reorder your programs and make Swift PC Optimizer easier to find.
Click the Uninstall button. If you're asked if you really want to remove the program, click Yes.
In many cases anti-malware programs are better at detecting related parasites, thus I recommend installing Spyhunter to identify other programs that might be a part of this infection.