PUP.Optional is a general name used by Malwarebytes Anti-Malware software to categorize applications that can be dangerous and malicious, but some users might find it useful, thus it's up to them to decide whether they want to keep or remove it.
Pup Optional quicklinks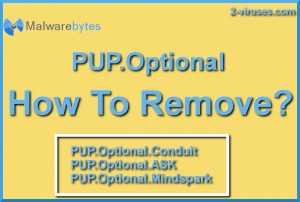 There is a variety of different PUP.Optional viruses that get detected by MBAM and most of the time it's a straightforward sign that your computer is infected with some kind of malware. However, it's not a good practice to completely rely on just one anti-malware tool, thus we always recommend to complete scans with other applications also and be sure what kind of problems you have in front of you.
In this article, we are going to review the general features of PUP.Optional infections, why are they categorized as malware and how to treat them, so if your computer is having problems with potentially unwanted programs, please continue reading. We will also provide you with the information on how PUP.Optional is distributed so you can protect your computer better next time.
What Defines Potentially Unwanted Program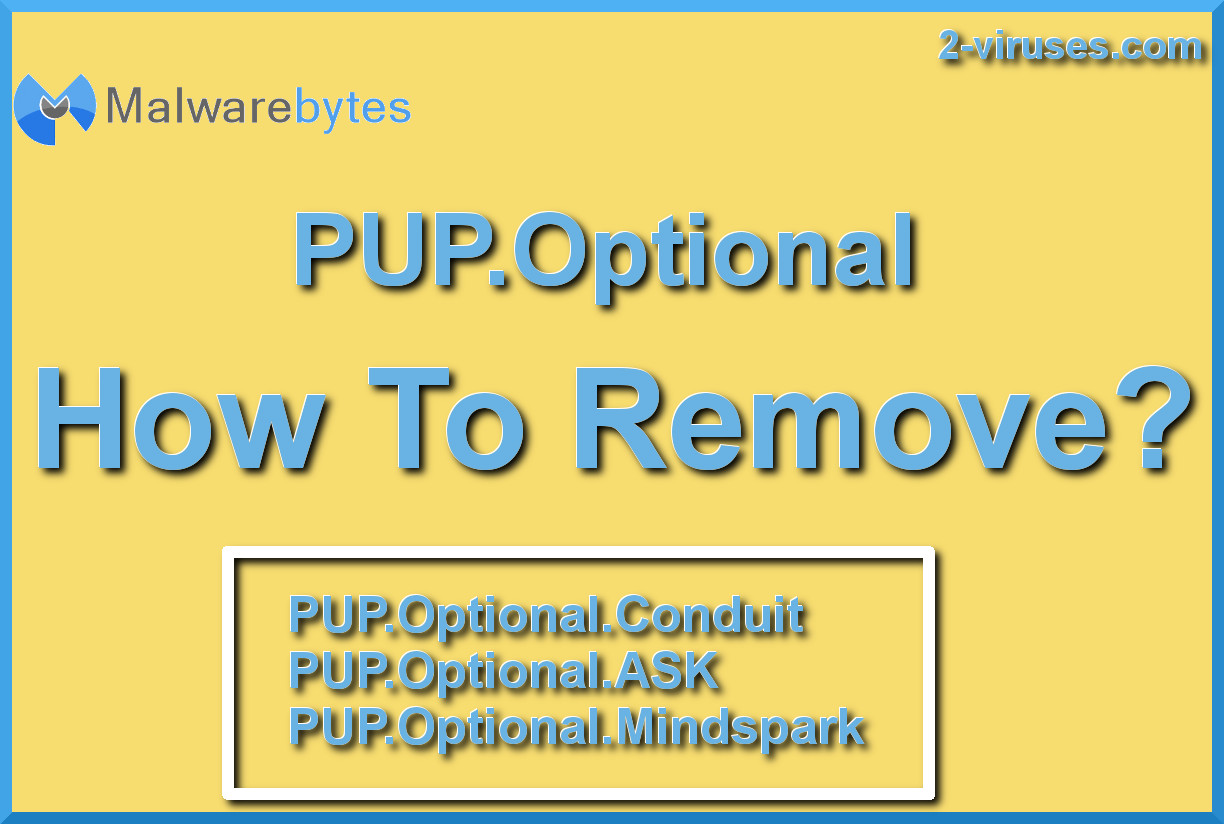 So as you might already know, PUP stands for Potentially Unwanted Program. Sometimes it can also be referred to as PUA (potentially unwanted application). The nature of such program or application is pretty obvious – users might find it unwanted for some reasons. Most of the time it's due to excessive advertisements or annoying traits. It can get pretty serious when PUP attempts to scam you by offering to purchase premium version of some kind of useless program, so PUPs' are not that innocent after all. Unfortunately, but this description perfectly fits PUP.Optional infection.
It's important to notice that potentially unwanted applications usually feature privacy concerns – it might collect your personal information and compromise your privacy this way. It is also used to implement other malware into the system, so even if the PUP is not really harmful and you can't even notice it operating on your computer, it might bring more severe consequences and cause damage in the future.
Another shared trait – deceptive distribution methods. Potentially unwanted programs tend to come together with wanted programs and get installed secretly. In other words, the installer of the potentially unwanted program is wrapped together with a legitimate program that you can download from the Internet. So in most cases, users get 2 programs instead of just 1 – one that they have intended to install, and the unwanted one as a reward. The same goes for PUP.Optional, this infection usually comes as a bundle to other software.
The main thing when looking to avoid potentially unwanted programs – be very careful about third party websites that are distributing various freeware. And we are not talking about some shady, no-name websites – big players like download.com or Sourceforge have been included in the conversation about grayware and malware being distributed through their websites. 
To wrap it up, PUP is a type of malware that lacks certain features to be classified under more specific subcategory (such as adware or browser hijacker), but most of the time poses a real threat to the computer or your privacy.
What is PUP.Optional file
PUP.Optional is a term used by Malwarebytes Anti-Malware program to identify potentially unwanted applications. However, there are not only potentially unwanted programs identified as PUP.Optional by MBAM, but also evident adware and browser hijackers.
For instance, you can come along infection called "PUP.Optional.Delta". What that basically means is that your computer is infected with delta-homes.com browser and shortcut hijacker.
On the other hand, there might be some applications detected as PUP.Optional by MBAM that are completely legitimate and safe to use. That is the reason why this choice whether to remove or keep detected file is optional – users can decide if the program/file is needed and therefore keep it.
There are a lot of files that go under PUP.Optional category – some of them are really bad, while others can be not dangerous at all. That's why you need further investigation to tell whether there is something bad happening with your computer or it's just a fault in the MBAB virus database.
How to Get Rid of PUP.Optional malware
If you have scanned computer with Malwarebytes Anti-Malware and it detected some PUP.Optional infections, they won't be removed right away. Instead of that, they will be moved to the quarantine. There are some really bad infections, such as PUP.Optional.Conduit, Pup.Optional.ASK, or PUP.Optional.Mindspark under this same label, so you have to take those detections seriously.
In the end if you have downloaded the program yourself and you know what it does, I recommend leaving the program, as in most of the cases the program detected cannot be categorized as purely malicious. If the program is distributed through bundles or downloaded by other processes it should be deleted.
In this particular case, we suggest scanning your computer with other reputable anti-malware tool and complete double-check this way. Use Spyhunter for a full scan of all files stored on your hard drive and if there are some really bad files or programs that need to be removed, the program will do that automatically for you.
In case you are familiar with the application that has been labeled as PUP.Optional and you find it useful, feel free to keep it installed. However, if other anti-malware programs also detected this application to be malicious, there is almost no doubt that it is distributed using deceptive methods and might harm your system, therefore it needs to be removed. You can also follow the guideline provided below to track and remove the infection by its detection name.
However, if the virus is aimed at your web browser and it hijacked some of the settings (homepage, shortcuts, new tab page and so on), you should take a look at this removal example.
Automatic Malware removal tools
How to remove PUP.Optional using Windows Control Panel
Many hijackers and adware like
PUP.Optional
install some of their components as regular Windows programs as well as additional software. This part of malware can be uninstalled from the Control Panel. To access it, do the following.
Start→Control Panel (older Windows) or press Windows Key→Search and enter Control Panel and then press Enter (Windows 8, Windows 10).
Choose Uninstall Program (if you don't see it, click in the upper right next to "View by" and select Category).
Go through the list of programs and select entries related to PUP.Optional . You can click on "Name" or "Installed On" to reorder your programs and make PUP.Optional easier to find.
Click the Uninstall button. If you're asked if you really want to remove the program, click Yes.
In many cases anti-malware programs are better at detecting related parasites, thus I recommend installing Spyhunter to identify other programs that might be a part of this infection.