Quick PC Tuneup is a PC utility that is supposed to help you improve the condition of your computer by deleting junk files, removing registry errors, and watching over your privacy. However, it seems to be like any other optimizer – primarily concerned with scaring you into buying the program.
Quick Pc Tuneup quicklinks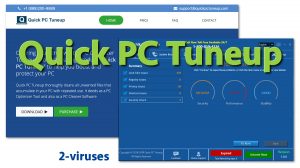 According to VirusTotal, a site that aggregates results from dozens of antivirus scanners, Quick PC Tuneup is worth cautioning about. It could put your computer at risk of more infections, cause errors by making unneeded edits in the registry, and causing you stress by creating the impression that your computer is in a bad state.
In reality, scan results that PC optimizers provide should be taken as advice but you should feel free to ignore them. Windows has come a long way since the days when PC optimizers were actually useful; now it offers many free first-party tools for deleting junk files and managing your applications. As optimizers like Quick PC Tuneup are less and less needed, they've become more desperate to survive and so they employ some deception.
Quick PC Tuneup has some problems and might be better off removed:
Classification
PUP (potentially unwanted program).
Quick PC Tuneup effects on your PC
Frequent pop-ups,

Slower startup,

Scan results make the PC seem like it's in need of fixing.

Problems with Quick PC Tuneup
Exaggerated problems with your PC,

Unwanted installation,

Redundant functions.

Removal
Uninstall Quick PC Tuneup manually,

Remove malware automatically (SpyHunter).
Problems with Quick PC Tuneup
Quick PC Tuneup scans your computer, finds issues and lists them for you, then offers to fix them if you just buy the program. Quick PC Tuneup is similar to PC Booster Pro, PC Speeder Pro, The PC Power – a lot of applications out there exist only to get bought, but their functionality is poor and they're considered scams by many cybersecurity vendors.
One of the problems with these applications is misleading scan results. Quick PC Tuneup exaggerates the issues that it finds to give you the impression that your computer is in a bad state. It might give you evaluations that you have "poor" performance or "medium" security, but these are based on very flimsy reasons – a few junk files or cookies don't mean anything, but Quick PC Tuneup doesn't want you to know that. Plus, what Quick PC Tuneup calls "issues" really are just normal files that may or may not be useful. Delete some cache files and you might notice some websites loading slower.
Another issue is the too-frequent scans. The sort of "fixing" that Quick PC Tuneup offers, even if it did work, would not be required more often than every few weeks or even months. And yet, Quick PC Tuneup presents itself like some sort of a constant companion for your computer, even though there is nothing for it to do! Yeah, it can delete some cache files and logs, but those will fill up quickly again. Some people get caught in this psychological trap of needing to feel like their PC is clean: they run a utility program regularly and watch it delete junk and fix errors and they feel better, but it doesn't end up benefiting their computer. Optimizers are mostly just snake oil.
Windows already provides ways to periodically delete temporary files, manage startup programs, delete applications, troubleshoot just about every problem you might have, manage your drivers, and so on. Your browsers allow you to manage your privacy better than Quick PC Tuneup can. Meanwhile, Quick PC Tuneup costs money, interrupts your work, and slows down your computer.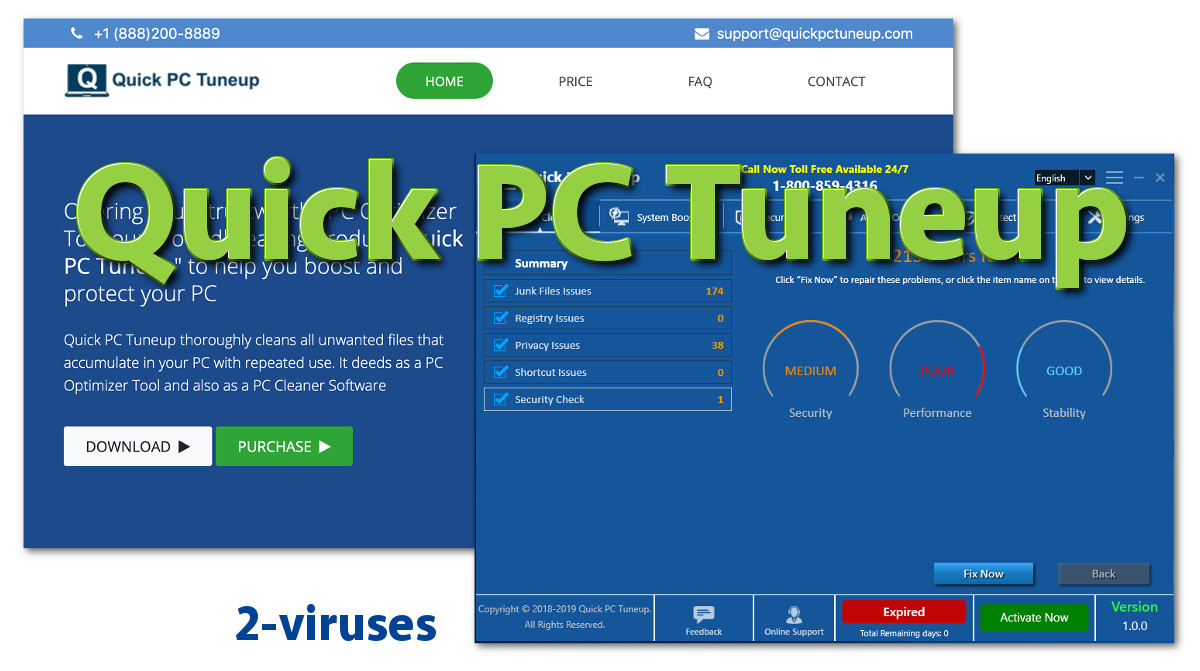 By the way, if you call the support number, be careful because a lot of these optimizers make offers for very expensive and useless support software. In the worst cases, they perform a tech support scam routine (get access to your computer to pretend to find lots of malware on it). Quick PC Tuneup might not do this, but be aware that you might be offered to buy more stuff if you call it.
How to remove Quick PC Tuneup
This program is detected as unwanted (PUP) by a lot of antivirus tools, so you can trust something like SpyHunter to get rid of it. You can also uninstall it manually from the Control Panel. It's still advisable to scan your device with an antivirus program to check that no malware is on your system, considering how Quick PC Tuneup spreads.
Automatic Malware removal tools
How to remove Quick PC Tuneup using Windows Control Panel
Many hijackers and adware like
Quick PC Tuneup
install some of their components as regular Windows programs as well as additional software. This part of malware can be uninstalled from the Control Panel. To access it, do the following.
Start→Control Panel (older Windows) or press Windows Key→Search and enter Control Panel and then press Enter (Windows 8, Windows 10).
Choose Uninstall Program (if you don't see it, click in the upper right next to "View by" and select Category).
Go through the list of programs and select entries related to Quick PC Tuneup . You can click on "Name" or "Installed On" to reorder your programs and make Quick PC Tuneup easier to find.
Click the Uninstall button. If you're asked if you really want to remove the program, click Yes.
In many cases anti-malware programs are better at detecting related parasites, thus I recommend installing Spyhunter to identify other programs that might be a part of this infection.