Auto PC Cleaner 2019 is a program that promises to help users optimize their PC by catching malware, changing the settings to improve performance, assisting with uninstalling software, and other functions. But Auto PC Cleaner 2019 has some scareware features and its scan results are somewhat misleading. This program is a clone of other PCVARK potentially unwanted programs and doesn't look like it's changed at all.
Auto Pc Cleaner 2019 Pup quicklinks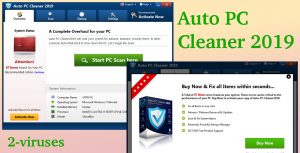 Auto PC Cleaner 2019 is detected by a lot of professional PC security solutions as a potentially unwanted program (PUP). That's not surprising — PC optimizers are notorious for exaggerating any "issues" they find with your computer while not actually doing any hard work. Since most PC optimization functions are available to Windows users with no third-party programs, a lot of these PC optimizers lost their appeal and userbase. But Auto PC Cleaner 2019 and its clones are still being released and actively promoted, despite not having improved in a perceptible way.
This optimizer is basically the same as Advanced Clean Pro, System Clean Pro, and Xtron System Care. Macs also suffer from fake optimizers trying to take advantage of users — there is Smart Mac Booster, Mac Tweaker, My Mac Speedup.
How is Auto PC Cleaner 2019 installed?
There are some people out there who found Auto PC Cleaner 2019 on their computer despite having never intentionally installed it. This happens because Auto PC Cleaner 2019 is distributed using bundling. You can get this optimizer accidentally while installing an unrelated application that happened to bundle Auto PC Cleaner 2019 with it. Installers usually warn you if they're including an optional application, but they're often almost invisible and the offers are installed by default. Even people who actively watch out for this kind of stuff regularly get tricked by the misleading design.
Ads online also promote Auto PC Cleaner 2019. They're not any less problematic because the designs of some of the ads are misleading (such as looking like a download button while displayed on a page from which people download something). It's common for fake optimizers to use adware and bad ads which themselves use misleading tactics to infect computers.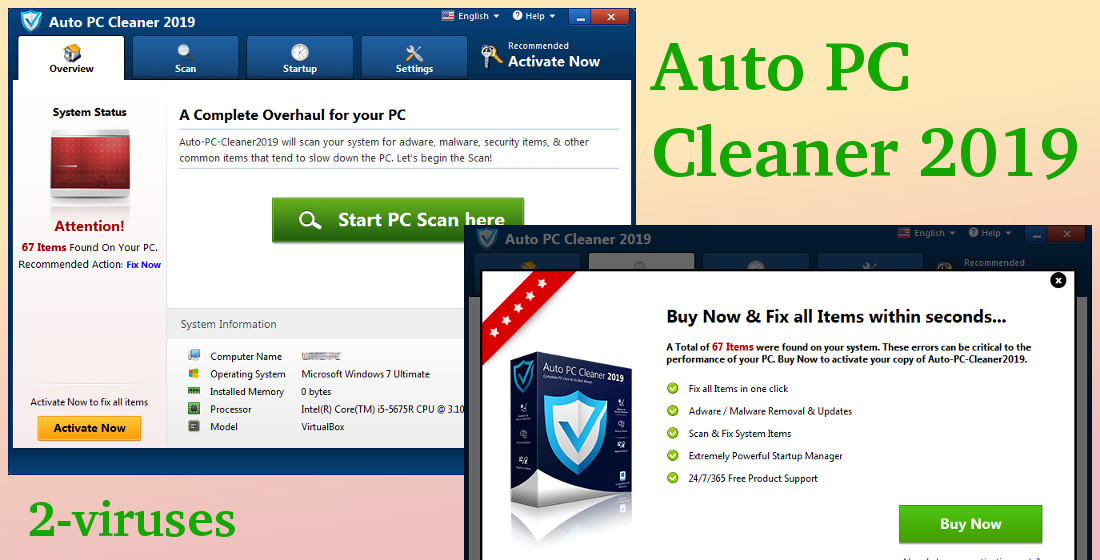 Problems with Auto PC Cleaner 2019
The developers of tools that alarm antivirus programs sometimes claim that these are just false positives, or that the competitor antivirus developers intentionally label them as malware out of jealousy or malice. It's true that sometimes antivirus programs have problems getting along. However, there are actually good reasons for why Auto PC Cleaner 2019 is seen as unwanted and potentially harmful.
Auto PC Cleaner 2019 acts like scareware. It labels any minute thing as a problem and claims that "fixing" them will substantially improve the system's performance, which is most often wrong. Besides, Auto PC Cleaner 2019 doesn't seem to be very accurate when it comes to detecting malware. And this program inflates the number of "problems" by presenting default Windows settings as issues — settings that don't impact performance or security.
Auto PC Cleaner 2019 also is suspicious because of its eagerness to get your money — if you think that the free version can prove its usefulness by repairing your "issues" for free, you're wrong — clicking "Start Repair" takes you to a page where Auto PC Cleaner 2019 is being sold with a couple of other tools that, if you were to buy Auto PC Cleaner 2019, you have to refuse manually.
The program also bundles Driver Updater, a program that is considered to be unsafe and should be uninstalled immediately. By the way, Driver Updater displays an annoying pop-up when trying to uninstall it. The pop-up makes the removal option for tiny to the point of being invisible — a bit of hostile design as a goodbye: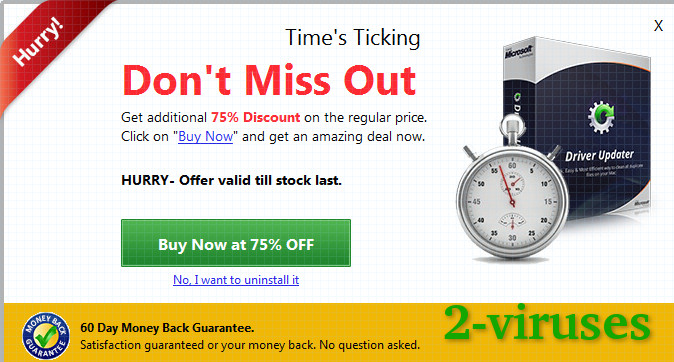 In conclusion, Auto PC Cleaner 2019 certainly deserves to be considered "potentially unwanted" — there are better PC utilities out there, and you can also just rely on built-in Windows tools which are perfectly functional.
How to remove Auto PC Cleaner 2019
If you decide to remove Auto PC Cleaner 2019 (and Driver Updater), you can do that using the Control Panel. You can also scan your computer using Spyhunter, or any other professional security program that can actually detect malware and tell you if any other suspicious programs have ended up on your machine the same ways that Auto PC Cleaner 2019 did.
Automatic Malware removal tools
How to remove Auto PC Cleaner 2019 PUP using Windows Control Panel
Many hijackers and adware like
Auto PC Cleaner 2019 PUP
install some of their components as regular Windows programs as well as additional software. This part of malware can be uninstalled from the Control Panel. To access it, do the following.
Start→Control Panel (older Windows) or press Windows Key→Search and enter Control Panel and then press Enter (Windows 8, Windows 10).
Choose Uninstall Program (if you don't see it, click in the upper right next to "View by" and select Category).
Go through the list of programs and select entries related to Auto PC Cleaner 2019 PUP . You can click on "Name" or "Installed On" to reorder your programs and make Auto PC Cleaner 2019 PUP easier to find.
Click the Uninstall button. If you're asked if you really want to remove the program, click Yes.
In many cases anti-malware programs are better at detecting related parasites, thus I recommend installing Spyhunter to identify other programs that might be a part of this infection.