New-message.co is a site with pages of fake competitions for gift cards. Visitors are told that gift cards are being given away and they get to guess which gift box on the screen is hiding their prize. The competitions are fake – everyone wins every time and New-message.co redirects to a page where you're supposed to sign up and reveal your personal information. New-message.co spreads in ads, social media posts, and emails.
New Message Co Fake Competition quicklinks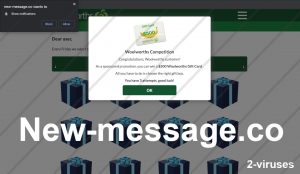 About New-message.co in short:
Type of threat
Scam.
What happens on New-message.co
You win a free voucher or gift card,

you're asked to fill in your personal information to get the prize,

the prize never arrives,

your credit card is charged money.

New-message.co distribution
Social media sites,

emails,

ads.

How to deal with New-message.co
Don't fill in your information without reading TOS and privacy policy first,

use antivirus programs (Combo Cleaner for Mac, SpyHunter for PC) to check for adware and other malware,

block malicious sites,

be careful of scams.
What is New-message.co
This site, New-message.co, offers you fake gift cards of $100, $500, and other substantial sums. It has ads in various languages tailored to the location of the visitor, but the ads all work the same. New-message.co is most popular in Thailand, Sweden, and Denmark, but it also gets traffic from other countries.
For example, in Spain, New-message.co may offer €100 Lidl gift cards. In Australia, it's $500 Woolworths cards and $100 Chemist Warehouse cards, among others. In Denmark, Bilka's name is used for the fake competition.
New-message.co presents a fake game of guessing which of the twelve gift boxes your prize is hidden in and you're given three chances. In reality, whichever boxes you try, New-message.co will show you that you won on the third attempt.
New-message.co has some fake Facebook comments at the bottom of the page. The comments sometimes even update in real-time to add to the illusion that New-message.co's giveaway is real and happening right now. Spoofed sites are used by scammers very often, with Facebook being the most common in my experience.
Fake giveaways like this New-message.co one are used to scam people out of their money. They lead to pages where you're told to give your personal details, such as your real name, address, and payment information. You're told to fill those forms to get the prize that you won in New-message.co sent to you. For example, you may be asked to confirm your identity with your credit card, which is a trick used by scammers quite often.
If you actually read terms of service, you find out that your info is going to be used to get you into expensive subscriptions with some really deceptive terms. They may be difficult to get out of and start to take your money very quickly, so be careful and don't delay.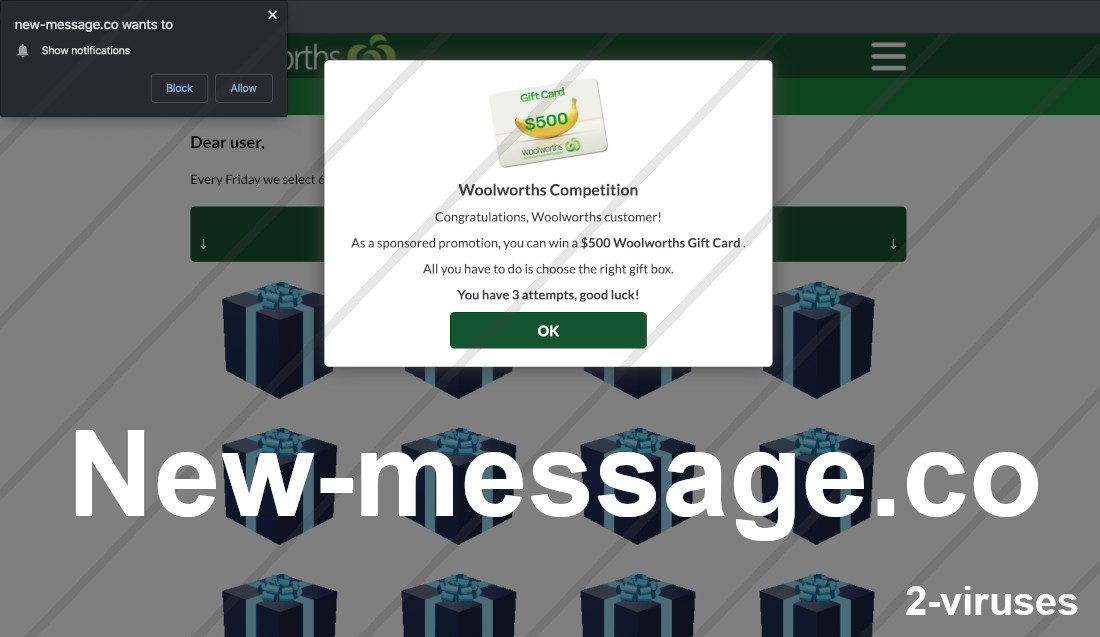 How does New-message.co appear?
New-message.co isn't the only scam site out there. There are ads for $1000 Visa gift cards, ads for free new phones, and various fake surveys that end with a fake giveaway. Voucher and gift card scams spread in various ways: email, phone messages, ads online, personal messages and posts in social media, and adware viruses. New-message.co receives traffic from a few different sources:
First, New-message.co has been advertised on websites including Youtube and Facebook. Although mainstream sites try to only show safe ads, malicious actors use a lot of tricks to get past the review process.
Links to New-message.co are spread in social media sites, also including Youtube and Facebook. They may be posted by fake accounts impersonating famous people, by normal fake accounts, or by hacked accounts of your friends.
Adware viruses and malicious/infected sites are also responsible for spreading New-message.co. For example, Secure-notifications.cc and Message-alert.center advertise New-message.co. They themselves are advertised on streaming and similar sites that are infamous for dangerous ads.
Emails with a link to New-message.co are also sometimes used, as they often are to spread scams.
Fake promotions like the New-message.co ask for your credit card or another payment method even though you're not buying anything. This is dangerous and you should always be aware of that. As long as you don't give your personal information to New-message.co, you're okay. But as soon as you do, you're at risk.
How to avoid New-message.co scams
If you already gave away your information, make sure to read the terms of service that you accepted. If you were signed up for something, go ahead and opt out. If you already were charged some money, you may be entitled to a full refund, depending on what country you're in. Demand your money back. You may need to contact your bank to get their hep. be honest and tell them what happened.
It's important that no malware, especially spyware, is on your computer. You can find out by scanning your device with an anti-malware program, for example, Combo Cleaner for Mac or SpyHunter for PC. It's good to also have an antivirus program with web security features that would block bad sites.
If New-message.co sends you pop-up ads, you may have agreed to its notifications. You can disable them in your browser settings or you can just block New-message.co from sending them. Find "new-message.co" in your browser settings and choose "Block" or "Disable" for this URL:
In Chrome, type "chrome://settings/content/notifications" in the address box.
If you use Safari, go to the Safari menu, choose Preferences, Websites, Notifications.
In Edge, open Settings, Advanced settings, Notifications, then Manage.
For Firefox you can type "about:preferences#content" in the address bar, find the Notifications section.
Automatic Malware removal tools