Message-alert.center website is classified as malicious based on its intrusive behavior. It repeatedly displays excessive pop-up ads that aim to redirect the hijacked browser to random websites. The analysis of the website reveals its similarity with onlinecontent.fun, bigclicker.me and other pages associated with the work of several advertising companies promoting dubious content.
Message Alert Center Ads quicklinks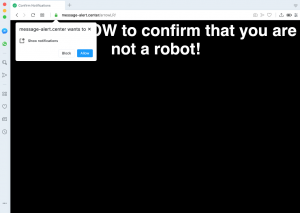 Message-alert.center pop-ups target Google Chrome and Mozilla Firefox browsers primarily, whereas other browsers are not immune either. The repeated activity of this website in your screen represents the potential risk for the safety of your device, taking into consideration the fact that its redirections typically forward the browser to many insecure resources. The victims of the attack also claim that they experience troubles when attempting to access other legitimate websites with message-alert.center notifications enabled. Following this tutorial will assist you in fixing your browser and deleting these alerts permanently from the screen.
How does message-alert.center attack your browser?
The peculiarity of the message-alert.center alert is that initially, it does not cause any modifications at all. However, the website displays tricky alerts to force the users to click on its integrated "Allow" button as a part of some human verification process. The pop-up could also indicate that clicking on that button is necessary for confirming the age or for enabling the function of video playback, or for fixing the Internet connection. Nevertheless, all the statements reported by message-alert.center are manipulative and absolutely faulty. Their real purpose is to make the users enable intrusive web push notifications. Once activated, the alerts by message-alert.center will become massive and will start randomly displaying the multitude of intrusive ads.
Keep in mind that the feature of push notifications may be legitimate in many instances. For example, it is used by several commercial or news websites for making the visitors immediately updated about the publication of the latest articles or the arrival of new items in stock. Similarly, Microsoft Outlook and its htomail.com website may suggest you to enable the web push notifications in order to be timely updated about the new incoming emails.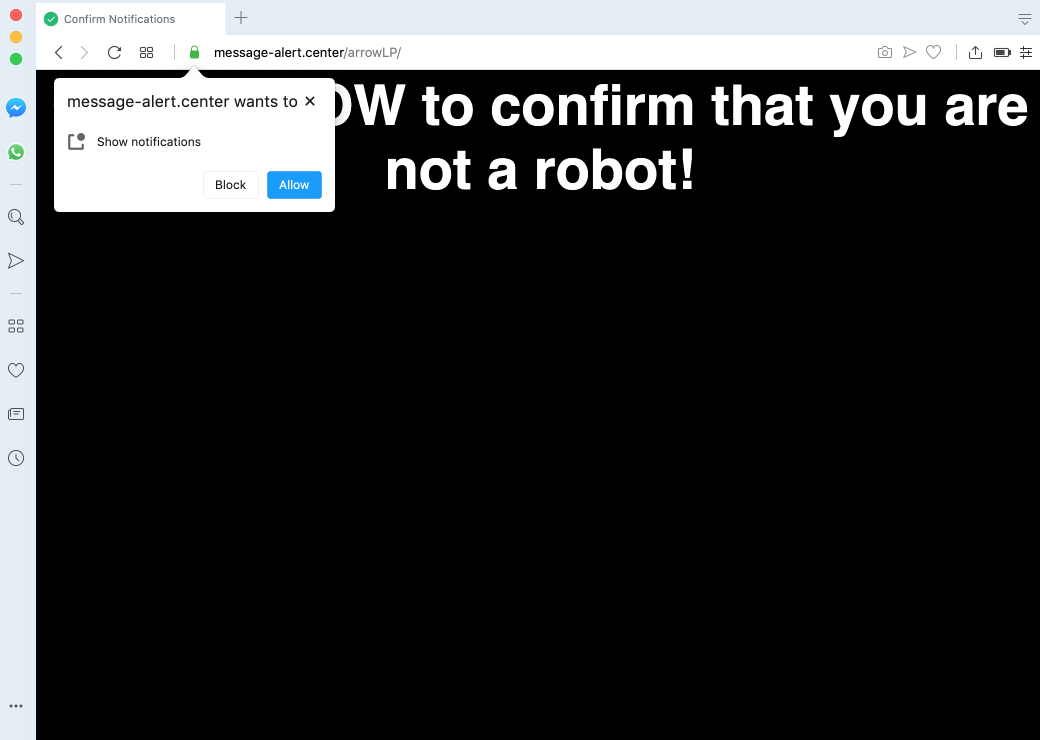 Regretfully, message-alert.center works in a totally different way. Once its push notifications are activated, the pop-ups become massive and start permanently redirecting the browser to the multitude of unsafe websites, for example:
fake software update alerts promoting PUPs (potentially unwanted programs);
landing pages of third-party browser extensions (search hijackers);
fake Microsoft or Apple toll-free helplines controlled by online frauds who aim to force the users into wasting their money;
misleading surveys, questionnaires and other tricky alerts that attempt to collect personal information about the user.
It is clear that the intrusive alerts by message-alert.center got enabled after you mistakenly clicked on the "Allow" button. However, the initial appearance of the pop-up can be the evidence of some other infection to be currently enabled in your system. We really doubt that visiting the message-alert.center page was your own decision, so there is a chance that your system is now infected by a specific adware-type app, like AssistEngine, that may periodically cause unwanted browser redirection issues.
How to remove message-alert.center pop-ups?
Removing the adware from your computer is the first important step to fix your browser hijacked by message-alert.center. Access the list of your available applications and delete the programs that definitely look suspicious, especially the utilities you don't remember installing directly. You can also perform an automatic scan with Spyhunter (if you use a Windows PC) or Combo-Cleaner (if you have a Mac). This would help you check that you're not missing any threats.
Don't forget that intrusion of adware and other unwanted applications often occurs as a result of their integration with many free programs. It's very important that you pay very close attention during the installation process. Make sure you read the detailed description by the installer by switching to the "Advanced" or "Custom" installation mode, instead of the default drive-by installation option. If you read about any additional software, make sure you uncheck the appropriate boxes responsible for its automatic installation.
Therefore, your personal caution to prevent the attack of message-alert.center and other intrusive pop-ups matters a lot. Disabling these pop-ups from displaying intrusive messages can be done by accessing the browser settings and removing message-alert.center from the list of the resources allowed to show web push notifications, like described in this article. This process can be automated by scanning your system with the reliable anti-virus software recommended below.
Automatic Malware removal tools