If you have received "$1000 Visa Gift Card" notification, or just came across an advertisement online, claiming that you entitled to get free $100 Visa gift card – don't think twice, it's definitely a scam and you should not follow that path.

1000 Visa Gift Card Scam quicklinks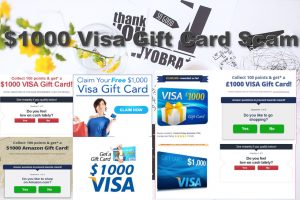 By employing various
social engineering techniques
, cybercriminals are constantly discovering new methods to earn some money by exploiting naive internet users. This case is not different – by tempting users to get some free money, those crooks intend to actually steal money or infect computers with malware. Actually,
gift cards scam
is not a new thing at all, as we have already analyzed multiple scam campaigns like this one. However, they get more active before the holiday season, so $1000 Visa Gift Card Scam is likely to reach an even wider audience.
So if you have noticed this gift card offer on some website while browsing the Internet – simply ignore it and you should be secure. However, if this notification just keeps coming back over and over again, it might be that your computer is already infected with some kind of malware and you should take care of this situation right now because this might lead to other, more severe consequences. It's even worse if you have already followed a $1000 Visa Gift Card advertisement and provided them your personal data.
Luckily, in this article, we will tell you what to do if you are constantly experiencing those notifications or you have clicked on one of those ads. So in case you are having any kind of problems related to this topic, just proceed with reading the article. If you don't find the right answer, feel free to contact us in the comments section below – we will be more than happy to provide you with personalized assistance.
Why $1000 Visa Gift Card Is A Scam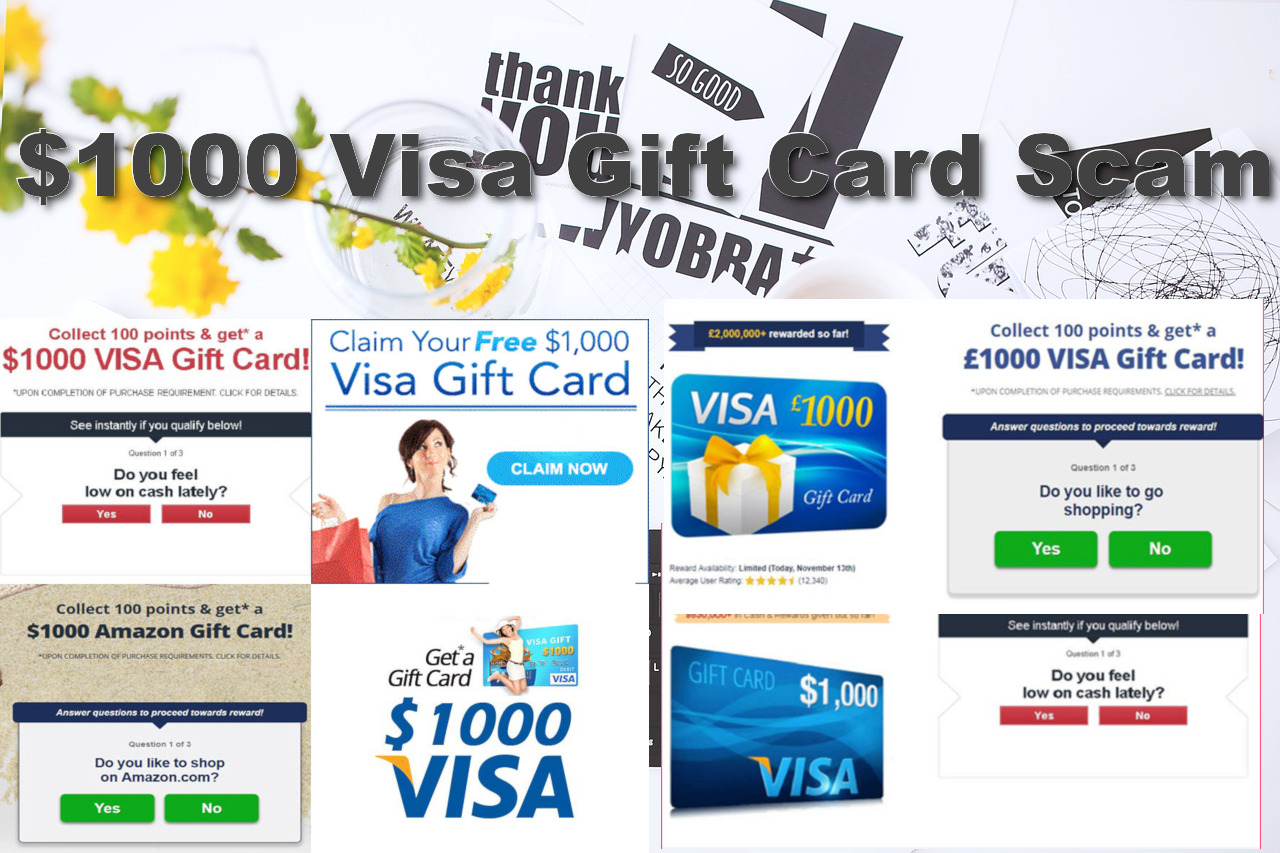 We have already mentioned that we have analyzed scam campaigns that are really similar to this one – "Win a $1000 Amazon Gift Card", $1000 Walmart Gift Card Winner, and so on. They all have one goal – to steal your private information. You might imagine that personal data is very valuable. It can be sold to third parties for a lot of money or simply used to infect your computer with other viruses.
In this particular case, $1000 Visa Gift Card Scam aims to get this information from you – full name, address, age, gender, personal ID number, credit card number, phone number, and email address. It should be obvious that such data needs to be protected and you can't disclose it to anyone over the internet, even if they promise to give you $100 as a reward.
We also have mentioned that cybercriminals behind scam campaigns like this one employ social engineering techniques so in this case, they offer to participate in a survey and get a gift card as a reward. It all seems logical – you get a reward for a certain task. Unfortunately, some of the users fall for the trick and lose their private data.
Those ads might be met online randomly – some websites might be hosting them and monetizing their web traffic this way. However, if you have noticed that those ads are following you and you experience them on a daily basis, it might be that your computer is infected with adware infection and this is the reason why you are exposed to scam campaigns.
Adware is a type of malware that gets installed on computers (usually in a form of browser extension) and then displays various advertisements in all kinds of forms  – pop-up, banner, in-text, new tab or window. They get compensated for every click users make, so tempting ads like this one are really popular.
How To Solve $1000 Visa Gift Card Scam Problem
If you have already been fooled and completed the survey, you should be extremely careful. We recommend changing your passwords and protecting your computer with professional anti-malware software. Also, expect to receive various spam emails in the following days.
In case you are experiencing those notifications constantly, it would be a good idea to scan your computer with Spyhunter, because your computer is probably infected with some kind of malware. Either one of those programs will immediately detect the virus that is operating on your computer and remove it automatically.
However, if you don't want an anti-malware tool to do that for you, you can use anti-malware software just to detect the infection and then use instructions provided below to remove the detected virus manually.

Automatic Malware removal tools
How to remove 00 Visa Gift Card Scam using Windows Control Panel
Many hijackers and adware like
00 Visa Gift Card Scam
install some of their components as regular Windows programs as well as additional software. This part of malware can be uninstalled from the Control Panel. To access it, do the following.
Start→Control Panel (older Windows) or press Windows Key→Search and enter Control Panel and then press Enter (Windows 8, Windows 10).
Choose Uninstall Program (if you don't see it, click in the upper right next to "View by" and select Category).
Go through the list of programs and select entries related to 00 Visa Gift Card Scam . You can click on "Name" or "Installed On" to reorder your programs and make 00 Visa Gift Card Scam easier to find.
Click the Uninstall button. If you're asked if you really want to remove the program, click Yes.
In many cases anti-malware programs are better at detecting related parasites, thus I recommend installing Spyhunter to identify other programs that might be a part of this infection.