MS Total Security is not any sort of official Microsoft product, despite "MS" being in the name. Rather, MS Total Security is a potentially unwanted program (PUP). It claims to have more than 500 million users, but it doesn't mention that many professional antivirus programs consider MS Total Security to be a threat to those users' security. While it can be argued if some optimizers that trigger the PUP alarm are somewhat useful, this one seems to be genuinely bad and I advise against keeping it installed on your computer.
Ms Total Security Fake Optimizer quicklinks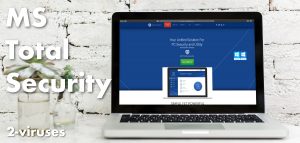 While the interface of MS Total Security is very similar to the UI of some other optimizers, like PC SpeedLane, Tweakerbit Registry Optimizer, or Total Security. All these programs use aggressive and dishonest promotion, as well as social engineering techniques, to get people to buy them. Honest software developers would try to create solid, good quality products, and that might be how these started out, but the reality today is that programs like MS Total Security are little more than scams.
The ways in which MS Total Security is malicious
For one, MS Total Security is detected as a threat by a significant number of antivirus programs. If your security solution does not, then it's possible that its settings are turned to not scan for PUPs (potentially unwanted programs). While keeping those settings off helps avoid false positive detections, it can be useful to know which program you're downloading has a poor reputation because there are usually good reasons for that.
MS Total Security installs an unwanted program, iGKlPSetup, automatically — without telling you or asking your consent. This behavior is generally used to spread spyware and even more serious malware.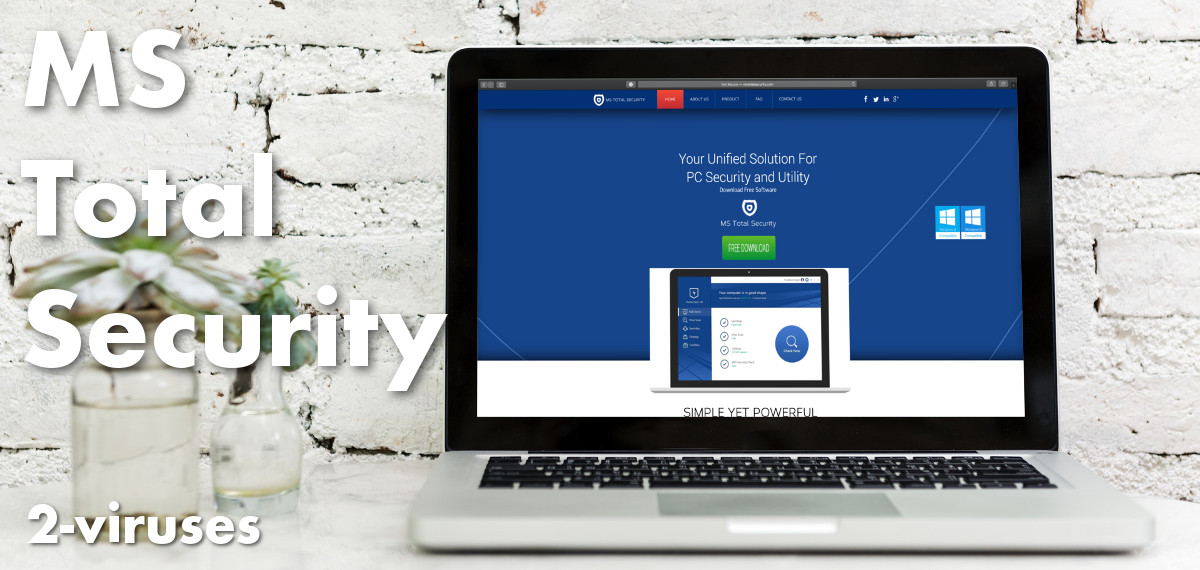 MS Total Security is detected for good reasons:
It tries to stop the user from uninstalling it by lying to them.
It has features of a tech support scam.
The distribution methods are suspicious.
It installs unwanted malicious programs without a warning.
MS Total Security totally misrepresents the findings as threats when they're not.
So, after being installed, in just a couple of seconds, MS Total Security found over a thousand threats on my computer. The threats were highlighted in bright red, trying to catch my "Attension" and cause me some stress. Until I browse the list of the "threats" and find harmless and actually useful things like Web cookies and the cache, and even files like Desktop.ini. So, the number of "threats" is so ridiculously inflated with harmless entries to make people who run MS Total Security believe that this software has found something that other programs didn't, that it might be able to fix something that other programs haven't. Instead, useful files will be deleted, slightly hurting your Web browsing and PC experience.
The number "1877-833-1233" that is prominently displayed in the UI of MS Total Security is used to convince you that your device is infected and to sell you a solution that costs upward of a hundred dollars. At least, such are people's experiences with this and other "Tollfree" phone numbers associated with fake optimizers and outright tech support scams. Any online warning, alert, or a program that tries to tell you that you definitely have viruses and provides a phone number is very likely to be a scam.
Like other PUPs, MS Total Security has a sleek home page, though it has a couple of issues, like inconsistent spelling and the FAQ section citing rules for getting a visa to India of all things. A half-functioning home page is a sign that not a lot of people use it to install the program. PUPs use bundling to be downloaded to people's computers alongside other programs. They also use malicious ads to spread fake warnings online, similar to this one, to then recommend some fake antivirus program. If you didn't download MS Total Security specifically, you probably have a couple more PUPs on your device.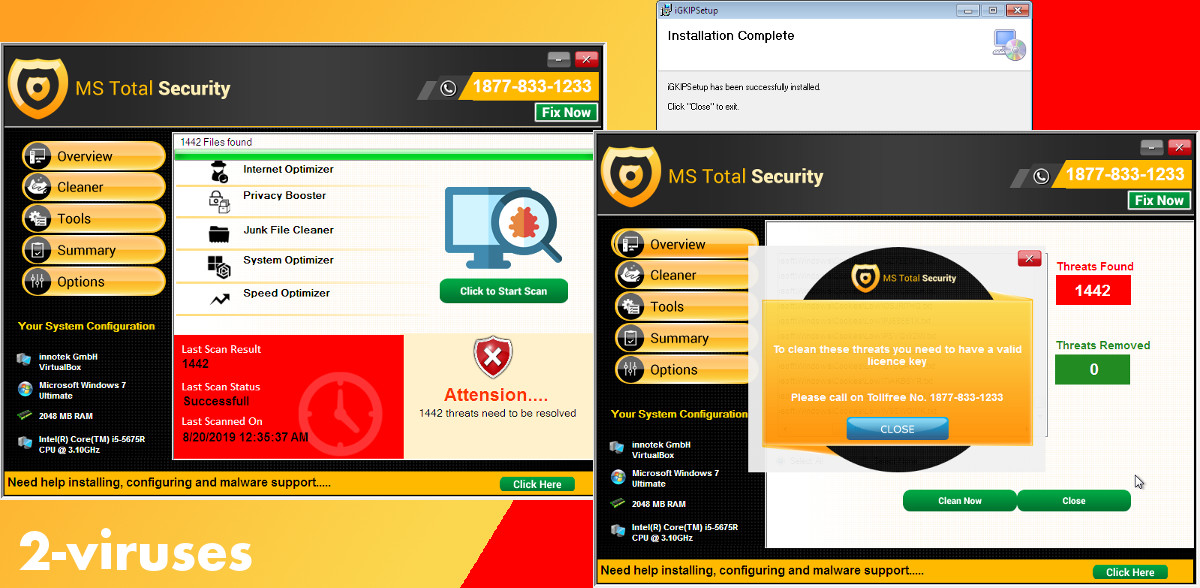 How to uninstall MS Total Security
MS Total Security can't be uninstalled from the program's interface, as it just shows a pop-up telling you that, if you want to delete the program, you need to call their tech support. That's not true at all. You can just use the Control Panel, after closing the program. Manually removing MS Total Security should work in most cases.
After this, you should scan your machine with an antivirus program: either with your own, but up-to-date and with the settings set to detect PUPs, or with some other aggressive application, like Spyhunter. And check what programs you have installed, scan them. If you find something suspicious or dangerous, consider if you feel safe using them. It's always your decision, but it is good to be aware of what is living on your personal computer.
Automatic Malware removal tools
How to remove MS Total Security Fake Optimizer using Windows Control Panel
Many hijackers and adware like
MS Total Security Fake Optimizer
install some of their components as regular Windows programs as well as additional software. This part of malware can be uninstalled from the Control Panel. To access it, do the following.
Start→Control Panel (older Windows) or press Windows Key→Search and enter Control Panel and then press Enter (Windows 8, Windows 10).
Choose Uninstall Program (if you don't see it, click in the upper right next to "View by" and select Category).
Go through the list of programs and select entries related to MS Total Security Fake Optimizer . You can click on "Name" or "Installed On" to reorder your programs and make MS Total Security Fake Optimizer easier to find.
Click the Uninstall button. If you're asked if you really want to remove the program, click Yes.
In many cases anti-malware programs are better at detecting related parasites, thus I recommend installing Spyhunter to identify other programs that might be a part of this infection.