PC SpeedLane, or PCSpeedLane, is a PC optimizer that's entirely unnecessary, not useful, and even uses deceptive advertising to convince people to download it. This application is not malware, but it does waste hardware resources, present itself dishonestly, and is more likely to be bad for your computer's performance.
Pc Speedlane quicklinks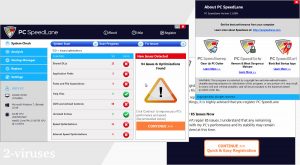 PC SpeedLane is a potentially unwanted program that promises more than it can deliver, uses deceptive descriptions on its home page, and gives the impression that this program is more powerful and innovative than it is. In reality, PC SpeedLane is hardly any different from Advance PC Solutions, Auto PC Speedup, and many other PUPs.
What does PC SpeedLane do?
PC SpeedLane does do somethings but it's incredibly disappointing. What PC optimization this program performs is already available to Windows users in their settings, even while PC SpeedLane is presented like it's doing something new and valuable. To look attractive, PC SpeedLane offers a few features:
Computer in great shape: PC SpeedLane promises to restore the speed and performance your computer used to have.
Optimize your RAM: the developers of the program seem to be talking about apps in startup.
Risk-Free changes: create backups before changes to important settings.
Automatic Optimization: scheduled scans by PC SpeedLane.
The first three things can easily be done by accessing a few settings in your Windows Operating System, and the last one will slow your computer down. PC SpeedLane is not looking very good.
It also offers to scrub your registry, remove various unnecessary files, allow you to monitor resources, and manage visual effects. But again, Windows already has nearly all the optimization features one could want, including the ones listed above. PC SpeedLane just accesses them for you.
Problematically, PC SpeedLane tries to deceive visitors to their site by telling them that it's basically inevitable that their computer will slow down as activity is carried out on it. That implies that there is no accessible way to make your computer run faster yourself. That's not true, for example, you can use built-in Windows file cleaner to remove junk files if you think they're a problem or use Task manager to block programs from running on startup and to manage resources.
It requires a tremendous amount of professional knowledge and resources to create a PC optimizer that's better than the tools that Microsoft have built for Windows, a product that they themselves created. That's why low-reputation and low-effort programs like PC SpeedLane resort to lying and cheating to get people to buy them.
Is PC SpeedLane dangerous?
Some fake optimizers really are dangerous to your cybersecurity. They do unpleasant things like:
Bundle other unwanted programs.
Change settings that break something important.
Put fake and/or malicious files on your computer.
Encourage their tech support to convince you that you have malware that requires a hundred-dollar solution.
Display pop-up ads and hijack the browser to open promoted webpages.
So, even though I did not see PC SpeedLane demonstrate most of these behaviors, it is still detected as unwanted and suspicious by some very reputable anti-malware solutions.
If you decide that you want to use PC SpeedLane, make sure to watch your credit card for unauthorized charges, don't allow tech support access to your computer without a very good reason, and make sure that 2-factor verification is set up on the accounts where it's possible.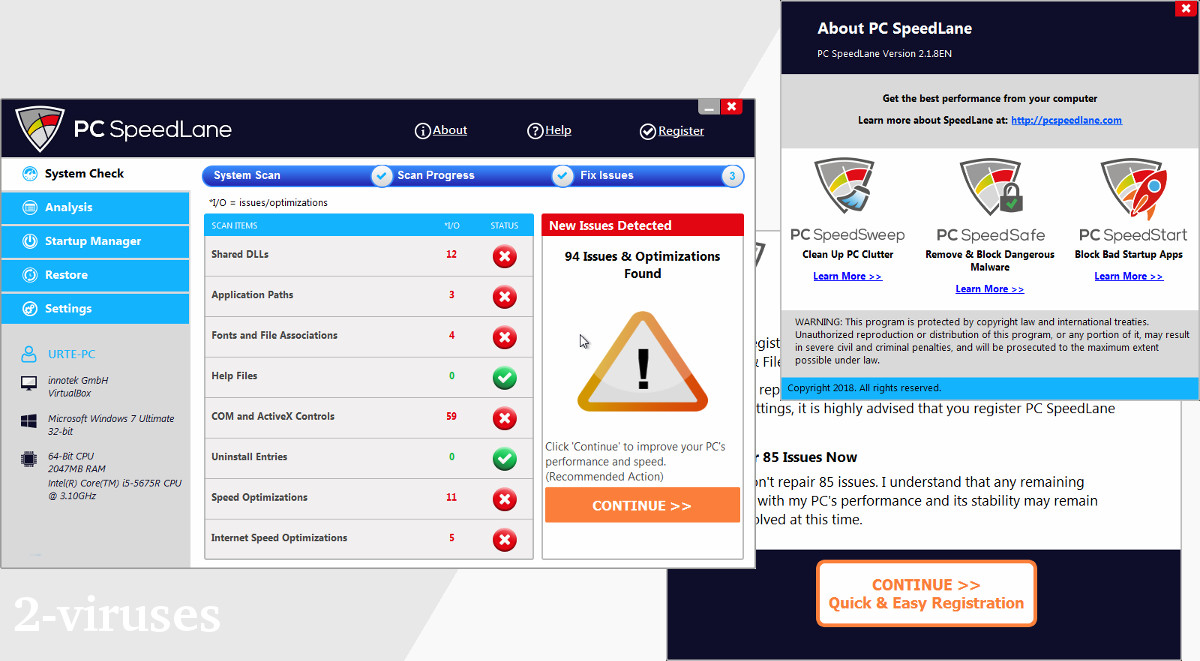 How to remove PC SpeedLane
Some people download and install PC SpeedLane manually, by searching for it.  But others find it on their computer without ever having heard of it before. That's normal for potentially unwanted programs, but it is a serious concern.
Bundling is a method of promoting a product that's extremely intrusive and can very easily result in accidental installation. And some PUPs are very difficult to uninstall. Besides, malware has been distributed using bundling, too, like ransomware and miners. If PC SpeedLane arrived on your device in a bundle, that's a concern: there is a bundler installed on your computer. It might be harmless now, or it might still pose a threat.
Adware can spread unwanted software, too. Do you see a great number of pop-up ads? Do unexpected pages open frequently in your browser? One type of page that adware viruses promote are tech support scams that try to convince you that you have a virus and then tell you to download an offered program. Though adware infections are not common, if you suspect one, remove it ASAP.
Use an anti-malware tool, such as Spyhunter, that recognizes PUPs (potentially unwanted programs). You can also just remove any programs that you know you don't want by using the Control Panel. But removing PC SpeedLane (or continuing to use it, if you want) is not as important as it is to make sure that shady and dangerous programs don't have an easy time infecting your device.
Normally, when downloading or installing PC SpeedLane, you'd get a security warning. However, if your anti-malware software or your browser is outdated, or you don't have antivirus protection at all, this wouldn't happen. Knowing that a file that you're downloading is risky and very suspicious could save you a lot of trouble. So, be sure to not neglect the health and security of your computer: up-to-date software goes a long way in protecting you from the most malicious files and programs and a strong antivirus program helps against the more mundane threats and risks.
Automatic Malware removal tools
How to remove PC SpeedLane using Windows Control Panel
Many hijackers and adware like
PC SpeedLane
install some of their components as regular Windows programs as well as additional software. This part of malware can be uninstalled from the Control Panel. To access it, do the following.
Start→Control Panel (older Windows) or press Windows Key→Search and enter Control Panel and then press Enter (Windows 8, Windows 10).
Choose Uninstall Program (if you don't see it, click in the upper right next to "View by" and select Category).
Go through the list of programs and select entries related to PC SpeedLane . You can click on "Name" or "Installed On" to reorder your programs and make PC SpeedLane easier to find.
Click the Uninstall button. If you're asked if you really want to remove the program, click Yes.
In many cases anti-malware programs are better at detecting related parasites, thus I recommend installing Spyhunter to identify other programs that might be a part of this infection.