MacClean360 is a Mac cleaner app that's flagged as a potentially unwanted program by some antivirus scanners. Though MacClean360 is not dangerous on its own, neither is it helpful: its functions are redundant to the ones provided by Apple for free. Moreover, MacClean360 is associated with some browser hijackers and adware infections. It is advisable to avoid MacClean360 and use a Mac cleaner with a better reputation, or no cleaner at all.
MacClean360 is different from MacClean or MacClean Booster.
Macclean360 Pup quicklinks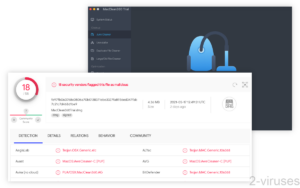 Details on MacClean360:
Classification
PUP (potentially unwanted program).
Why MacClean360 is potentially unwanted
Some people might install the app unintentionally,

it has redundant paid features,

it overpromises about the free trial,

there's a lack of info about terms and conditions.

Alternatives
Free tools available on macOS.
Removing MacClean360
Manually delete the MacClean360 app,

use an anti-malware app ( Spyhunter for Mac, Combo Cleaner, Malwarebytes, others) to check for other suspicious apps and browser extensions.
Problems with MacClean360
MacClean360 is a potentially unwanted program
It may be spread with browser hijackers
I mentioned MacClean360 in an earlier post about malicious browser hijackers. Those apps cause browsers to open unexpected websites, redirect searches, show pop-up ads.
It seems like MacClean360's trial version might have been bundled with some of those browser hijackers. It was not from MacClean360's official website, though, so it looks like some versions of MacClean360 might have been misused by scammers of rogue affiliates.
Still, this could lead some people to install MacClean360 unintentionally, which is problematic.
Doyourdata.com is the official site that houses MacClean360, as well as a few other utility apps. If you downloaded MacClean360 voluntarily, that's where you might have found it.
Other issues with MacClean360
Some installers of MacClean360 (and its free trial) are detected Adware, Trojan, and AweCleaner by antivirus scanners: Virustotal.com.
In addition, an app behavior watchdog AppEsteem considers MacClean360 to be a Deceptor – an app that shows risky behavior. In particular:
auto-launching the app and giving users no easy way to disable this behavior,
limiting the functionality of free trial too much and, as a result, pressuring or scaring users into paying for the app's full version,
lack of visibility about Terms of Service and Refund Policy.
Luckily, MacClean360 doesn't seem to be nearly as dangerous as some other Mac optimizers, like Smart Mac Booster or Advanced Mac Cleaner. Still, MacClean360 is very unnecessary and mostly a waste of time.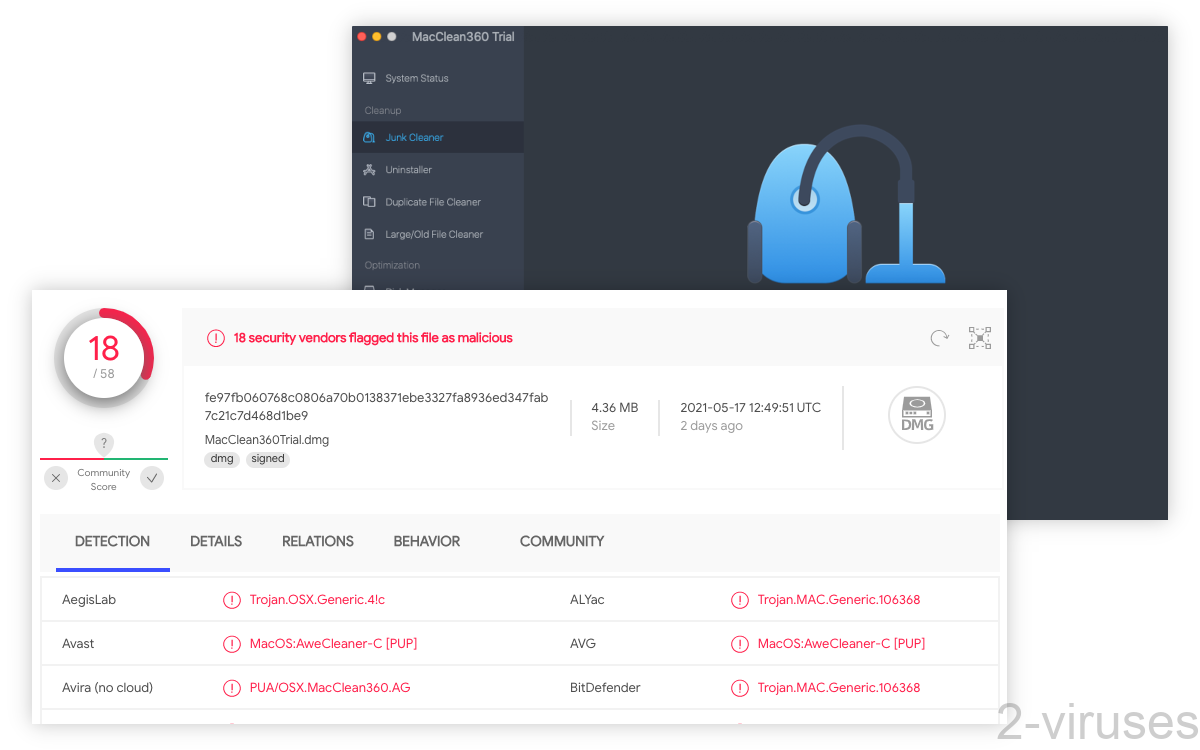 Alternatives to MacClean360
Cleaners can make Macs slower
On Doyourdata.com, MacClean360 is presented as a cleaner and manager that will help you optimize your Mac and make it run faster. But will it really?
Mac cleaners are, in general, unnecessary. They offer functions that are already available for free – and then they expect you to pay for them!
MacClean360 runs unnecessarily often and its scan actually slow down your Mac.
In addition, MacClean360 removes cookies and caches – data that is used by your other apps to work faster. The same goes for memory management:  MacClean360 can help you quit processes and free up some memory, but macOS already knows how to manage it. Using MacClean360 to remove unnecessary files can easily result in your Mac working slower.
Apple offers optimization tools for free
Besides, the features that MacClean360 offers – the uninstaller, startup manager, memory manager – are already available for free for macOS users. Check out Apple's free tools that are described on Support.apple.com:
In general, Macs don't really benefit from cleaners and certainly not from regular scans. It is more productive to just occasionally manually review your Mac and delete unwanted files and apps. Macs might benefit from security programs, various anti-malware apps, and those apps do often bring a few utility features. But pure Mac cleaners are quite useless when Apple already does a good job already.
How to remove MacClean360
MacClean360 is not dangerous and it has improved over the last year. Still, there's not really a reason to use this app when Apple provides free tools to free up storage on your Mac.
If you decide to remove MacClean360, you can uninstall it as described in the instructions below. Just remember that if you are paying for the app, you will need to cancel that subscription. MacClean360 does offer a 30-day money-back guarantee, so if that applies to you and you did decide to remove MacClean360, you can take advantage of it. MacClean360 costs around $30 for the lifetime license.
On the other hand, if you like MacClean360 and find it useful, that's perfectly fine. "Potentially unwanted" apps can be useful, what matters is that you install them voluntarily and use them willingly.
To check your Mac for other PUPs, you might want to scan it with an anti-malware app, such as Spyhunter for Mac, Combo Cleaner, Malwarebytes, etc. If the scanner detects any more suspicious items, consider removing them.
Automatic Malware removal tools
How to remove MacClean360 PUP from macOS
Delete
MacClean360
from your applications.
Open Finder.
In the menu bar, click Go.
Select Applications from the dropdown.
Find the MacClean360 PUP app.
Select it and right-click it (or hold the Ctrl and click the left mouse button).
In the dropdown, click Move to Bin/Trash. You might be asked to provide your login password.