MACClean Booster (or MACCleanBooster) is a Mac optimizer that promises to make your Mac run better by deleting some unnecessary files.
What's notable about MACClean Booster is that it uses very misleading ads to promote itself. It uses ads that look like macOS system pop-ups and Apple.com webpages in order to appear more trustworthy. This is unfair because it makes MACClean Booster seem like it's endorsed by Apple or like its ads are part of your macOS.
Macclean Booster Ads quicklinks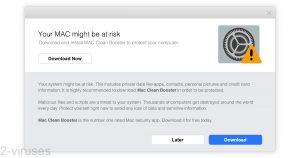 MACClean Booster in short:
Classification
PUP (potentially unwanted program).
Features of the app
It can delete various unnecessary files.
Ads by MACClean Booster
Ads that look like security warnings and update prompts,

ads that look like they come from Apple itself, even though they don't.

How to remove MACClean Booster and avoid PUPs
Uninstall MACClean Booster,

use built-in macOS utilities to manage your Mac,

protect your Mac from malware (Combo Cleaner, Malwarebytes, others),

be careful of deceptive ads online.
Problems with MACClean Booster
A Mac optimizer
MACClean Booster is yet another optimizer for macOS. It's meant to make a computer run better. It achieves (or tries to achieve) this by deleting unnecessary files, such as email attachments, caches, logs, downloads, etc.
Deleting files doesn't make your computer faster – unless there's very little free space left. In fact, deleting cached data might make some apps perform worse, since caching is used to make apps run faster by storing frequently accessed data.
If you use Mac optimizers, do it with some caution. When I scanned MACClean Booster, no anti-malware apps flagged it, so it shouldn't be dangerous. Still, macOS offers ways to manage your storage and free up space that are free and don't require you to install new apps.
Deceptive advertisements
While I was on a movie pirating site, the kind of website that is expected to show a few deceptive and even dangerous ads, I saw a pop-up saying that my software was outdated.

This was obviously an advertisement, but for what? Clicking on it took me to a new page that showed what looked like a macOS update window, an update prompt.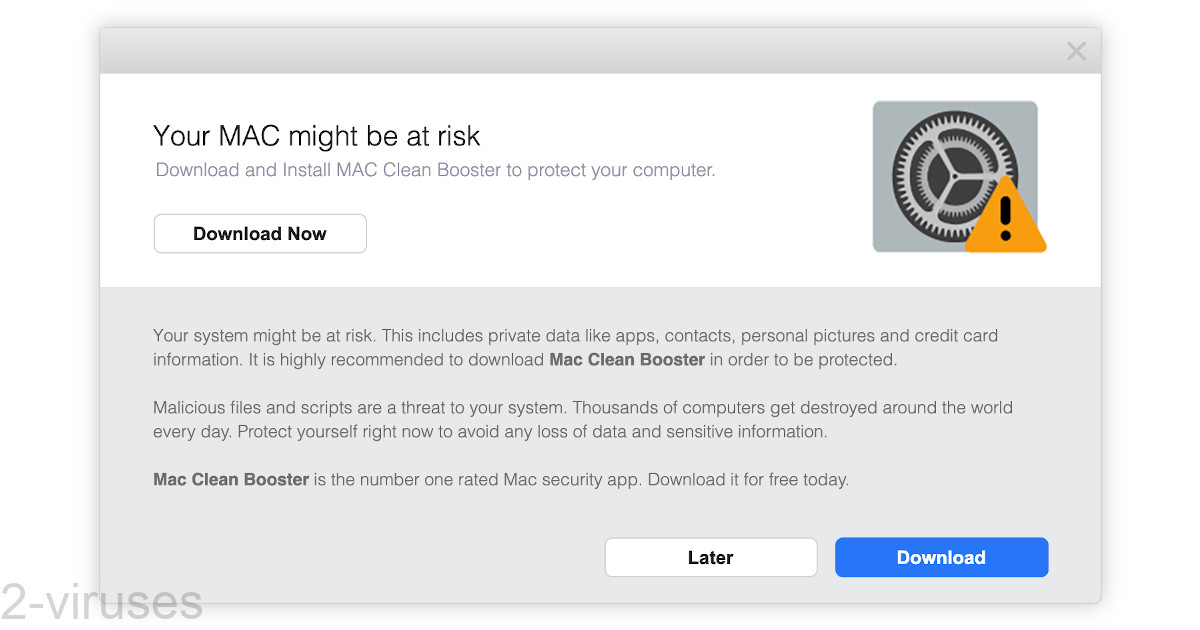 The version on Safari even shows the text "System Update" at the top of this fake window.
In reality, this is an ad for MACClean Booster. Pressing any of the buttons on this page downloads the MACClean Booster installer.
Your MAC might be at risk

Download and Install MAC Clean Booster to protect your computer.

Your system might be at risk. This includes private data like apps, contacts, personal pictures and credit card information. It is highly recommended to download Mac Clean Booster in order to be protected.

Malicious files and scripts are a threat to your system. Thousands of computers get destroyed around the world every day. Protect yourself right now to avoid any loss of data and sensitive information.

Mac Clean Booster is the number one rated Mac security app. Download it for free today.
This reminds me of those ads that looked like software updates that were used to infect Macs with adware.
Here is another version of a MACClean Booster advertisement. It even has a fake menu at the top to make it look like an Apple.com page.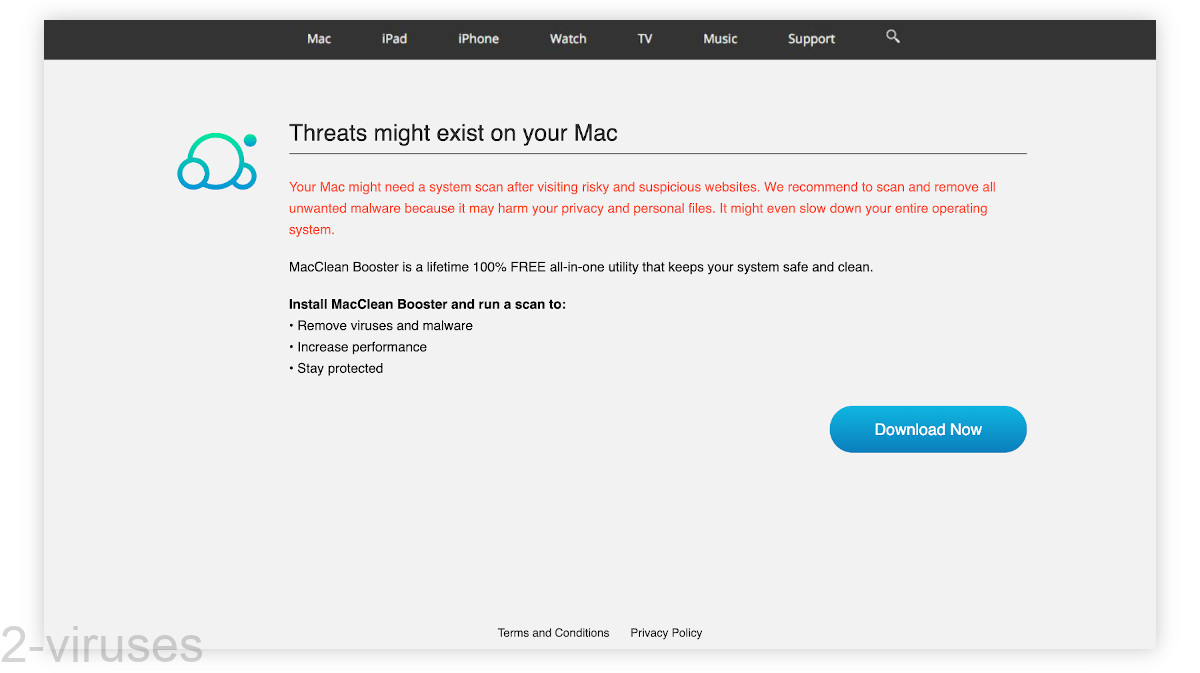 The problem with MACClean Booster is that its ads use the image of Apple's sites and Apple's operating system. This causes a misunderstanding – some of the people who see these ads will instinctively trust them because they look like they come from Apple. As if MACClean Booster was being endorsed by Apple. This is not the case.
These ads make MACClean Booster really suspicious, even if the app is harmless. I mean, that second ad looks just like those fake virus warnings ("You have 3 viruses!") used to distribute bogus security software, as well as adware bundles. MACClean Booster using the same ad template does not inspire confidence.
How to remove MACClean Booster
If you downloaded MACClean Booster, it might be good to remove it and instead use the tools that Apple has shipped with macOS to manage your storage and free up space in your drives.
To remove MACClean Booster or any app from macOS, open Finder, Applications, find MACClean Booster, and drag it to Trash.
If you want, you could also use optimizers that are reputable and widely trusted. Find apps that have good reviews, an acceptable privacy policy, and no history of bad behavior.
If you want to protect your Mac from malicious apps (there are some that target Macs, such as bad browser extensions and adware apps), you could use Combo Cleaner, Malwarebytes, and others. However, MACClean Booster is not currently flagged as malicious by antivirus vendors, so it won't get detected.
Be careful of anything you see on sites that tend to show aggressive and misleading ads.
Automatic Malware removal tools