The Mac optimizer MacBooster removes junk files, lets you manage startup apps, and has a few other utility and security features. MacBooster is made by IObit, a company that's been making software since 2004, including IObit Malware Fighter. Recently, though, MacBooster has garnered some negative attention and been considered a potentially unwanted program by some. And though it's not a bad program altogether, it's undeniable that it does have some issues.
Macbooster Unwanted Program quicklinks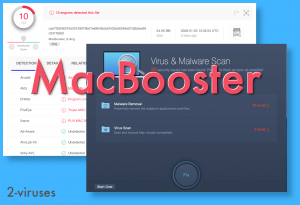 MacBooster info in short:
Type of program
Optimizer,

potentially unwanted program.

Problems with MacBooster
Spotty reputation,

detected by some antivirus programs (version 8 is only detected by 10 programs on VirusTotal, but some installers for version 7 are much less tolerated),

unnecessarily aggressive junk removal,

overstating the danger of some detections.

Features
Finding and deleting unnecessary files,

deleting unnecessary data and managing memory and storage,

Stopping and removing malware.

Removing MacBooster
Drag to trash,

use another security solution (Combo Cleaner, Malwarebytes, etc.).
MacBooster features
As an optimizer, MacBooster promises to help you clean, optimize, and secure your Mac:
It's supposed to help you get more out of an old and well-used Mac by removing junk files. Old installers and updates, logs, and download files, duplicates, large old files, leftover app components, etc.
MacBooster should be able to speed up a Mac by managing memory and storage. Supposedly, it can fix disk permission issues, free up memory reserved for recent apps, help manage startup settings, and offer you to clean cache and trash with a click.
Finally, MacBooster boasts of its real-time protection features that can protect your Mac. It also offers to find and delete malware already on your system, help you manage system security settings, and even find malicious browser cookies.
Is MacBooster a virus?
It's not a virus and it won't hurt your computer. In fact, it's a pretty decent optimizer for some. But if you upload its installer on VirusTotal, ten programs currently detect it. And it's not for no reason why antivirus vendors mark it as a potentially unwanted program (PUP).
MacBooster is very thorough at optimizing – maybe even too thorough. When it looks for junk files to delete, it may mark useful ones, too. Good for when you're trying to squeeze every last Megabyte out of your Mac, but it may seem like MacBooster's just trying to appear more useful than it actually is. When it comes to optimizers, we sometimes feel like the more files it deletes, the better it is. But that's not true for everyone. The line between a virus/fake optimizer and a good one is different for different users.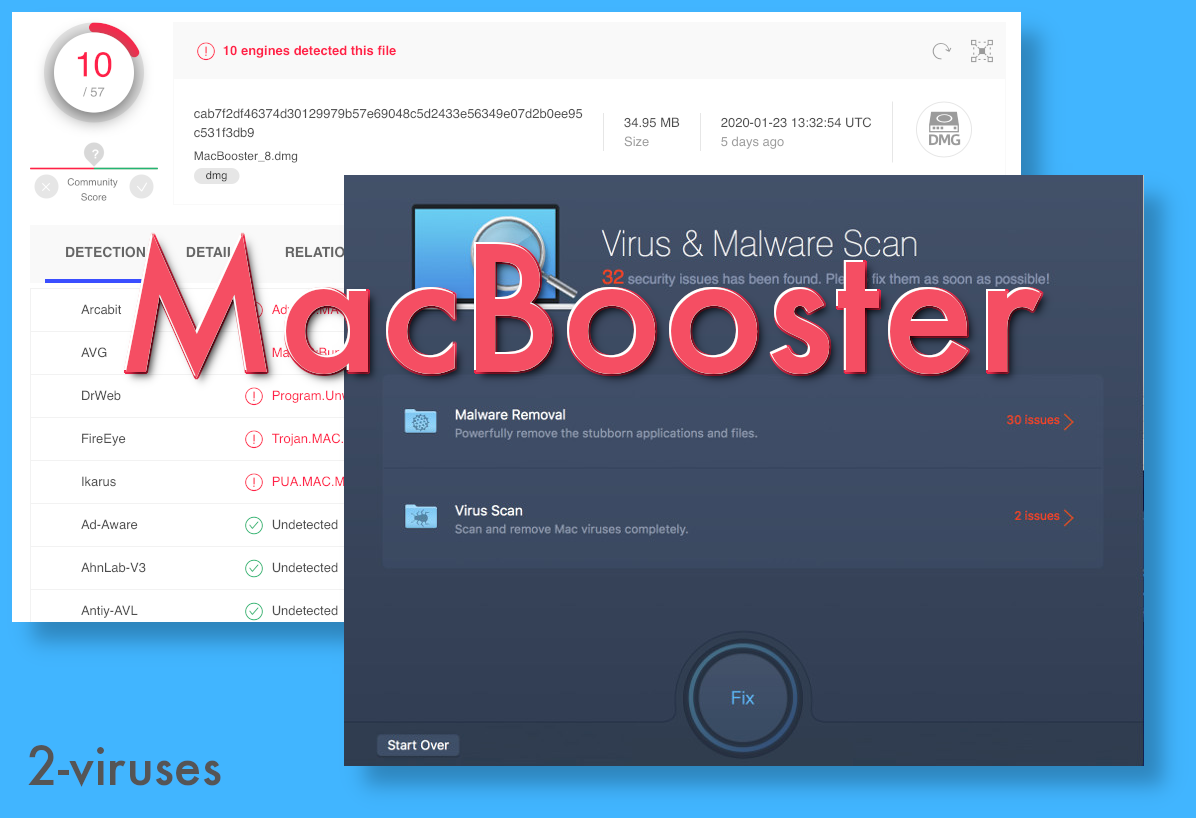 Another issue is MacBooster seemingly overstating how dangerous some items are. Marking old cookies as "Security issues" might be going a bit overboard. Too close to scareware territory. If you think that MacBooster is being unfair with its presentation, you might be tempted to label it as a Mac virus, too.
Some people dislike MacBooster's business model of only offering a free scan and no free removal. There is a 60-day money-back guarantee, so it is possible to try it without risking your finances, but it would be nice if MacBooster offered a true trial version.
Also, there's a story from 2009 of IOBit (MacBoosters makers) stealing from the Malwarebytes database, though IOBit denied the accusations. Though this is an old story, it wouldn't be surprising if there's still some bad blood between IOBits and other security vendors. The anti-malware world does thrive on cooperation, but there's competition, too, and a company that doesn't respect that would be looked down on.
According to a few vendors, MacBooster is distributed in bundles with other programs. This sometimes results in people installing the software accidentally, a classic case of potentially unwanted software. Some might even call the software a trojan in this case.
Although MacBooster is not perfect, some of why it's declared to be a PUP by some vendors is a difference in philosophy. Some users want an ultra-aggressive privacy optimizer that doesn't mince words, similar to how MacBooster is. But in the context of the many fake optimizers out there (such as the similarly-named Smart Mac Booster), apps that behave like that are rightfully looked at with suspicion.
Some security experts (and I mostly agree with them) consider all optimizers to be potentially unwanted programs and don't recommend people to use them. But it's up to you. If you find optimizers useful, remember that "potentially unwanted program" is just that – a program that some people may or may not want.
MacBooster alternatives
If you use MacBooster and have no problems with it, that is great and you shouldn't feel discouraged from using it. It's a legitimate program with some useful features.
However, it's understandable if MacBooster's problems make you want to switch programs to something with a better reputation, such as Combo Cleaner or Malwarebytes (though the latter is an anti-malware app and not really an optimizer).
Removing MacBooster is as easy as dragging it to the Trash and canceling your subscription. As it's not a virus, you shouldn't have any problems with recurring pop-ups or adware.
It's a good idea to always scan your installers before running them – that way, you can avoid infecting your Mac with some virus. But it's also valuable to pay attention to malware names and to know the difference between a Hijacker, Adware, PUP/PUA, Malicious, and other labels and consider them yourself.
Automatic Malware removal tools