MacBooster is an all-around tool to take care of the Mac system. The software is being constantly updated and upgraded in order to improve various features – MacBooster 8 is the most recent version at the time.
MacBooster is described as a tool that can clean up to 20 types of junk files and boost the performance of a Mac significantly. In addition to that, it also can protect the system from malware and viruses.
In this review, we are going to talk about specific features of MacBooster, what it is good for and why you should consider purchasing it (or not).
Main Features of MacBooster
Developed by IObit, MacBooster is a utility tool dedicated to taking care of the overall health of Mac computers. Main features of the tool:
Cleaning system junk;
Scanning for viruses and malware;
Real-time Protection;
Turbo boost features.
Besides that, MacBooster offers a wide variety of specific built-in features, such as applications uninstaller, photo sweeper, duplicated file finder, privacy protection, and startup optimization. It's the perfect choice for less tech-savvy users that want to optimize and protect their computers.
The latest MacBooster 8 version is compatible with all OS X versions from 10.9. Unfortunately, there the free trial version only includes a scanner and will not fix any issues, so users are forced to purchase a lifetime license which starts at $39.95. The cheapest version, also called "Lite", provides MacBooster for 1 Mac computer and offers limited features. To get most of this utility tool, you would go for a standard license that costs $59.95 and lets to install MacBooster on 3 different computers. If you want to add 24/7 customer support and get priority support, you will have to buy a premium license for 5 Macs which costs $89.95.
System Cleaner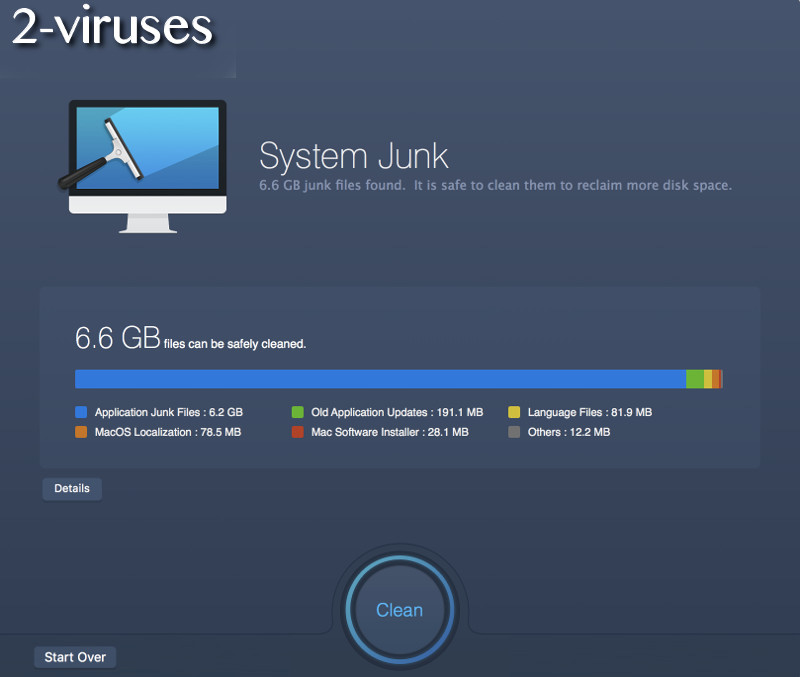 Probably one of the best and most advanced features of MacBooster. It is capable of finding a lot of junk files that can be really slowing down your computer. Just take a look at the image above – it was capable to detect over 6GB of junk files, even though the computer that was scanned is only used to browse the internet and edit text documents. Just imagine how much garbage it can detect and remove on the system that is used for personal activities.
The scan took no more than a minute and the best part is that you can go further into details and select what files you really want to get rid of. The problem is that sometimes utility tools categorize some personal and needed files as junk, so having an ability to select what you want to remove comes in handy.
Also, there are other, dedicated features to clean up your disk space. For instance, Photo Sweeper will automatically detect similar or duplicated photos and help you organize them. Large & Old Files finder will help to locate files or folders that are extremely big or were not used for quite some time. The same goes for Duplicate Finder – it will detect if you have more than one copy of a certain file stored on the hard drive.
Obviously, there are a lot of free utility tools that could perform similar functions, yet the functionality and effectiveness of MacBoost are outstanding. It is very fast and intuitive, so this feature alone makes it worth purchasing MacBooster.
Virus And Malware Scan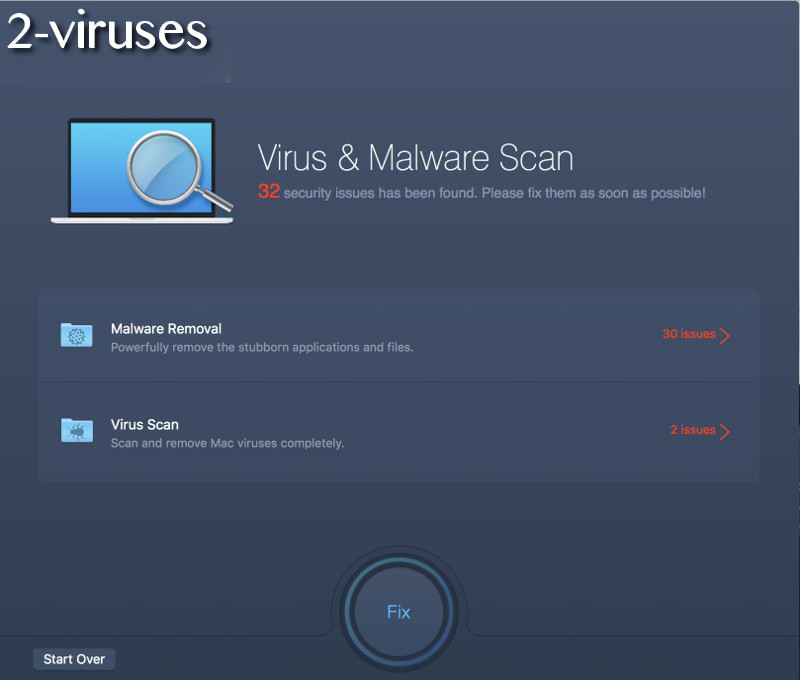 This is probably the weakest link of MacBooster. There are other dedicated tools that could provide security for Mac better than MacBooster – take Malwarebytes Anti-Malware for Mac or Adwaremedic for Mac as an example. However, it's still nice to have anti-malware and anti-virus features installed in this all-around tool.
The scan for viruses was quick and not painful, yet results were shocking – MacBooster managed to detect 32 security issues. However, most of those issues there not that threatful at all – it's just some old cookies that were detected as a possible security threat.

Just like with junk files, MacBooster is a bit overzealous with labeling cookies as malicious files. This sort of thing might stress out some users unnecessarily, though others will appreciate the thoroughness.
MacBooster should also provide real-time protection from malicious files that might try to enter your security. It should be sufficient to protect you from basic malware like browser hijackers or adware, yet it's not known how it would perform at fighting against more severe viruses.
There is a dedicated feature to protect your privacy. It is a fast and efficient way to clean all of your web browsers. With a single click, you can clear your browsing history, cookies, HTML5 local storage and tabs from the last session on a selected web browser.
Turbo Boost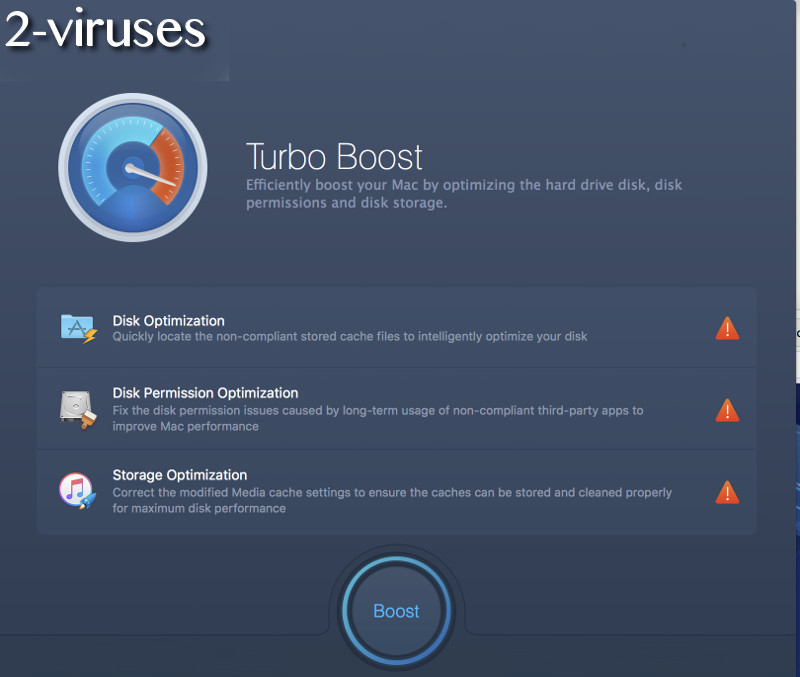 If you have a relatively new computer that runs fine by itself, MacBooster isn't going to create a miracle and make it run even faster. On the other hand, if you are using a lot of applications and your computer is not the newest one, TurboBoost might significantly improve the speed of your system. What it does is basically cleaning the Mac to achieve the best performance possible. It optimizes most used applications and RAM to make sure that your computer resources are used correctly.
Turbo Boost feature can be paired with other MacBooster features that are targeted to improve the performance – Memory Clean feature will save RAM space by terminating applications that are running in the background but rarely used.
In addition to that, MacBooster allows you to optimize the startup and only start applications that are really needed when you turn on your computer.
Final Thoughts on MacBooster
It is a great overall tool to keep a Mac computer in good shape. Keep in mind the fact that there aren't many utility tools for Mac, so MacBooster is probably one of the best choices you can possibly make.
The biggest disadvantages are obviously the lack of a free trial, insufficient anti-malware security, and overzealous detections of junk files. It's important to review junk files and malware before letting MacBooster delete them. For security, it's best to pair MacBooster with reliable anti-malware software in order to assure that your system is completely protected. On the other hand, MacBooster perfectly fits into the medium price category amongst other similar tools, so it's definitely worth a try.
The program features a nice user interface and is easy to use. It doesn't require a lot of resources, so everything runs smooth and fast. It's very convenient to have all utility features you could possibly need in one place.
Positive Sides of MacBooster
Great tool for cleaning up disk space and removing unneeded files
Outstanding user interface, very intuitive and easy to use
Good all-around tool to take care of various aspects of various Mac features
Ability to control actions (such as file removal)
Real-time monitoring feature
Great software performance, high speed
Negative Sides of MacBooster
Only a paid version is available (no free trial)
Lack of information about features and possible actions
Weak Anti-Malware features
Might detect useful files as junk