Mac Purifier is a Mac utility program that uses fake virus alerts to convince people to buy it. This very basic utility application exaggerates the severity of any problem it finds in order to make your Mac seem to be in some kind of urgent danger. It's not malware, but it is scareware and a scam.
Mac Purifier quicklinks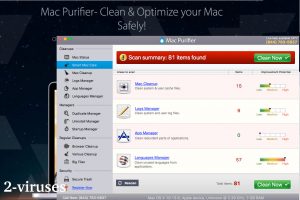 For good reason, many antivirus tools have an issue with Mac Purifier. Just take a look at this VirusTotal report. That does not mean that Mac Purifier is a virus, though – rather, it's a program that uses deception to get more people to buy it. This program probably won't steal your data, install other malware, or harm your computer in some way.
How Mac Purifier spreads
Still, you should be cautious. If you saw pop-ups that lead you to the Mac Purifier home page, there's a possibility that you have an adware infection. The types of ads that promote software like Mac Purifier – the 3 viruses scam, the fake E.tre456_worm_osx trojan, the Mac Cleanup Pro pop-ups – show up on infected websites or are displayed by adware viruses.
While Mac Purifier is not dangerous malware, it's best to remove it:
Type of threat

PUP (potentially unwanted program)

How Mac Purifier spreads

Bundled with freeware
Promoted by malicious ads

Problems with Mac Purifier

Not useful
Misrepresents the severity of issues

Remove Mac Purifier

Uninstall the program
If that doesn't work, use an antivirus tool to remove it
Then there is the chance that Mac Purifier was installed by another application. Sometimes, unwanted apps are bundled with free programs and installed at the same time. You might not notice it at first, and only the annoying updates on the supposedly dire state of your Mac reveal that Mac Purifier is on your system.
Paying for this application is not recommended – if you're going to buy a utility/security program, there are some out there that actually work. But make sure to find a real security program. Applications like Mac Purifier are abundant online: Qbit Mac Optimizer, Cleanup My Mac, Auto Mac Booster are just a few examples.
Mac Purifier is not helpful
This application promises to free up space in your Mac and help you manage startup applications. Though this sounds potentially useful, don't allow Mac Purifier to trick you. It's unlikely to recover more than a few hundred Megabytes of space.
Macs delete temporary files that aren't being used automatically, they give you easy access to your startup applications and you can remove cookies and browsing history simply by accessing browser settings. Mac Purifier would have you believe that it offers some valuable features, but it does not. Rather, its regular scans make your Mac slower and its frequent deletion of cookies makes your webpages take longer to load. The best thing you can do for your Mac is to delete Mac Purifier and other fake optimizers.
Some people do fall for the scam and pay for the program. It's hard to blame them – we all care about the wellbeing of our Macs and there's an itch to take care of known problems as soon as possible. But Mac Purifier would find issues even on a healthy Mac, so chasing a good report by this application is hopeless. You should even be critical of the reports of legitimate programs.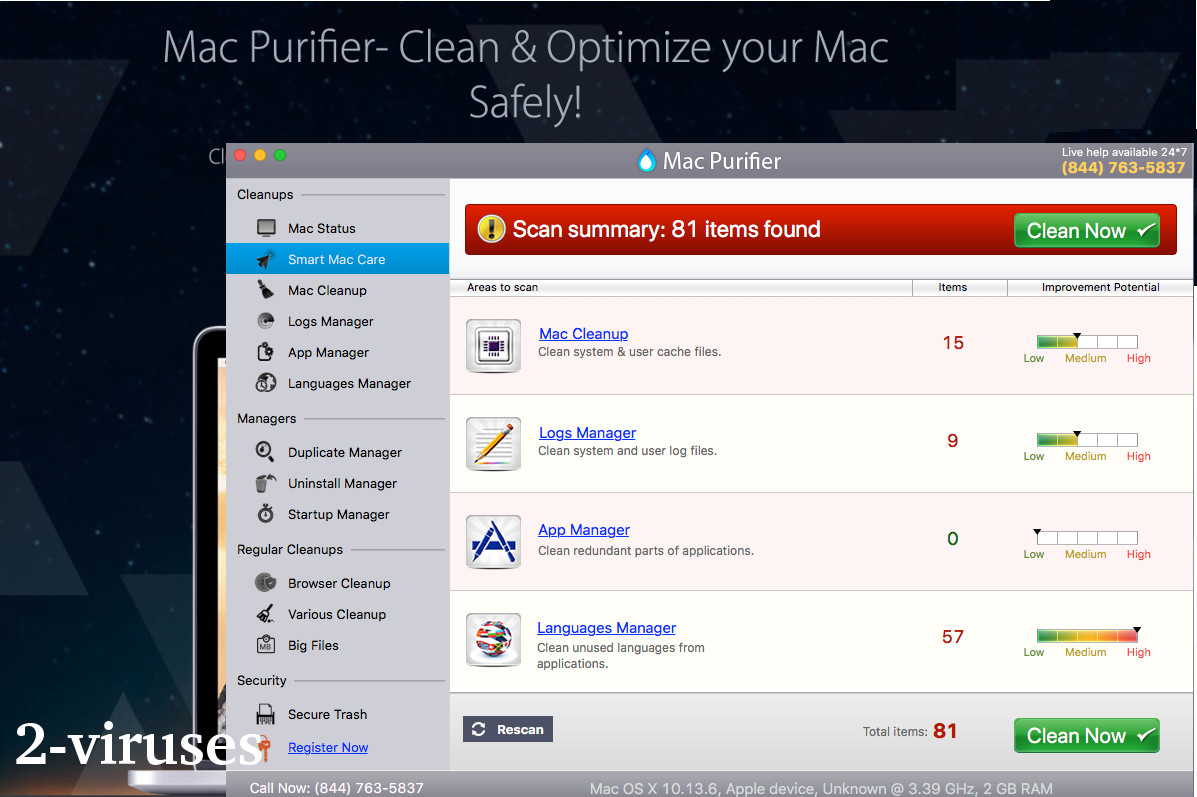 How to remove Mac Purifier
These malicious Mac programs can be a pain to remove. Some change file and folder permissions to prevent their data from being deleted, or scatter their files all over your Mac, making it nearly impossible to uninstall manually. Luckily, Mac Purifier doesn't seem to be so malicious. There are just a few things to do when deleting Mac Purifier:
use the "Command-Option-Esc" hotkey combination to open "Force Quit Applications";
find Mac Purifier and similarly-named processes, highlight them and click on "Force Quit";
open Finder, go to "Applications";
look for Mac Purifier and drag it to the Trash;
Delete Mac Purifier from Trash;
reboot your Mac.
If this didn't completely work, for example, if strange pop-ups still appear, it's possible that Mac Purifier left some files behind after all. A more legitimate security program like Combo Cleaner could hunt these files down, as well as other potentially unwanted programs.
Automatic Malware removal tools