Kohl's '$75 Anniversary Coupon' scam is a post, quickly spreading on the Facebook social media platform. Users have been expressing concerns over this message as they were unsure whether Kohls is actually is giving away coupons in the celebration of their anniversary. We can rest assure you that this post is a scam, just like "Dear Facebook user, congratulations!" message. Even though it is easy to mistake the Kohl's '$75 Anniversary Coupon' scam as legit, cyber criminals have actually exploited this hoax before. Back in 2014 and 2016 , similar post were detected, but scammers decided to use this hoax once again.
Kohl's '$75 Anniversary Coupon' scam will lead you into fake websites and steal your personal information
Kohl brand representatives have actually released this statement about Kohl's '$75 Anniversary Coupon' post:
"We are aware of the gift card promotion. However, we are not affiliated with this third-party site. We apologize for the confusion".
The deceptive message is posted on Facebook and users have to like and/or share the post. This is done for the purpose of spreading the message through the social networking site. It has been estimated that approximately six million Facebook users have believed this scam to be true.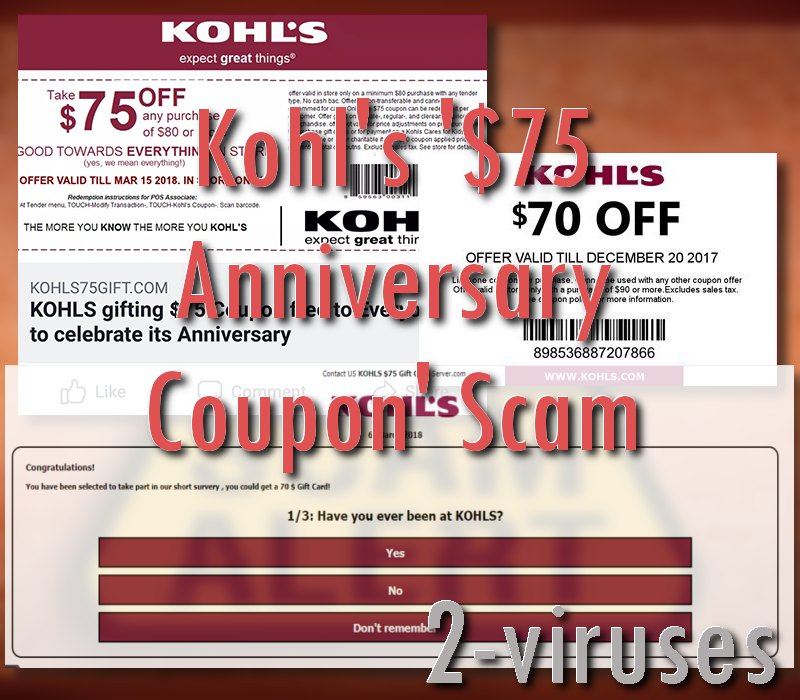 Even if you follow the instructions on the Kohl's '$75 Anniversary Coupon' scam post, you won't receive the cash-reward. After clicking on the rogue Facebook post, users will be redirected to a third-party website, hosted outside the United States. This is one of the red-flags: all Kohl's websites are hosted inside US. This detail just goes to show that third-parties, responsible for the fake coupon message, have no affiliation with Kohl (Kohls Coupon Scam).
After clicking on the Kohl's '$75 Anniversary Coupon' scam, you will be required to fill out a form. It will contain random questions (Have you ever been to KOHLS? Have you ever been dissatisfied by a product you bought from KOHLS? Are you satisfied by the services of KOHLS?). Once the survey is completed, the scammed user has to share the fake post with Facebook friends. By doing so, the victim gives access to his/her Facebook account and all of the information it contains. Specialists from the Identity Theft Resource Center have also emphasized another thing: the scammers will be able to infect operating systems with various malware parasites (Trojans, adware, ransomware).
We have to admit that Kohl's '$75 Anniversary Coupon' scam has managed to be very successful. Scammers have probably managed to phish out millions of personally-identifiable details, allowing them to commence identity theft and other cyber crimes. After completing the latter fake survey, you might be encouraged to participate in a bunch of other similar scams. Please understand that companies are not going to give away cash-rewards for completing short surveys (How can you spot fake coupons on Facebook?). This just seems too good to be true. Therefore, it must be a scam.
This Kohl's is one of the many hoaxes that you should be aware of. Recently we have discussed the many versions of the Netflix scam. They can target both the current clientele of Netflix with fake email messages, and the people who cannot afford Netflix services. In addition to that, we have noticed another message, circulating on the social media networks: "You've been select to test iPhone 9". In addition to being spread in social networking sites, this message can also be displayed in pop-ups. Lastly, we should mention another similar scam: the "Win a $1000 Amazon Gift Card": it also looks very convincing, but is designed to steal users' personal information or infect them with malware.
Where can this Kohl's '$75 Anniversary Coupon' scam be found?
The Kohl's '$75 Anniversary Coupon' scam is usually posted on the popular Facebook social networking site. It has millions of users from all over the world which makes it the perfect platform to spread a fake message. Over the years, thousands of people have given hackers access to their accounts. In addition to that, they might have also become infected with malicious viruses. Knowing this, you should never click on messages, similar to the Kohl's '$75 Anniversary Coupon' scam.
If you are one of the Facebook users that have fallen for this Kohl's scam, we recommend you to take action to protect yourself. It would be best to change your passwords and pay close attention to your banking account. In addition to that, you should also check whether your computer device has been infected with malware. In order to do this, you have to use an anti-malware tool. Download Spyhunter to run a scan. If malware is detected, Spyhunter will quickly remove it.
Automatic Malware removal tools