Netflix is a great entertainment service that's enjoyed by more than 200 million people worldwide.
Unfortunately, scammers impersonate Netflix and attack Netflix subscribers and people interested in trying the streaming service. The malicious actors spread phishing links, fake giveaways of gift cards and subscription credits (Netflix free year offer). They also send out fake "account suspended" warnings, requests to confirm or update your account info, and similar malicious messages.
Netflix Scam quicklinks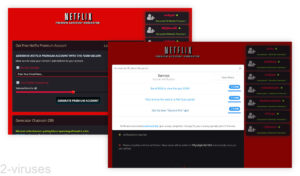 Different types of Netflix scams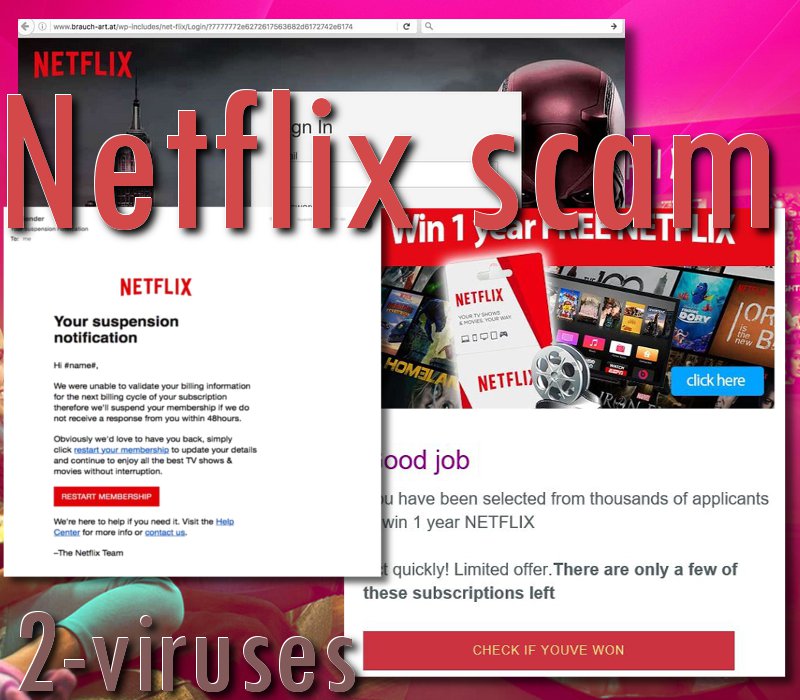 Phishing scams
Some malicious actors seek to steal people's personal details (name, address, email, payment information) by impersonating Netflix.
People who don't realize that they're on a fake Netflix site might accidentally reveal personal information to malicious actors. These people then might sell this data, use it to hack the victims' accounts and make unauthorized purchases, and sign the victims up for scam subscriptions.
Netflix phishing scams spread thru social networks. We have seen fake Facebook accounts that try to trick users into participating in malicious surveys. By clicking on such posts, people are very frequently redirected to third-party websites that impersonate Netflix. Pop-up ads may also open malicious sites.
However, email spam is one of the most popular ways to distribute scams. Some malicious emails are even personalized, greeting recipients by name.
Fake Netflix discount
As great as Netflix is, it does cost a fair amount. So when people find offers to get the service cheaper or even free, they might be tempted.
Unfortunately, such offers tend to be scams.
Here's how a fake Netflix discount might begin its pitch:
We are allowing the first 25,000 subscribers to receive a special rate and lock in their current pricing for the next five years. Click here for this offer".
After clicking on the offer as instructed, you are required to fill in your payment details and other personal information. The problem is, the site doesn't belong to Netflix, but to scammers. If you fill in the form, it's the scammers who get your details.
And, of course, there's no price lock.
Free year of Netflix scam
Other offers are more dramatic:
"You have been selected from thousands of applicants to win 1 year NETFLIX
Act quickly! Limited offer. There are only a few of these subscriptions left
CHECK IF YOUVE WON"
More in this Lovemoney.com article.
Again, the hackers ask all "participants" to fill out a form that will leak all information to them.
"Failed to validate" emails
Scammers send out emails claiming that your payment information failed to validate and that you must update it. The scam is described in detail in this Mailguard article.
These emails might come from addresses such as [email protected], [email protected], [email protected], [email protected] Remember that scammers can easily spoof any email address they want.
A link in the email leads to a website that's designed to look like a Netflix site with, once again, a form to fill out with your personal information.
"Complete one offer" scams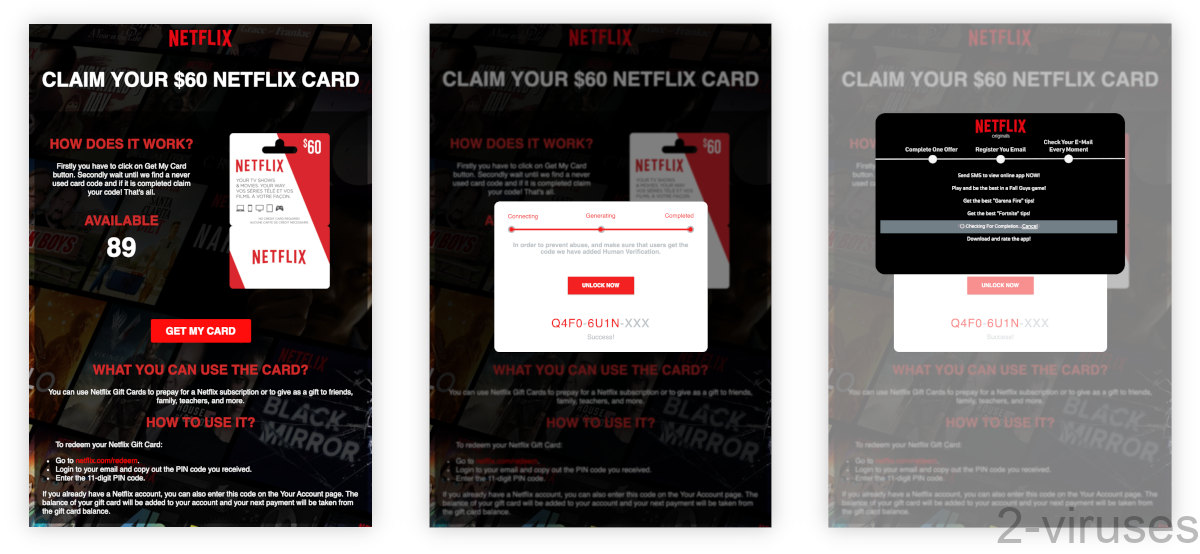 Not all Netflix scams try to steal your info. Others prey on your time and money.
Scam websites might promise to give you Netflix gift cards and free premium accounts. They may ask you to input your email, but not always. They're not interested in taking your information. Instead, these sites want to show you advertisements by using the Complete an Offer scheme.
Fake Netflix sites insist that, in order to award you the prize that they promised, they must first verify that you're not a bot. To do that, you must complete an offer.
Usually, the offers ask you to subscribe to various paid services or download paid apps. They can cost from a few dollars per week.
Completing the offers does not grant the gift cards and free premium accounts that were promised. In fact, I doubt that the offers can be completed.
These scams can be found in web search results. You only need to search using Google or another search engine for free Netflix premium accounts. Links to scam giveaways can be found on expired domains, old blogs, university websites, online assistants, theater sites, forums, etc.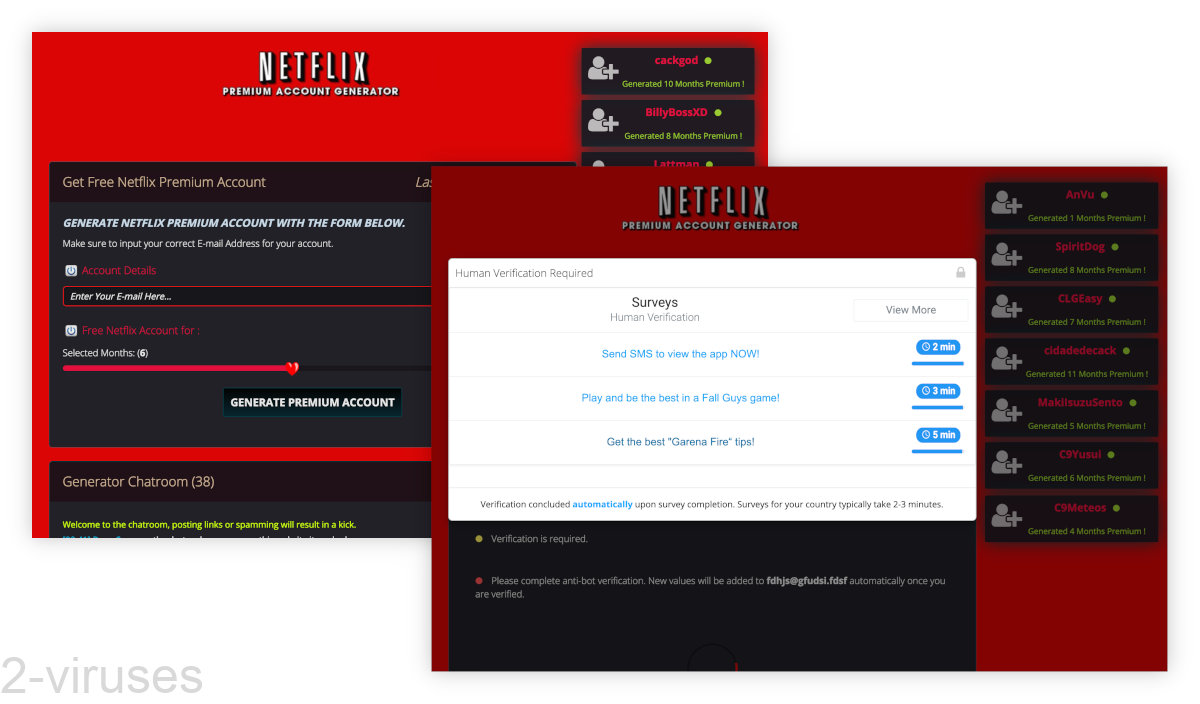 How to avoid Netflix scams?
You may be able to improve your security from adware and spyware with ad blockers and antivirus tools, such as Spyhunter, Spyhunter for Mac, and others.
However, do not rely just on automatic protection to keep you safe. Hackers generate new scams every day and they are always improving. Scams come from official-looking email addresses, are hosted on respectable and secure sites, and some may even verify that your email and password are correct.
Use an email provider that has a good spam filter. But don't rely on the filter – familiarize yourself with phishing scams, such as those described on this PCMag.com article. That could help you recognize malicious emails.
But everyone is vulnerable to phishing scams. If you discover that you revealed personal information including payment details to scammers, reset your passwords and immediately contact your bank. You may have to suspend your credit card to protect your money.
Automatic Malware removal tools