"You've Been Selected To Test iPhone 9" is fraudulent message, claiming that users have been picked to participate in an exciting testing process. We have seen many fake reward messages on the Internet, and this Apple scam is just as devious as CertifiedCertified.winners pop-up. Over the years, scammers have been aware of the new products from Apple, and have adjusted their hoaxes to make them more appealing. Many people have reported rogue notifications, urging them to beta-test new iPhone products. If you are a tech-geek, you might know that iPhone 9 is still full of mystery: people are following the newest announcements about its release date, price and features (iPhone).
Therefore, some people might be extremely interested in testing the new upcoming product. However, this "You've Been Selected To Test iPhone 9" is nothing but a devious attempt to infect you with computer viruses. In addition to that, your personally identifiable-information might also be required by the scammers.
"You've Been Selected To Test iPhone 9" fake notification will not allow you to test iPhone 9, nor will it give you iPhone X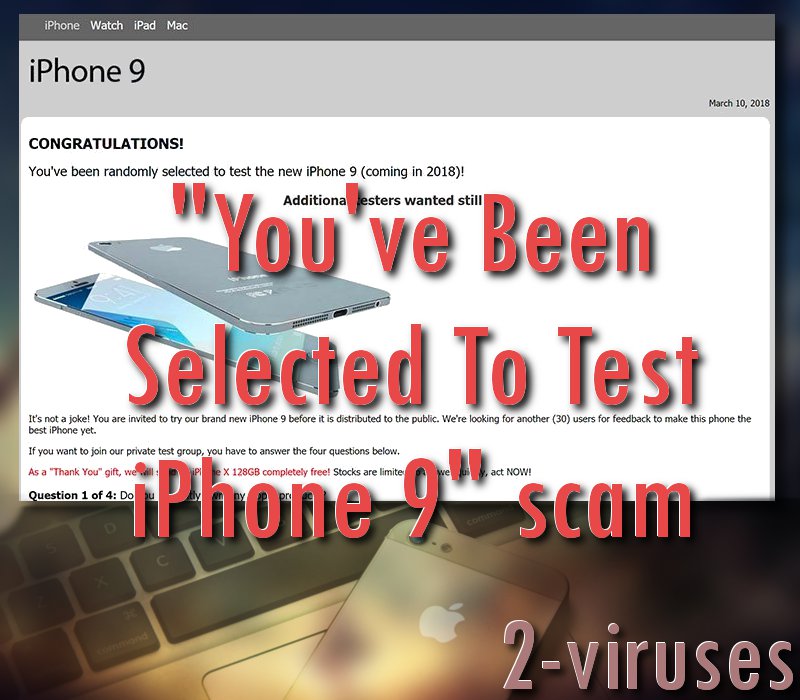 As a reward for testing iPhone 9, scammers claim to give away iPhone X 128GB completely for free. This statement is also fake: you won't be receiving the promised product. Like in many gift card, prize scams, criminals instruct people to finish a short survey, consisting of 4 easy questions (Yes,). One of the first questions is whether you currently own any Apple products. However, this serves as bait for you to click on the "You've Been Selected To Test iPhone 9" scam. By clicking on it, you might trigger an automatic download, bringing malicious software into your device.
Even though the new iPhone is exciting, we hope that you won't be tempted to participate in this scam. We have discussed many scams that aim to tempt people with various goods. For instance, we have recently discussed "Win a $1000 Amazon Gift Card" and a similar notification of "$1000 Walmart Gift Card Winner". None of these messages are legitimate and have no affiliation with the actual services of Walmart and Amazon. "You've Been Selected To Test iPhone 9" scam also has nothing to do with the Apple company.
Security researchers frequently report scams related to Apple products. In October of 2017, specialists warned users about a scam, circulating on Facebook and Twitter. The message stated that users have a chance of winning the new iPhone X. Since this is a very pricey product, some naïve people might have actually believed this to be legitimate. "You've Been Selected To Test iPhone 9" scam could also be transmitted thru social media sites (iPhone). For this purpose, hackers generate fake accounts, and researchers have calculated that crooks can operate more than a thousand rogue Facebook accounts.
Where can the "You've Been Selected To Test iPhone 9" scam be found?
The rogue message can be shown as a pop-up. Many people have received this notification and contacted security researchers for help. In most cases, the ad might have been showed by a rogue website you were visiting at the time. However, there is a chance that "You've Been Selected To Test iPhone 9" scam is being displayed on your screen for another reason.
It is very likely that your operating system is facing a malware infection. In our experience, unwanted advertisements are usually demonstrated by adware parasites. Nevertheless, we have mentioned that such scams can be found on social networking platforms like Facebook or Twitter. Therefore, be careful.
Now, most users should be interested in the way that this message has to be handled. First of all, please do not click on the "You've Been Selected To Test iPhone 9" scam. If you are unable to close the window, open Task Manager and shut down the browser process. After this, it is important to check whether your device is not tainted with viruses. If you remember installing a suspicious freeware tool, remove it from Control Panel immediately. It might also be that the malware is hiding in the list of active browser plugins. However, the best choice would be to simply scan your computer with Spyhunter. There is no doubt that this program will detect the problem and remove it.
Automatic Malware removal tools