"Dear Facebook user, congratulations!" scam is a message, thanking users for their loyalty to Facebook. As a reward, people are offered an exclusive chance to get an iPhone 8 or another pricy item completely for free. Many users have received this message and confronted Facebook about it: is it pop-up a part of a legitimate campaign, or is it a scam? As it was confirmed, the "Dear Facebook user, congratulations!" pop-up is a scam, similar to "Google Rewards Center" and "Amazon Rewards Event".
"Dear Facebook user, congratulations!" pop-up is not from Facebook: it is from cyber criminals
To make these messages seem more believable, crooks insert legitimate logos and background images. In this case, "Dear Facebook user, congratulations!" scam will feature the official logos of Facebook. However, you should realize that the message won't help you win any of the advertised goods. In fact, if you interact with such messages, you might immediately get redirected to malware-laden websites: by visiting them, you might easily catch a virus, a crypto-miner or another harmful infection.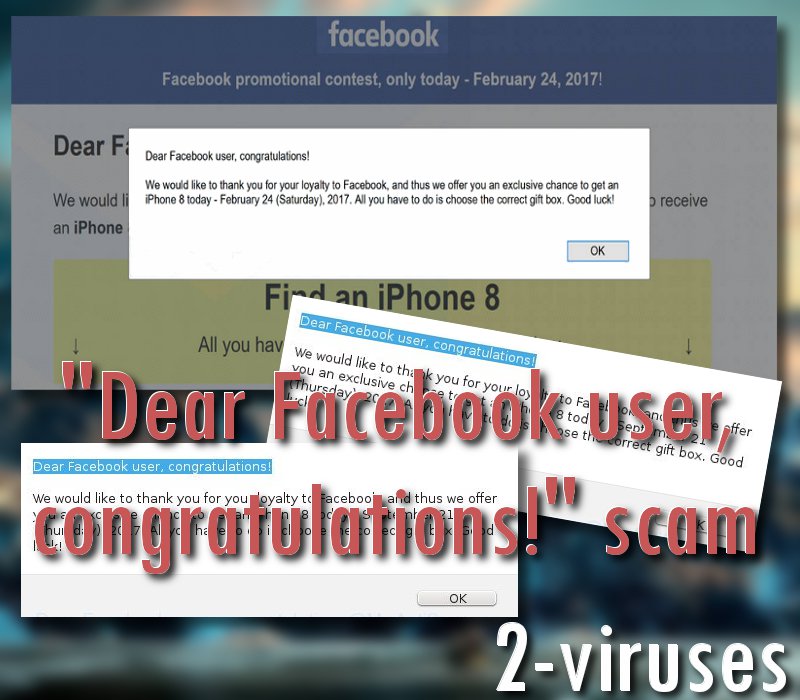 This message could be classified as a "lottery scam" which impersonates a specific service or organization. Facebook has listed this type of hoax in one of its articles (What are some common money scams I should look out for?). Facebook explains that such scams usually after users' credentials, personal information, physical address or banking account details. Users will have to provide such info if they wish to receive the prize. However, "Dear Facebook user, congratulations!" scam won't reward you with iPhones or other expensive items. After scammers learn your personal details, you might become a victim of an identity theft or have all of your savings stolen from your banking account. There have been Facebook-related scams before, like: "Your profile has been selected by Facebook " or fake Facebook account removal messages.
Even though it is presumable that "Dear Facebook user, congratulations!" scam will only appear to users, using computer devices, there is a chance that the message will be seen on users' Androids as well. After all, such lottery scams have been noticed to bother owners of mobile phones (Congratulations, you won Malware Scam Crosses Over to Android). Therefore, please do not trust any Facebook-related lotteries or sweepstakes: they are very unlikely to have been created by reliable representatives of Facebook.
One reason why this "Dear Facebook user, congratulations!" scam is being presented to you is that you have become infected with an adware parasite. This malware type is known for its intrusive nature and the number of generated online advertisements (Viruses vs. Spyware vs. Adware vs. Malware... Whats the Difference?). Most of them might be harmless, promoting various types of services, but others could be secretly transmitting malware or inserting tracking cookies into your device. None of these possibilities sound pleasant.
How to stop "Dear Facebook user, congratulations!" scam from being presented on your screen?
"Dear Facebook user, congratulations!" pop-up does not come from reliable people: we have already established this. Now, it is important to determine why this message is displayed. One of the reasons behind this message might be that you are visiting some rogue domains, featuring this exact message. It is common for online-streaming or file-sharing websites to accept content pretty recklessly. Therefore, it is best to treat such domain with caution.
The latter message can also be presented because you have become a victim of malware. Have you recently installed a new freeware program? If yes, it might be the source of all your problems. If you know which tool might be responsible for the suspicious activity in your computer, remove it from Control Panel.
However, if you do not have the slightest idea about why this fake message is displayed to you, we only have one option available. Please use an anti-malware tool to scan your device and determine whether your OS is in big trouble or not. We recommend downloading Spyhunter program: it has proven itself to be a highly-efficient anti-malware tool, protecting you from all sorts of malware parasites. In addition to this, it is very easy to use, so you won't have any issues in that department.
How to remove "Dear Facebook user, congratulations!" scam using Windows Control Panel
Many hijackers and adware like
"Dear Facebook user, congratulations!" scam
install some of their components as regular Windows programs as well as additional software. This part of malware can be uninstalled from the Control Panel. To access it, do the following.
Start→Control Panel (older Windows) or press Windows Key→Search and enter Control Panel and then press Enter (Windows 8, Windows 10).
Choose Uninstall Program (if you don't see it, click in the upper right next to "View by" and select Category).
Go through the list of programs and select entries related to "Dear Facebook user, congratulations!" scam . You can click on "Name" or "Installed On" to reorder your programs and make "Dear Facebook user, congratulations!" scam easier to find.
Click the Uninstall button. If you're asked if you really want to remove the program, click Yes.
In many cases anti-malware programs are better at detecting related parasites, thus I recommend installing Spyhunter to identify other programs that might be a part of this infection.
Automatic Malware removal tools