Hacktool:win32/keygen is a definition used by antivirus programs to warn users about potential threats. Hacktool:win32/keygen is used to assist in activating software for free (steal/pirate it). But that's not why antivirus programs detect it. The real problem is malware being bundled with Hacktool:win32/keygen files and causing problems in the long run.
Hacktoolwin32 Keygen quicklinks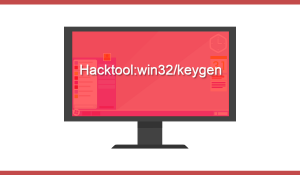 Hacktool:win32/keygen:
Classification
Keygen,

hacktool,

potentially unwanted program.

How Hacktool:win32/keygen gets downloaded
From pirating websites,

from sites selling counterfeit software.

Dangers and problems
Malware may be bundled with Hacktool:win32/keygen.
How to remove Hacktool:win32/keygen
Delete malware with anti-malware programs, such as Spyhunter, Malwarebytes, and others,

use built-in Windows tools to restore or reset the PC.
What is Hacktool:win32/keygen
Keygen
Hacktool:win32/keygen is a name for threats used by Microsoft and a few other companies. Hacktool:win32/keygen files also get detected as Cracktool, Trojan/Generic and other types of Trojan, Malicious, Malware, Unwanted, Riskware, and Patcher. Here is a link to an example file – Virustotal.com.
As you can guess by the name, Hacktool:win32/keygen is a file that patches programs to get around copy protection. People use key generators to activate programs without paying for them. One example of Hacktool:win32/keygen is AutoKMS – a tool for activating Microsoft products such as Windows and Office.
According to the threat descriptions of Hacktool:win32/keygen, it is not itself dangerous. It can modify programs in ways that look malicious, though. The real problem is that malware often gets bundled with Hacktool:win32/keygen files. Not every version of Hacktool:win32/keygen is infected but enough are that it's a common problem.
Malware
Sometimes, hackers bundle their Hacktool:win32/keygen with some adware or some kind of a trojan. Other times, the sites that host the Hacktool:win32/keygen file do it. The motivation here is simple – people who create hacking tools and key generators want to make money, too. So they let malicious actors use Hacktool:win32/keygen to hitch a ride.
Either way, once you download Hacktool:win32/keygen and run it, it downloads and installs malware in the background. Sometimes, people disable their antivirus program to stop it from messing with the keygen, making it easier for the actual malware to work.
The malware that could be bundled with Hacktool:win32/keygen may be used to steal your data and money, inject ads into your browser, send out spam, click on ads, perform DDOS attacks, etc.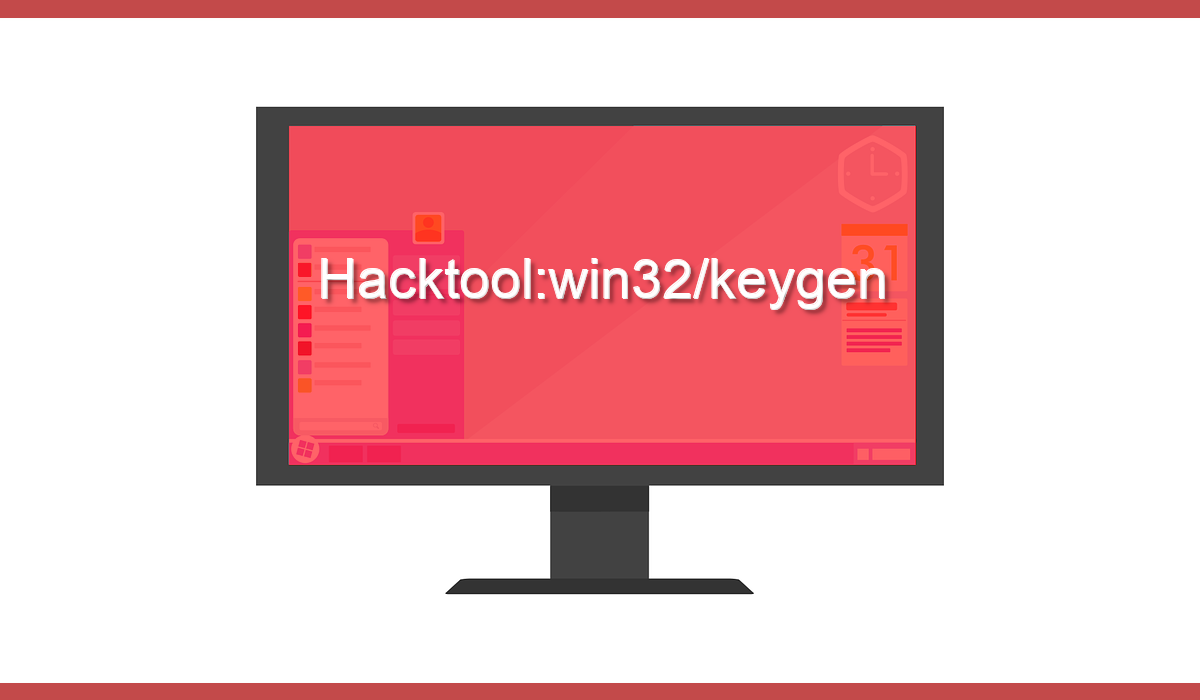 How to avoid getting infected
How Hacktool:win32/keygen is downloaded
You may have to download a Hacktool:win32/keygen file if you're pirating software. You must have downloaded it intentionally.
What if Hacktool:win32/keygen was found on your computer even though you did not pirate anything?
It is possible for malware to be miscategorized and detected as Hacktool:win32/keygen when it's actually something else.
It is also possible that you accidentally downloaded a pirated program instead of the genuine one. Some unofficial software vendors do that sort of thing. If you're purchasing a program, be very careful. If the program is suspiciously cheap (such as Windows keys for $10-$20), it is probably illegal in some way.
Safety when pirating
One of the best ways to avoid Hacktool:win32/keygen is to avoid piracy. But that's not practical advice. People who pirate usually have their reasons, whether it's lack of availability, lack of regional pricing, financial troubles, censorship, or something else. There's just no way that people will stop pirating software. So, what can you do to stay safe?
First, you can rely on a community. Use reputable sites and uploaders, ask others to validate their files with yours to make sure they're identical, follow up-to-date guides. Do not just rely on web search results.
Another idea is to use a very good antivirus program and to scan every download. Examine the detection names. Hacktool:win32/keygen is potentially risky but it might be okay. Trojan.Downloader, Backdoor:Win32, Win32/Keylogger, etc. are bad. If bad malware gets detected, throw out the file and stay away from the site that you downloaded it from.
Regularly make backups of your files. That way, if your computer gets infected and if you can't remove the infection, you can reset and start over without losing precious data.
Finally, do avoid piracy when possible. Use official trial software, as well as free and/or open-source products. Download them from official sites.
How to remove Hacktool:win32/keygen
There's usually no need to keep Hacktool:win32/keygen after it did its job. However, some people find that their antivirus program keeps detecting Hacktool:win32/keygen and they can't remove it. If you can't delete Hacktool:win32/keygen normally, try using a good antivirus program, such as Spyhunter, Malwarebytes, and others. Some antivirus programs do it for free while others are paid but have a money-back guarantee, though it is always advised to read their terms before paying.
Make sure that your antivirus program has all the latest updates. Let it perform an in-depth scan. Consider booting into safe mode to stop unnecessary programs from starting.
At worst, you can reset your PC (Support.microsoft.com).
Automatic Malware removal tools