Apple.com-shield-guard.live is a scary website that now attacks Mac computers and its related browsers – Google Chrome, Safari, and Mozilla Firefox. It is very unlikely that visiting the website promoting this scam was your personal decision. Therefore, redirections to apple.com-shield-guard.live occur unintentionally. This means that there is a specific reason that forces your browser to redirect to the malicious page and reveal the scary message.
Com Shield Guard Fake Alert quicklinks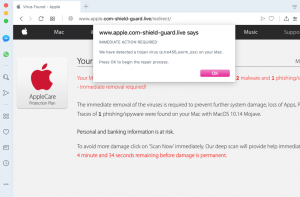 Apple.com-shield-guard.live is similar to many other deceptive websites run and controlled by the team of online frauds, for example, apple.com-scan-mac.live, apple.com-shield-devices.live, apple.com-monitor.live and so on. All these alerts are united according to a similar purpose – to force scared users into downloading absolutely useless software supposedly for fixing the reported threats.
How does apple.com-shield-guard.live deceive you?
The pop-up is literally able to hijack your browser by forcefully switching it into the full-screen mode. You might attempt to open the new tab to read more detailed information about the problem, however, normally the pop-up prevents you from leaving its page easily. The following frustrating message is revealed in front of the screen:
Your system is infected with 3 viruses!
Your Mac is infected with 3 viruses. Our security check found traces of 2 malware and 1 phishing/spyware. System damage: 28.1% – Immediate removal required!

The immediate removal of the viruses is required to prevent further system damage, loss of Apps, Photos or other files. 
Traces of 1 phishing/spyware were found on your Mac with MacOS 10.14 Mojave. 

Personal and banking information is at risk.
To avoid more damage click on 'Scan Now' immediately. Our deep scan will provide help immediately!
3 minute and 44 seconds remaining before damage is permanent.
Once the scary alert is delivered, the users are instructed by the notification to download some suspicious program that is promised to fix the above-said threats. The truth is that there are many online criminals standing behind these alerts. They have already infected your Mac with adware, so now they try to make you waste your money absolutely for nothing. The investigation of similar alerts reveals that after the users install the so-called "recommended" software they are immediately forced to buy its full version which is not different at all from the trial one.
How did adware install itself on your Mac?
Answering this question is extremely important for preventing further virus attacks. Note that we cannot specifically mention the exact reason explaining the injection of adware into your Mac, however, we definitely can distinguish several factors that could potentially make your system exposed to malware. First of all, your current anti-virus software may be fairly blamed. There are many reputable security programs today that claim to be effective in defending Macs, however, then often prove to be totally useless in property detecting the adware infiltration attempt.
There is a high probability that the adware producing apple.com-shield-guard.live pop-ups could be brought into your system along with some other free software that you could have dealt with lately. It's very important that you always pay very close attention during the setup wizards of all cost-free utilities you ever intend to install. In case you read about some additional software you do not need, immediately select the "Advanced" or "Custom" installation option where you may easily uncheck all extra software you do not need. Failure to be attentive during installation of free programs results in the injection of other adware and potentially unwanted programs without your direct intention.
Other negative side effects related to adware.
The ongoing disturbance by apple.com-shield-guard.live may be not the only trouble that you may experience when the Mac is messed up by adware. In fact, your browser may continue permanently forwarding your browser to many shady websites even without your direct participation. You may simply open your browser in an attempt to look for some interesting information, whereas your browsing will be suddenly interrupted by new tab opening randomly and immediately bringing you to dubious resources.
The detailed research of adware, in general, reveals that the following browser redirections may occur because of it:
fake alerts demanding installation of Adobe Flash Player, Java or other unwanted software updates;
misleading pop-ups claiming your system has serious problems and instructing you to call toll-free helplines controlled by online frauds;
websites promoting adult online activities;
pages intending to collect your personal data.
How to remove apple.com-shield-guard.live?
The utter elimination of apple.com-shield-guard.live pop-ups can be done only through the complete neutralization of the adware that is now interconnected with your device. Resetting your browsers will not help. The adware may still control its important settings and be automatically started together with every system boot.
We recommend you to carefully examine your valuable applications (open Finder and go to Applications) and delete the items that do not look familiar. Similarly, inspect your browser extensions and get rid of those that you do not remember installing personally. Manual research of your Mac may be helpful in many cases, however, there are times when the adware is very sophisticated and keeps its malicious activities without being openly mentioned among the available utilities. To make the adware elimination more effective, scan your Mac with the reliable security software (e.g. Combo-Cleaner) to discover the threats that may be hidden deep in the system without your knowledge.
Automatic Malware removal tools
TopHow to remove Apple.com-shield-guard.live Fake Alert from Google Chrome on Mac:
Open Chrome browser.
Enter in the url field "chrome://extensions" address and hit Enter.
Find Apple.com-shield-guard.live Fake Alert on the extensions list and click on the recycle bin icon next to it.
Click on 'Chrome' button at the top left corner. Select 'Preferences' on a drop-down menu box.
Find 'Search' options on Settings tab. If your search engine is changed, click 'Manage Search Engines' and set your preferred search engine.
On the same page find 'Show home button' checkbox and change your homepage.
(Optional) Reset your browser's settings
If you are still experiencing any issues related to
com-shield-guard
, reset the settings of your browser to its default settings.
On the 'Preferences' menu window, scroll down to the bottom and find 'Reset settings' button. Click it.
Confirm your selection and click 'Reset' on the following window.
If you cannot reset your browser settings and the problem persists, scan your system with an anti-malware program.