Apple.com-monitor.live is an unexpected pop-up many people notice in Mac computers. Some realize that this is a fake alert not related to Apple or AppleCare Protection Plan, whereas there is still some group of users who were easily misled by the scary warning mentioned in the pop-up.
Apple Com Monitor Live Pop Up Scam quicklinks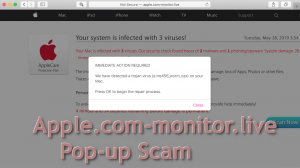 In brief, the message is that your Mac is infected with 3 viruses and that you need to perform additional scanning to reveal what exact malware is causing the damage. Apple.com-monitor.live pop-ups only attack the Mac operating system and its popular browsers, such as Safari, Google Chrome, and Mozilla Firefox. The alert uses malicious scripts preventing people from easily closing the window. Even if you eventually manage to do that, another pop-up window will soon come up.
Apple.com-monitor.live faulty statements
The scary alert delivered by the apple.com-monitor.live pop-up to Mac screens is basically the same, no matter in what country the specific Mac is located. People in the UK, Canada, and the USA see basically the identical repeated statement mentioning that their Mac is infected with 3 viruses. The scary text may be translated into some other European languages, but the meaning of it remains without being amended. This is the first message that users notice:
We have detected a trojan virus (e.tre456_worm_osx) on your Mac. Press OK to begin the repair process.
At this point, a lot of unwary users might be really scared about the condition of their Macs. It could be that the system is indeed functioning in a slow manner, so they could come to the wrong idea that the aforesaid message is trustworthy. Clicking on OK gives another alert:
Your system is infected with 3 viruses! Your Mac is infected with 3 viruses. Our security check found traces of 2 malware and 1 phishing/spyware. System damage: 28.1% – Immediate removal required! The immediate removal of the viruses is required to prevent further system damage, loss of Apps, Photos or other files. Traces of 1 phishing/spyware were found on your Mac with OS X 10.12. Personal and banking information are at risk. To avoid more damage click on 'Scan Now' immediately. Our deep scan will provide help immediately! 1 minute and 52 seconds remaining before damage is permanent. Scan Now
Finally, when they click on "Scan Now" the malicious website gives some other frustrating statements and eventually instructs users to download and install the dubious software allegedly for fixing the above-mentioned problems.
For example, potentially unwanted programs like Mac Cleanup Pro, CleanupMy-Mac and Mac Mechanic are distributed this way. It is absolutely clear that fulfilling the instructions by the apple.com-monitor.live alert will lead to an absolutely negative outcome. In fact, the viruses reported in the scary warning are absolutely not real.
These are false positives, whereas the names of the infection were simply invented by online criminals for the purpose of forcing you into paying the money for the so-called full version of their useless program in order to fix those bogus threats. Therefore, stay away from interacting with the apple.com-monitor.live alerts. Make sure you do not trust any other similar deceptive alerts that you may encounter while browsing the web.
How to get rid of apple.com-monitor.live scam
There is a high probability that your Mac is now infected by the adware causing numerous apple.com-monitor.live pop-ups. The adware redirects browsers to the variety of third-party websites, so apple.com-monitor.live could be just one of many other misleading and dangerous domains to which you could be brought by the adware.
It is definitely important that you perform a thorough checkup of your computer to identify where exactly the adware could be concealed. First of all, try to inspect your Mac manually. Access the "Applications" through Finder, sort the programs according to the date of their installation. If you locate recently installed applications that do not look familiar, move them to the Trash right away.
Similarly, check the extensions (add-ons) of your Mac browsers. Some extensions could cause similar browser redirections to suspicious websites, so disabling the extensions could definitely help. Finally, perform scanning of your Mac with reliable anti-virus software, such as Spyhunter that will identify other leaks in your Mac security, remove hidden viruses and defend your system in the future.
Automatic Malware removal tools