Apple.com-shield-devices.live is a website used by online criminals to scare Mac users into downloading potentially unwanted programs (PUPs). It is not related to Apple or AppleCare Protection Plan, even though it illegally displays the name and the logo of the Apple company. The website aims to scare you into thinking that your Mac has got serious problems because it is infected with the e.tre456_worm_osx virus. Some other threats could be mentioned while the pop-up scam is active to make you really frustrated.
Com Shield Devices Pop Up Scam quicklinks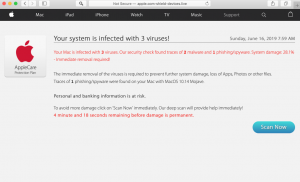 You may research the e.tre456_worm_osx virus problem by going online and you will immediately find out that it is a fake alert used by cyber frauds who aim to force you into downloading rogue security software for Mac OS X. Unfortunately, there is still some percentage of people who may be easily deceived by the frustrating notification reported by the apple.com-shield-devices.live website.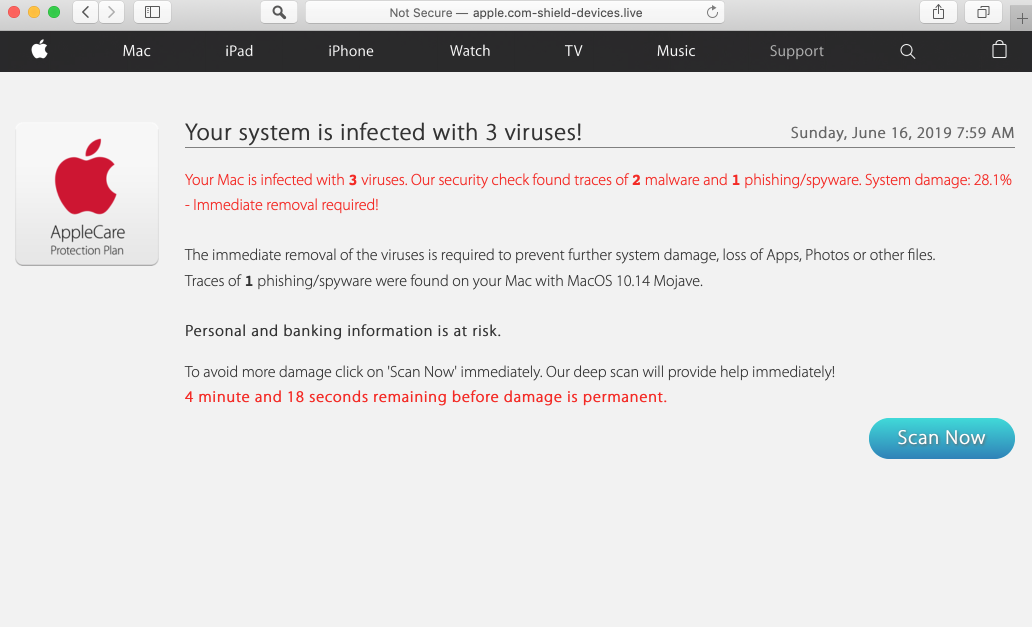 Apple.com-shield-devices.live deception
There is nothing in the apple.com-shield-devices.live alert that could be considered as true. The people who stand behind these misleading statements use a lot of deceptive reports and other tricks to make you obey their misleading guidelines. Safari, Google Chrome and Mozilla Firefox are three main browsers that may be specifically targeted by this massive pop-up campaign, whereas the text of the faulty warning is absolutely identical. This is the message typically displayed in all browsers:
Your system is infected with 3 viruses!
Your Mac is infected with 3 viruses. Our security check found traces of 2 malware and 1 phishing/spyware. System damage: 28.1% – Immediate removal required!

The immediate removal of the viruses is required to prevent further system damage, loss of Apps, Photos or other files. 
Traces of 1 phishing/spyware were found on your Mac with MacOS 10.14 Mojave. 

Personal and banking information is at risk.
To avoid more damage click on 'Scan Now' immediately. Our deep scan will provide help immediately!
4 minute and 20 seconds remaining before damage is permanent.
The domain name apple.com-something is used as deception so one would think that it is Apple-certified tools. Similar scams were used in the past for Fake Windows antiviruses, and all tools using such ads are dangerous Rogue Antiviruses. Legitimate programs do not use excuses that someone else is promoting them in illegal or deceptive ways.
Apple.com-shield-devices.live pop-up then attempts to make you interact with it by clicking on the "Scan Now" button. This will lead to the imitation of online scanning of your Mac which will then report other false positives to make you frustrated even more. However, when some users mistakenly believe that these statements are true, they are forced to eventually download and install specific program supposedly for removing the e.tre456_worm_osx virus and other fake viruses mentioned during this fictitious scanning. This leads to the installation of  Mac Cleanup Pro, CleanupMy-Mac, Mac Mechanic and other Mac rogue anti-viruses.
Why do you see apple.com-shield-devices.live alerts?
This question needs to be immediately answered to prevent the further damage that can be caused for your Mac as a result of interacting with the alert. The investigation brings us to the conclusion that there is specific adware involved in displaying the message. Some way or another, the adware is in control of your browser and thus generates unsolicited pop-up windows leading you to random websites. Note that apple.com-shield-devices.live is just one of many other malicious domains to which the adware may forward you.
Alternatively, you could click on a specific malicious link through spam emails or as a result of visiting a specific website that was hacked and instead brought you to the apple.com-shield-devices.live page. However, when you notice these pop-ups repeatedly without letting you properly use your Mac browser, then there is a high probability that the specific adware is responsible for such unusual behavior.
Note that the appearance of the apple.com-shield-devices.live pop-up does not immediately cause the damage for your Mac unless you trust its scary message and begin fulfilling its tricky commands. Of course, the alert may essentially distract you from performing important work, however, the real damage is made when you install the dubious software it promotes. This will cause a lot of other problems, such as high CPU usage, system freezing, and possible crashes. The utilities advertised by apple.com-shield-devices.live are actually fake Mac cleaners that instead make an even greater mess out of your Mac and cause serious problems.
How to remove apple.com-shield-devices.live?
The only working solution to fully eliminate the apple.com-shield-devices.live pop-ups is to detect and delete the adware controlling your browser and causing the aforesaid redirections. Please follow these steps to check your Mac manually:
open Finder;
click on "Applications";
look for suspicious programs like MyShopCoupon, MyCouponSmart, move them into Trash;
go to "System Preferences";
access "Profiles";
remove suspicious profiles that could control your browser settings and cause unwanted redirections.
Similarly, you may check your available browser extensions (add-ons) that were not authorized by you. They may be another reason explaining the apple.com-shield-devices.live pop-up scam in your Mac. Disable and delete the third-party extensions, then restart your Mac. These manual steps should fix the majority of problems, however, there are cases when the adware targeting Mac computers still secretly remains in the system and causes other troubles. It is important that you research your Mac more thoroughly by referring to the proven anti-virus software. It will perform the complex investigation of your Mac problems and will discover all other malicious items that may still be active and causing the unusual behavior. Your existing anti-virus for Mac did not protect it, so it's time to switch to another program that will perform the protective function in a much better way.
Automatic Malware removal tools