Cdkeys.website (not to be confused with Cdkeys.com) is a fake pirating site. It offers various free programs, key generators, in-game currency generators, but it doesn't deliver on any of its promises. Instead, Cdkeys.website dangles them like a carrot on a stick while it asks people to click on ads and complete offers. It's nothing but an advertising site.
Cdkeys Website Fake Site quicklinks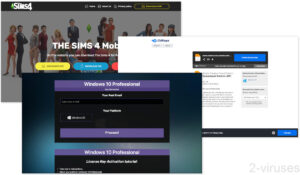 Cdkeys.website in short:
Type of threat
Adware,

scam.

What does Cdkeys.website look like?
Cdkeys.website shows different pages to different visitors,

including free download links for games,

"injection" tools for apps,

key generators for paid software.

How is it dangerous?
Cdkeys.website advertises potentially dangerous websites,

including phishing sites,

subscription scams,

ads for get-rich-quick scams.

How to avoid sites like Cdkeys.website
Don't search for sites to download pirated software,

don't look for free "hacks" and "generators",

use ad blockers and malicious site blockers,

protect your device with antivirus tools (Spyhunter for Mac, Combo Cleaner for Mac, Spyhunter for PC).
What's wrong with Cdkeys.website?
Cdkeys.website is a fake pirating site
If you look up Cdkeys, you'll likely find a few reviews talking about Cdkeys.com – a gray key reseller, a semi-legit online store for video games.
But Cdkeys.website is a separate, different website – a site full of fake download links for free games and in-app currency generators:
it offers to download any game on your computer for free,
generate a free activation key for Adobe and Microsoft products,
hack various apps to give you free in-app currency.
Of course, Cdkeys.website actually does none of what it promises. Whenever you try to download something or generate a key, it asks you to "verify" by "completing offers". The "offers" are links to iffy ads, shady and potentially dangerous sites.
Here is what the fake verification pop-ups by Cdkeys.website look like: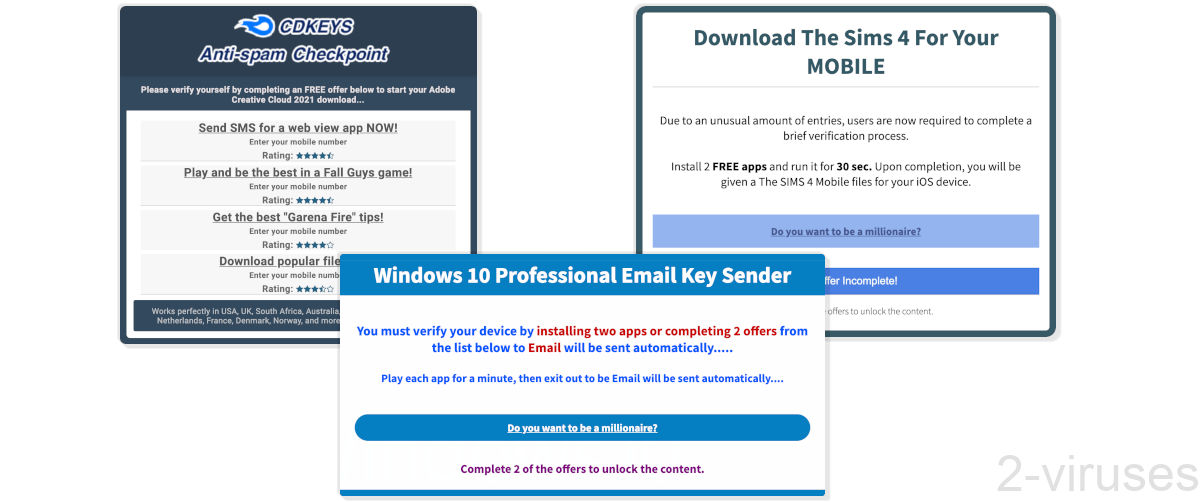 It advertises scams
What sites Cdkeys.website promotes depends on your location. In my case, I saw a few ads for subscription scams on Potiongames.com and Ouisys.com. These sites trick people into subscribing to paid services via SMS.
Cdkeys.website also linked to Verifysuper.com and Bigappboi.com, which in turn promoted Profitsurvey.live (a site that promotes all sorts of ads, including a get-rich-quick scheme), Rewardsgiantusa.com (a reward site – promises you gift cards and other prizes to get you to spend money on purchases), and similar sites.
Such content can lead to money loss. Especially the SMS subscription services, but also the Reward sites. These sites collect personal data and charge real money, tricking people with promises of a worthwhile prize.
Is Cdkeys.website dangerous?
Simply visiting Cdkeys.website is not harmful, and even clicking on links is not dangerous.
But the ads that Cdkeys.website shows are dangerous. Luckily, as long as you're running good antivirus software, you should be okay. We recommend Spyhunter for Mac, Combo Cleaner for Mac, Spyhunter for Windows, but any reputable antivirus app will do great.
Automatic Malware removal tools
Cdkeys.website tries to make its pages look trustworthy. It wants to make it more likely that people will do whatever they're told because they believe they're close to getting that Windows key/free game/unlimited Robux/etc.
All the phishing and scam sites that Cdkeys.website promotes are dangerous indeed. If you're not careful, your info and money could be stolen by these unethical websites. Remember – don't give your phone number, name, or payment info to unknown sites.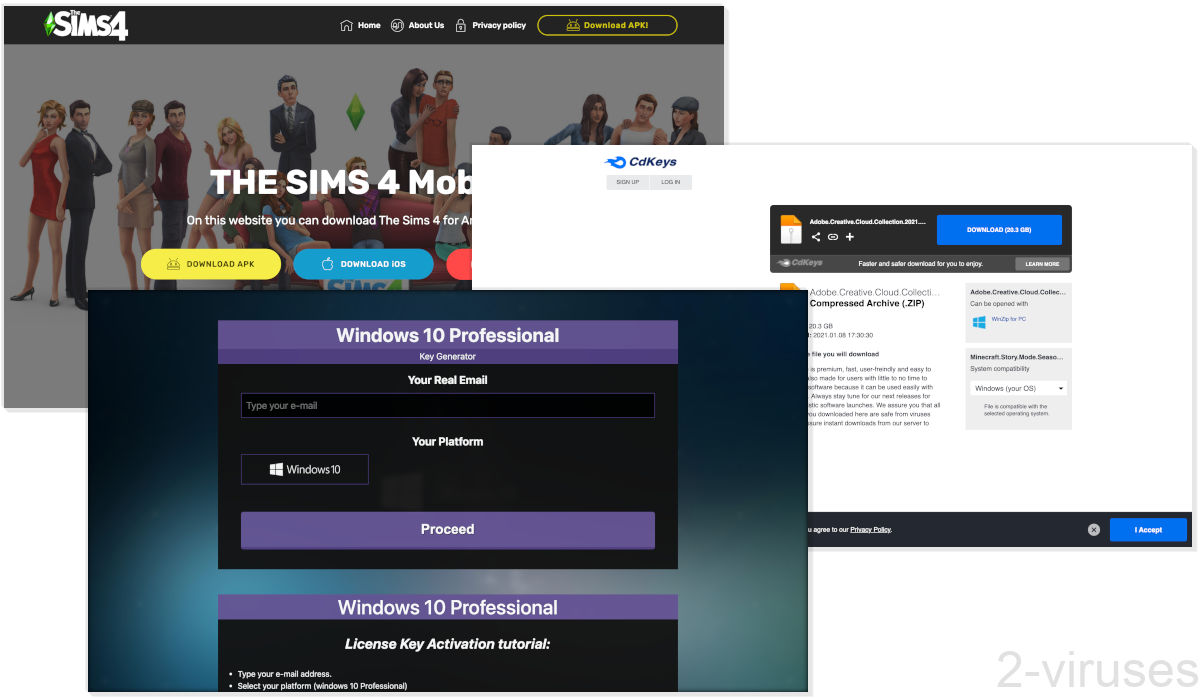 How to avoid fake download sites
Links to Cdkeys.website can be found in web search results on Google.com and other search engines. This is also true for other fake pirating sites, such as Gameblab.com and Hutmobile.com.
The best way to avoid finding scam sites in internet search results then is to never search for pirating sites by using internet search. There's nothing stopping fake sites from appearing high in Google results.
Be especially careful of sites that offer things that are too good to be true, such as free games which haven't been cracked yet and games that don't actually have PC ports. Sites that offer these are always, always fake.
Piracy is dangerous in general. We see trojans and file-encrypting ransomware spread with pirated programs. It's best to stick to legal ways of playing games and downloading software. That way, you just don't have to deal with malware.
Free open-source programs can serve as alternatives to expensive software, while free games and real giveaways on official game stores let you save on entertainment without having to resort to piracy.