"Complete an Offer", "Unlock this Page to Continue!", and similar phrases are used by malicious sites and screen lockers. The "Complete an Offer" virus might lock your screen similarly to ransomware, though instead of asking for money to be paid, it demands that you complete an offer or a survey.
In addition, variants of "Complete an Offer Below" are used by various scam sites. These websites promise a valuable prize, a file, a program, etc. But they demand that you complete various surveys and other offers before you get access to the promised content. The trick is, there is no content. "Complete an Offer" is a scam.
Complete An Offer quicklinks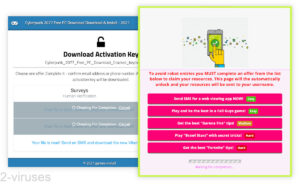 About the Complete an Offer scam:
Types of the threat
Screen lockers (ransomware),

advertising scams.

How to recognize the scam
You're told that you must complete one or more offers in a list,

the offers lead to surveys, ads, subscription services, and apps.

Harm posed by the scam
The Complete an Offer pages promote fleeceware apps and subscription services that charge excessive fees,

they lead to fake surveys that are designed to show as many ads as possible.

How to stop Complete an Offer scams
Do not complete the offers,

close the window of the scam,

remove malicious files from your computer manually and with antivirus tools like Spyhunter.
"Complete an Offer" scams
How to recognize screen lockers
Here is a message that might be displayed when the Complete an Offer window is blocking a computer screen:
Unlock this Page to Continue!

This page will immediately unlock and restore normal access upon your participation in an offer below. Please use valid information!

Your desktop was locked. Complete an offer below to unlock your desktop!

Complete an offer to continue.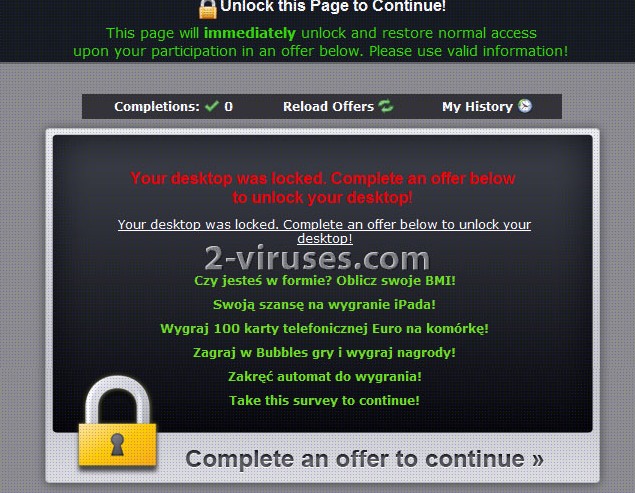 Screen lockers are a sort of ransomware scam. They are no longer popular, but you might still encounter one.
The Complete an Offer screen locker seems harmless, but it should be taken seriously. Even if this scam won't destroy your files, it could still expose you to malicious websites and programs.
How to recognize fake human verification screens
The other brand of the "Complete an Offer" scam is the fake human verification tests. These appear online, on fake pirating sites (like Games-install.com), crypto giveaway sites, various app and site hacking sites (such as the free TikTok followers scam).
These sites promise a lot. They insist that, to get the item that they promised (pirated games, free crypto, TikTok followers or likes), you must Complete an Offer – fill out a survey, install an app, play a game, etc.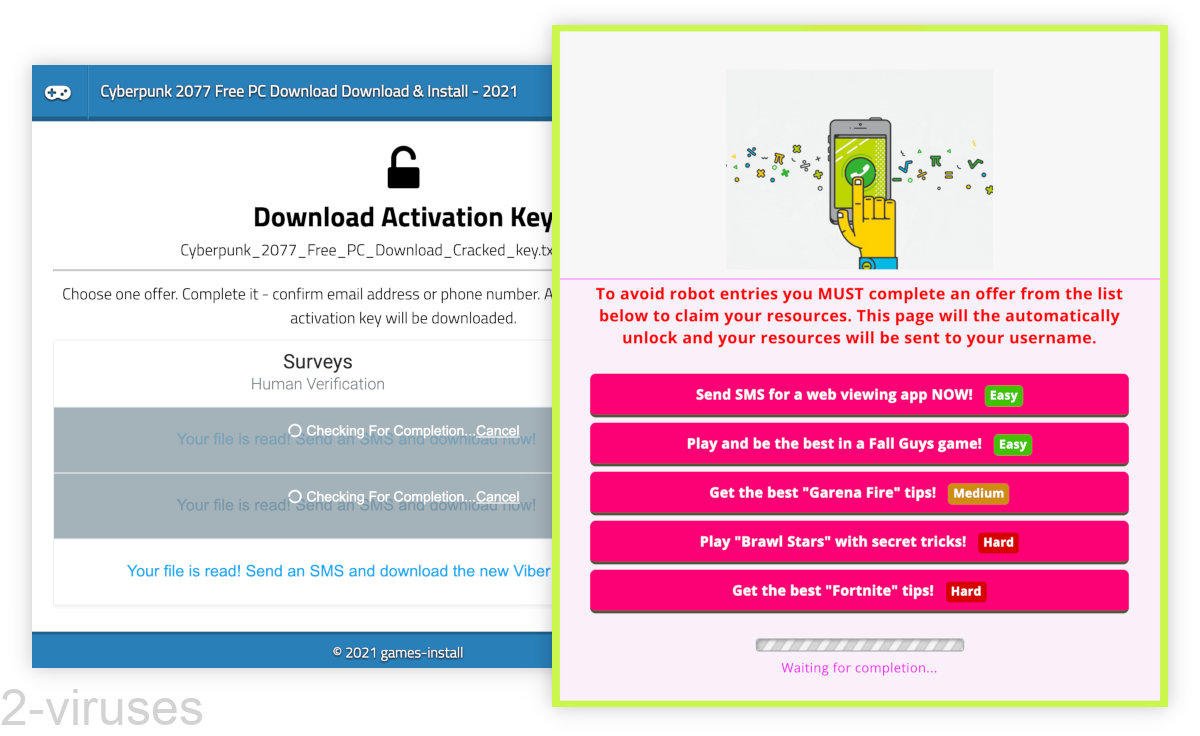 Here are some names of Complete an Offer screens:
Complete an offer below to continue.
Complete an offer to verify that you are a human.
Complete an offer below to bypass the captcha.
Complete an offer to get the activation code.
The "Complete an Offer" screens can be dangerous
The scammers who use the Complete an Offer screens get paid by the companies whose surveys and offers they promote. Here are some examples that might come together with this scam:
Shop & Save with this free Toolbar download!
Breakfast on Us with a Dunkin' Donuts Gift Card!
FREE pair of Studio Beats by Dr. Dre!
Take a back to school shopping spree!
Get FREE McDonald's!
Take this survey & get a Visa gift card!
Win a voucher for drinks at Starbucks!
Your file is ready! Send an SMS and download now!
Download the new Viber app!
Although the above brands are being promoted by malware, they are not affiliated with this infection. These vendors are also victims of the scam. In fact, most of the offers on Complete an Offer screens lead to different sites than what's implied.
As soon as you click on any of the offers, your browser opens a survey, a window asking to sign up with your payment details, or to download and install an app.
Thanks to these ads, you might reveal personal information that might be used for malicious purposes (such as spam) or you might be signed up for hugely expensive recurring payments.
Even if you complete the offers, your computer screen won't be unblocked. And the sites that use the Complete an Offer screen do not deliver what they promised.
How to stop the "Complete an Offer" screens
If you encounter a Complete an Offer screen, don't interact with it. It won't work. Do not fill in any personal information asked by a virus.
The Complete an Offer screens might be caused by malicious ads. Check out the section below for how to stop them.
However, the truly persistent screen lockers can also be caused by malicious files on your computer.
How to remove the "Complete an Offer" screen locker
You might be able to close the screen locker with Alt+F4. But it is needed to remove it completely. You can do this with an antivirus program, such as Spyhunter.
If closing the locker is not that simple, then there are several more advanced ways to manually eliminate the blocker:
Method I:
Reboot your computer into safe mode.
Choose to run MSConfig.
Disable all startup entries, paying the biggest attention to those referencing RunDLL.
Reboot once again but this time normally.
Scan your system with Spyhunter or another antivirus tool. It will detect screen lockers, other malicious files, and delete them.
Method II:
Press Windows+R.
Enter https://www.2-viruses.com/downloads/spyhunter-i.exe to the address bar.
Run the executable. Complete an Offer infections should be deactivated and you should be able to delete all its related files.
Method III:
Start your PC by choosing safe mode with the command prompt.
Run Regedit.
Search for "Winlogon". It should have a variable named Shell but it might also be any of the below:

Blank -> leave as it is
explorer.exe and nothing else -> leave as it is
explorer.exe and something after the coma ->change to explorer.exe
References a file in folder, having %TEMP%, %AppData% or user folder in path ->change to explorer.exe.

Reboot to safe mode. Continue with the Method I.
If none of the above helped to fix your computer and remove the blocking, it might be you are dealing with another version of the infection. Try using any of these methods or leave a comment below and our support team will answer as soon as possible.
How to avoid "Complete an Offer" screens online
The Complete an Offer screens online can be easily avoided by just closing their browser tab. You can do it by pressing the keyboard buttons Ctrl+W on Windows and Cmd+W on macOS. More on managing aggressive web pages here: How to fix locked browser issues?.
It can help to use an ad blocker while browsing the web.
Automatic Malware removal tools
Manual removal