At first glance, Hutmobile.com looks like a gaming site. It posts news and offers movie and game downloads.
However, Hutmobile.com does not actually download any games. Instead, it tricks people into completing surveys and subscribing to paid services. It can be genuinely harmful, so it's best to stay away from it.
Hutmobile Com Fake Downloads quicklinks

About Hutmobile.com:
Type of threat
Scam,

adware.

How Hutmobile.com tricks visitors
Links to the site appear in internet search results,

Hutmobile.com offers to download games and shows a fake setup process,

to complete the process, it asks users to click on ads.

Problems and dangers
Some of the ads ask to install apps that could be harmful,

some ask to subscribe to paid services,

others ask for private information.

How to avoid Hutmobile.com and similar scams
Use antivirus apps (Spyhunter for PC, Spyhunter for Mac, Combo Cleaner for Mac, etc.) to protect your device from malware,

block malicious sites and ads,

don't reveal private information to unknown sites,

avoid pirating.
How Hutmobile.com works
The Hutmobile.com website can be found in the search results of Google and other search engines. This one was the second result on the first page:

Note that Horizon Forbidden West isn't out yet and it won't even be on PC. Offering downloads for nonexistent games is the first sign that Hutmobile.com is trying to trick people.
Other fake downloads that Hutmobile.com offers are for Deathloop for PC, Solar Ash for Xbox 360, Elden Ring for Android, New World for iOS  – games that aren't out yet by the time of writing, and that won't be on the listed operating systems when they do release.
Alongside these listings, Hutmobile.com offers many games that are out already. The entries are all equally invalid, though. All they do is waste your time and show you ads.
When you try to download a game from Hutmobile.com, it shows a fake setup, including a very long download process to make it all seem legitimate.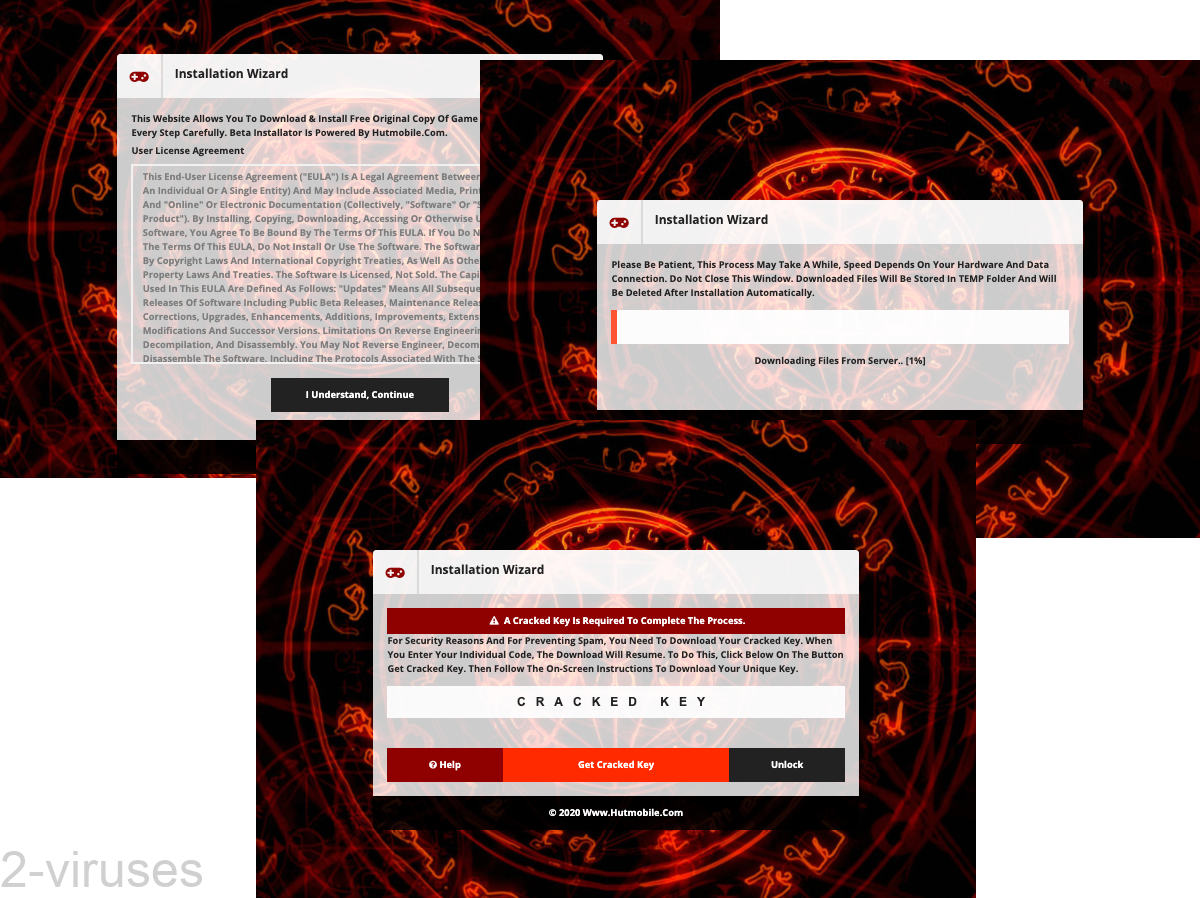 Luckily, nothing is actually downloaded. Instead, Hutmobile.com asks you to complete a few offers.
These offers include subscribing to Youtube channels, completing surveys, installing apps, and subscribing to paid services.
Some of these can be a little dangerous – especially the paid services. Many of the offers shown by Hutmobile.com's setup are for mobile subscription services – the type where you pay a weekly fee through your mobile service provider. They're easy to set up, as you don't need to type in your credit card info, so scammers use them very successfully.

A few times, Hutmobile.com even promoted another fake pirating site, Gamerroof.
How to protect yourself from fake pirating sites
Piracy is dangerous. Torrents and file download sites might host infected files, while streaming sites show malicious advertisements.
Not to mention, fake pirating sites like Hutmobile.com appear high in internet search results, so even finding a functional pirating website can be a challenge. Don't search for links to download games or movies with search engines (Google and others). If you insist on pirating games, then find a community online that you can rely on and ask questions. Always be patient and think twice before downloading anything from an unknown site.
Hutmobile.com preys on people who want to download games for free. The best way to stay safe from this sort of a scam site is to stick to legal ways of getting new video games. If you're patient, you can even get some games for free completely legally.
To protect your computer from malicious websites and files, use malicious site blockers, ad blockers, and antivirus programs like Spyhunter for PC, Spyhunter for Mac, Combo Cleaner for Mac, and others.
To avoid losing money to a scam, never reveal private information, such as your phone number or payment data, for something that was promised to be free.
Automatic Malware removal tools