Gameblab.com is a scam/advertising site. It pretends to download files and install a program. Then it asks you to complete chores – do surveys, signing up for subscriptions – to supposedly finish the installation.
If you find yourself on Gameblab.com, close the site. It will waste your time and it may even expose you to scams and malware. And it doesn't download the games that it promises to download.
Gameblab Com Fake Download Site quicklinks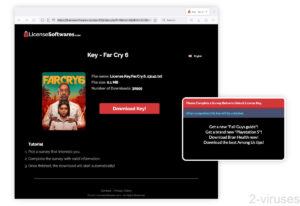 About Gameblab.com:
Type of threat
Adware,

scam.

How Gameblab.com spreads
Gameblab.com is promoted by fake game pirate sites,

it can be found in Google search results.

What makes it dangerous
Although Gameblab.com doesn't download any files, it advertises scam sites,such as subscription scams.
How to protect yourself from Gameblab.com
Use antivirus apps (Spyhunter for PC, Spyhunter for Mac, Combo Cleaner for Mac, etc.) to protect your computer,

don't interact with the ads that Gameblab.com shows.
What is Gameblab.com?
Gameblab.com shows ads – and that's all it does
Video games are fun, but they can also be expensive. So, some people look for ways to download them for free – to pirate them. Piracy is risky, some malicious actors distribute malware with pirated programs: from harmless adware to file-locking Djvu ransomware. Despite that, lots of people continue to download games "for free".
Gameblab.com is a scam site related to so-called piracy spam sites. This post on ebook piracy spam explains the idea in detail.
Basically, Gameblab.com promises free PC games, but tells people that they must click on ads before they get to download their games. In the end, it never downloads anything. It just profits from the ads while wasting people's time.
Find Gameblab.com in Google search results
I first encountered Gameblab.com while looking at a fake site called X-game.download. This site promised that I could download Far Cry 6 – a game that's very anticipated but has not been released yet at the time of writing.
I used Far Cry 6 as an example, but Gameblab.com shows fake installers for all sorts of games: Farm Simulator, Skyrim, Bleak Faith (another game that isn't out yet), and many others.
Anyway, Gameblab.com popped up and started "installing" Far Cry 6 on my Mac.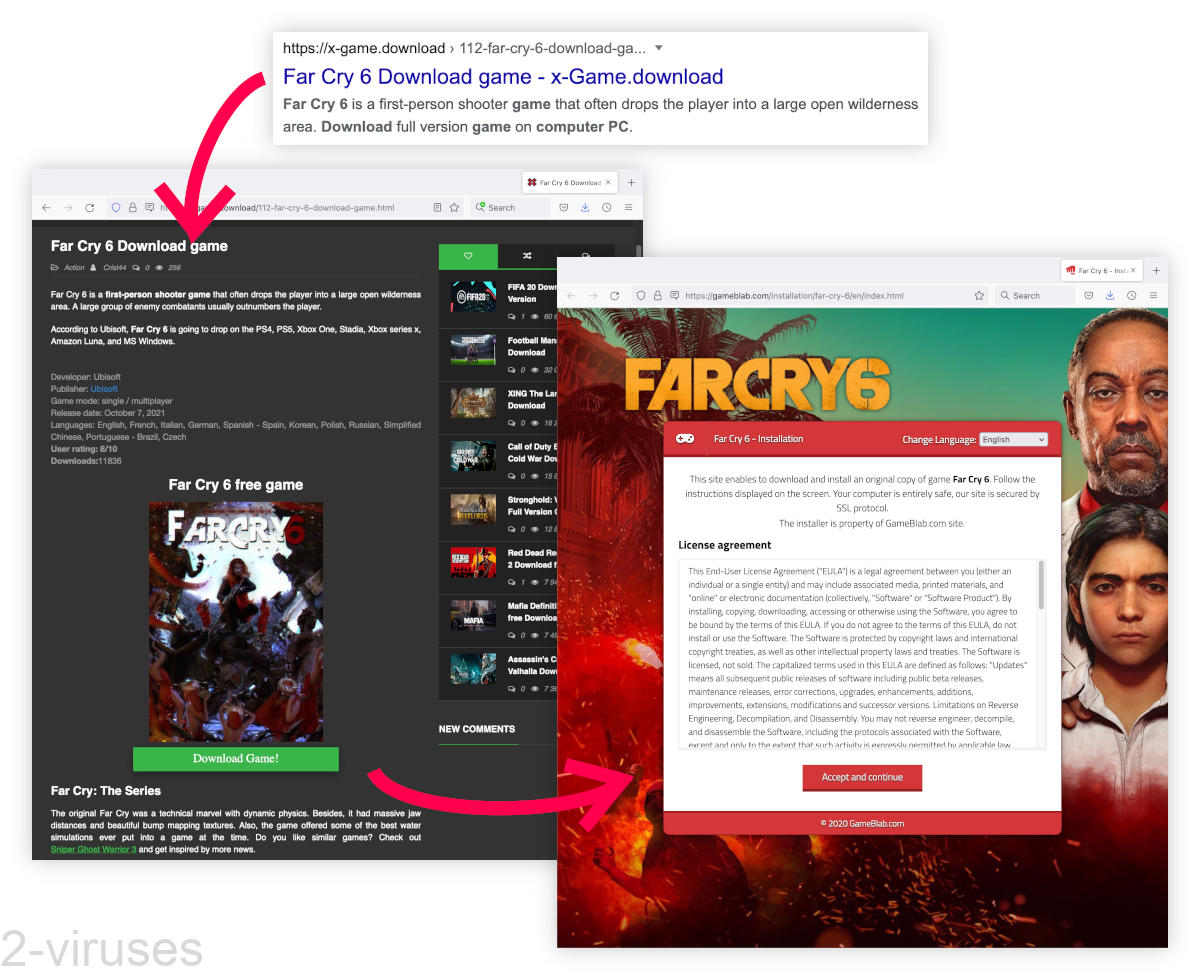 And that's how it happens. If you search for games that aren't available on PC, that haven't been cracked yet, or that haven't even been released, you'll find lots of results – but those results will be scam sites that download viruses, or adware sites such as Gameblab.com, Hutmobile.com, Yopcgames.com, etc.
Web analytics sites estimate that Gameblab.com gets around 200,000 visitors each month. That's a depressingly large number of users who fall for these scams.
Gameblab.com pretends to download game files
Once I was on Gameblab.com, it showed a window that looked vaguely like a Windows installer. It was really just an element inside the website, but it earnestly put on a show – it even took forever to "download" the game files. I guess that's supposed to make Gameblab.com's "Installation" look believable.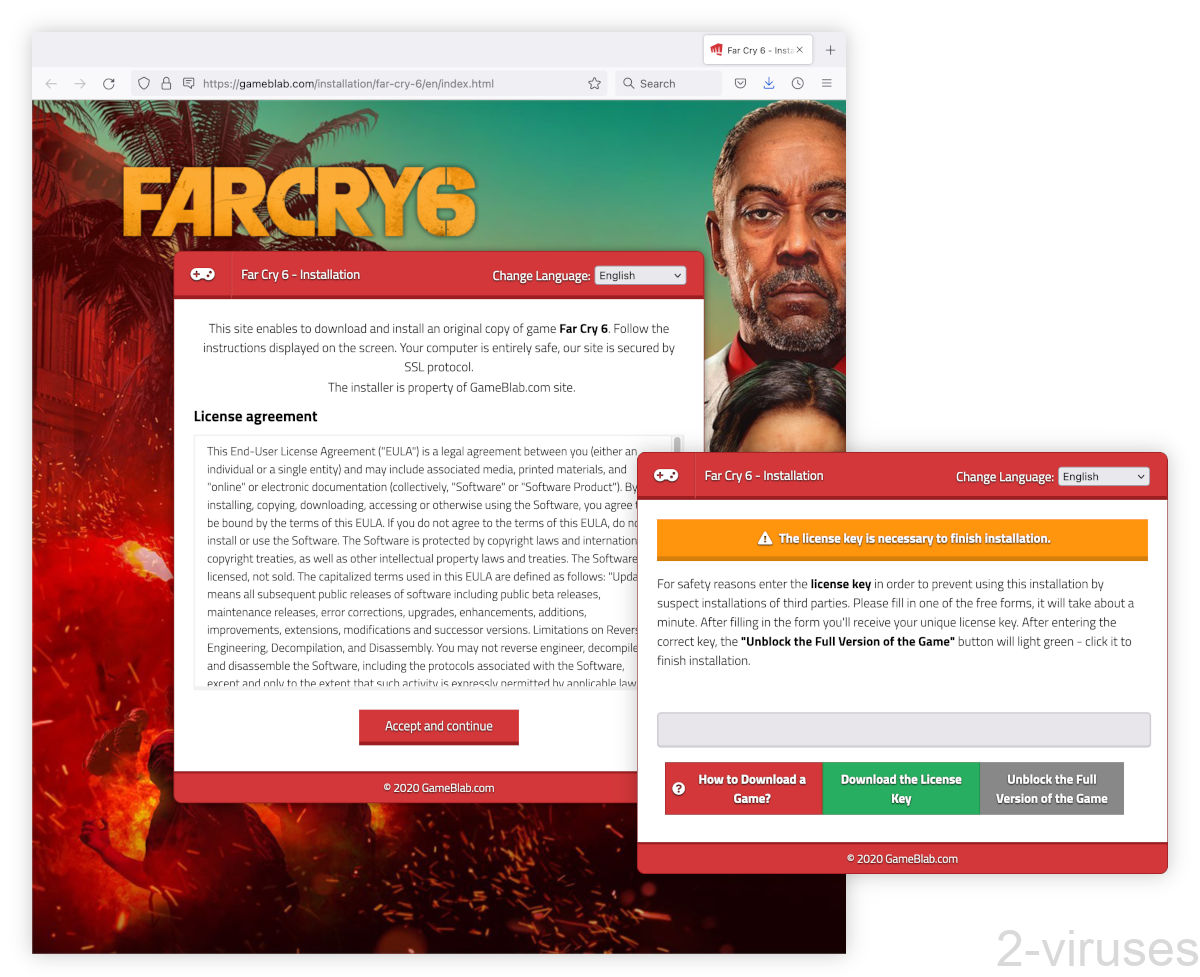 Once Gameblab.com was done pretending to install the game, it warned me that a "License Key" was needed to finish the process. To download the key, it opened Licensesoftwares.com, which listed a bunch of chores that needed to be completed if I wanted to "Download Key!" for my free game.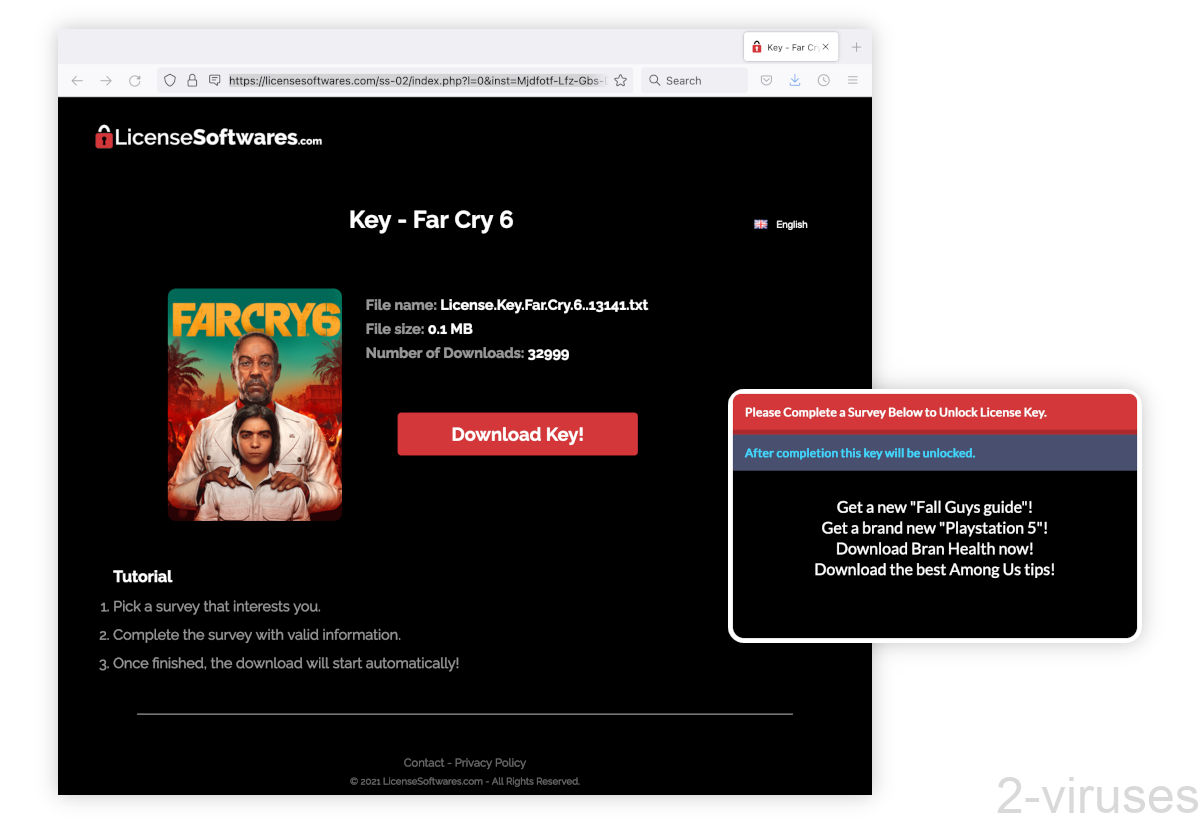 Of course, there is no key and there is no game because Gameblab.com didn't download anything and this specific game isn't hasn't even been released yet (at the time of writing).
It advertises dangerous scams
The items in the "complete a survey" list all lead to various websites:
survey sites,
subscription signups,
app download pages,
notification spam sites.
Gameblab.com and Licensesoftwares.com make money from these ads. And the sites they promote can be genuinely dangerous.
Those signups for tips and tricks – they subscribe you to paid services. Promoted apps also make money from subscriptions.
At least the survey sites don't try to get into your wallet right away, but the ads that they show can definitely lead you to dangerous places: get-rich-quick schemes, counterfeit products, and various unethical businesses.
How to protect yourself from Gameblab.com
The best thing to do is to not pirate any games. Piracy is dangerous: there are infected files and programs and pirate websites show horribly unsafe ads. Gameblab.com is a very mild threat when compared to all the dangers that spread with pirated software.
If you wish to download and play games safely, without having to deal with malware and scams, you can use game distribution platforms such as Steam and the Uplay.
It is important to protect your computer with an antivirus program (such as Spyhunter for Windows, Spyhunter for Mac, Combo Cleaner for Mac, and others). And to never disable your antivirus, especially not to install a pirated program.
But antivirus apps can't always protect you against scam sites like Gameblab.com. Malicious actors don't have to use sophisticated code and exploits to hurt people. That's why it's important to never reveal your credit card info or your phone number to untrustworthy sites. Gameblab.com advertises a bunch of apps and services that could cost you real money if you were to give them your private data.
Automatic Malware removal tools