While you're browsing the web, you might run into pop-ups that ask you to provide your phone number to watch a video or download a file. Ouisys.com is one of the sites that show such pages.
Ouisys.com's pop-ups are ads that, if you follow their instructions, sign you up for paid subscriptions. You might not even notice the weekly payments until your mobile services bill arrives.
Ouisys Com Ads quicklinks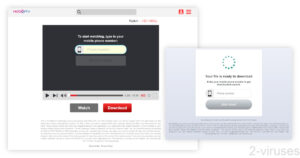 About ads by Ouisys.com:
Type of threat
Phishing,

subscription scam.

How Ouisys.com spreads
It's advertised online, especially by video streaming and file download sites,

it appears in a new browser tab and tries to blend in with the site that advertised it.

Problems and issues
Ouisys.com can lead people to unintentionally sign up for paid subscriptions,

the payments are usually more than 12 € a month.

How to avoid ads by Ouisys.com
Use content blockers to block ads,

use anti-malware apps (Malwarebytes) to avoid adware and malicious sites,

avoid sites that show pop-up ads,

don't reveal your private information to unknown sites.
Ouisys.com shows video players, download buttons
Ouisys.com is a website that shows up in pop-ups on file download sites such as Megaup.net, as well as on pirating sites like Pcgaming88.com, Mrpiracy.top, Igg-games.com, and others. Complete an offer sites – various online hacks and generators – also show ads for Ouisys.com. It's even possible to see ads for Ouisys.com on more legitimate sites like Youtube.com.
It's estimated that Ouisys.com gets almost a million monthly visits, mostly from Europe.
Often, Ouisys.com is advertised by pop-ups that don't need you to click on any ads; these pop-ups get triggered by you clicking anywhere on the page, or by clicking on elements that are not ads. For example, Ouisys.com might pop up when you click on a video or a download link.
Once Ouisys.com shows up, it might display a video player or a download link of its own. It tries to blend in with whatever site it's advertising on. This makes it look as if Ouisys.com isn't an ad, but a real part of the site that you were just on, even though it's not related.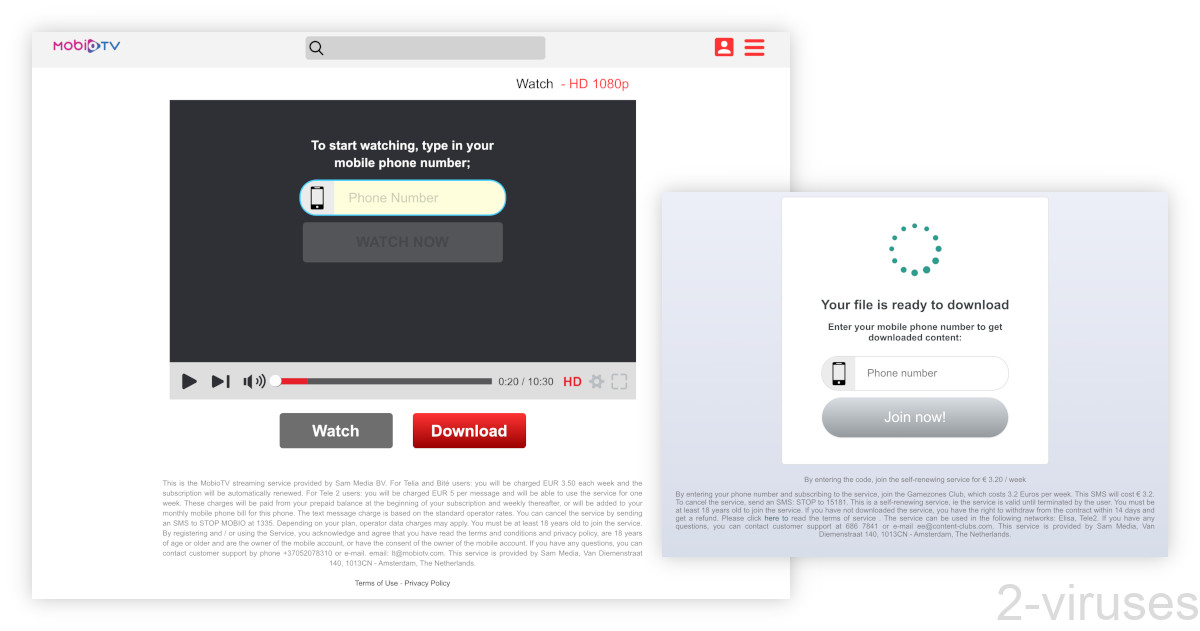 Ouisys.com wants to sign you up for a subscription
Ouisys.com shows pages that look like video players and file download links. It then asks you to provide your phone number. Supposedly, it's needed before you can access the video/file that Ouisys.com pretends that it has. You then get a message with code that you need to type into another site.
If you follow the site's instructions all the way through, you're signed up for a paid subscription. No credit card is needed – the payments are included in your bill from your mobile service provider. If you don't review your bills, you could even miss the payments.
The services that Ouisys.com tricks people into subscribing to cost a few Euros a week. Our examples show costs from 3.2 to 3.5 Euros a week. This can add up to a substantial sum, especially if you fall for more than one similar scam, and especially if you don't notice the added sums in your bills.
One of the subscription services that Ouisys.com promotes is MobioTV. Its Trustpilot.com reviews illustrate how people are manipulated into signing up for the service and lose money to it.
If you signed up for these payments by accident, contact your mobile service provider and ask for help. They can tell you what subscriptions you have active and help you cancel them.
How to avoid ads by Ouisys.com
Since Ouisys.com is promoted with pop-up ads, you can install an ad blocker to stop it from showing up.
It also helps to use anti-malware apps, such as Malwarebytes which can be used together with antivirus software, to block malicious websites.
It would help your online security immensely if you would avoid pirating sites and certain file download sites. Use legal means to get your entertainment whenever possible.
Most importantly, don't reveal your phone number or any other personal information to unknown websites, especially if you aren't sure why they need it. Read the fine print – Ouisys.com describes on each of its pages how it uses your phone number to charge you weekly payments.
Automatic Malware removal tools