There are sites online that promise you a way to get free money, such as Block Hack Chain. This site – Blockhackchain.com – is considered to be a scam. It's a phishing scam, a type of malicious website that attempts to steal user data. Specifically, it offers free Bitcoins by promising to help you hijack unconfirmed transactions. It's recommended to stay away from Block Hack Chain and other Bitcoin scams and to be very protective over their personal information.
Block Hack Chain Scams quicklinks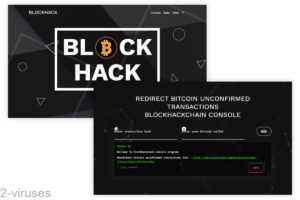 About the Block Hack Chain scam:
Classification
Phishing scam.
How Block Hack Chain spreads
It's advertised and shared on social media sites,

it's promoted on unrelated websites.

Problems and issues
It's flagged by antivirus programs as a phishing site (Virustotal.com),

it's very obscure and untrustworthy,

it can result in your personal data being leaked to untrustworthy actors.

How to avoid the Block Hack scam
Block malicious sites and ads,

remove all malware and adware with antivirus tools (Spyhunter for PC, Combo Cleaner for Mac).
About the Block Hack Chain scam
The Block Hack Chain scam is similar to Bitcoin giveaway scams that seem to get revived from time to time. But unlike those other giveaways, the Block Hack Chain scam is a bit more restrained, presented a bit more seriously. A bit more technical.
REDIRECT BITCOIN UNCONFIRMED TRANSACTIONS

BLOCKHACKCHAIN CONSOLE
Though the Block Hack scam can be found on Blockhackchain.com, it appears to have been spammed to many unrelated websites. Sometimes, malicious actors inject content into random sites (like the Unesco site) which then start displaying this content to visitors. This process is often automated, resulting in poorly formatted content.
Like the other giveaway scams, the Block Hack Chain scam has guide videos on Youtube.com and multiple guides on random websites. Versions of it could be found online under names other than "Block Hack Chain":
Bitcoin Hack 2020
Bitcoin exploit hack
Western Union Hack 2020
How To Hack Eth Private Key
Gcash Hack Money
If you search for such hacks, you will find them. Just remember that nothing is free. And more specifically, Bitcoin transactions require work to confirm. They can't be hacked easily. (Hacking bitcoin and blockchain). Sure, wallets can be hacked or even stolen, and spyware trojans can monitor your clipboard to trick you into sending your money to the wrong recipient. But this isn't what the Block Hack scam is promising – a Bitcoin transaction hack, a way to just get some free money from thin air.
This is why Blockhackchain.com is considered to be a phishing scam  – a scheme that seeks to trick people to reveal their personal information to an untrustworthy company. We've seen similar abuses in fake giveaways such as Annual Visitor Survey, though Block Hack Chain might be more similar to scams like the various fake in-game currency giveaways that lead to clickbait sites and fleeceware.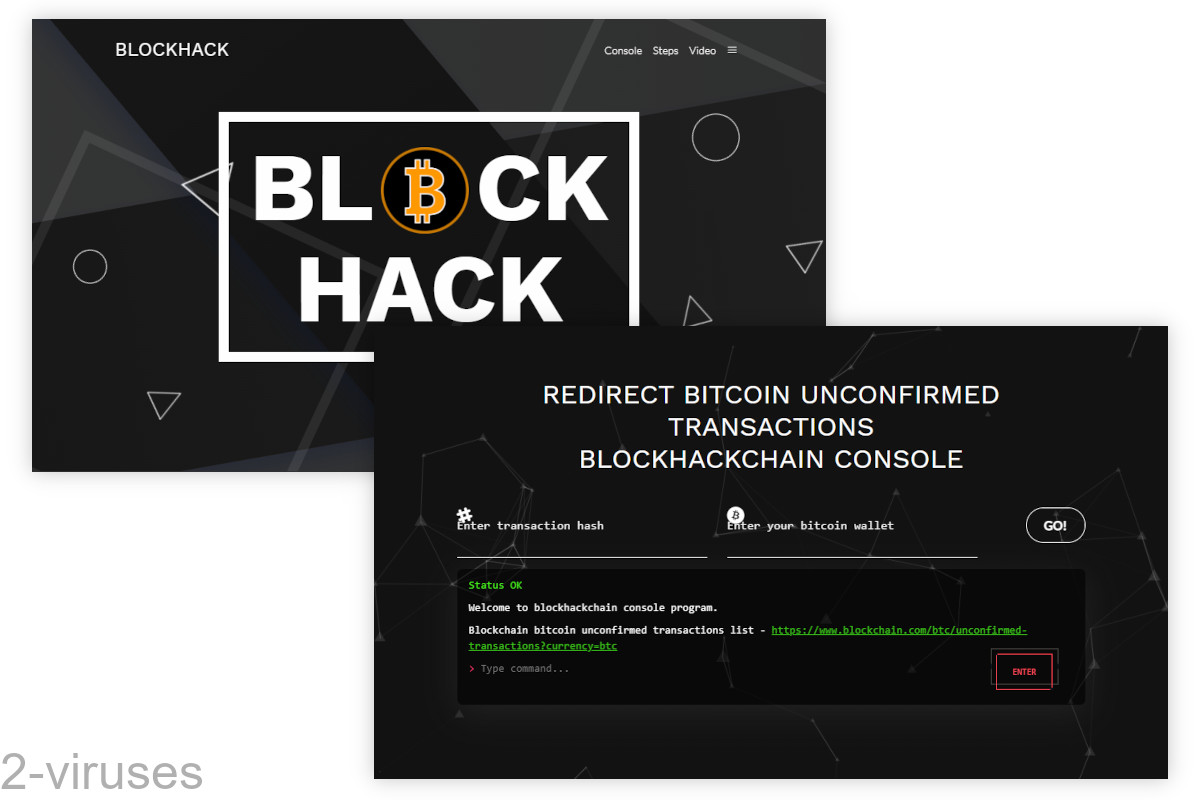 How to avoid Block Hack scams
Block malicious sites. Currently, a few anti-malware scanners detect Blockhackchain.com as malicious. Luckily, many of the sites that used to spread this scam are being blocked by browsers.
Block ads on suspicious sites. Malicious ads, including ads that lead to scams, appear on controversial websites. If you block their ads, your security will improve.
If you see malicious ads and redirects often, it's very important to protect your computer with an anti-malware program, such as Spyhunter for Windows, Combo Cleaner for macOS, and others. Check it for adware viruses and remove them if needed.
Don't search for free money hacks. They don't exist – they're all scams. And many of them show up in the search results of web search engines, and some of them are hosted on reputable websites (thanks to malicious injections), but they can't be trusted. They're usually either phishing scams or scams that trick you into simply giving your own money to scammers.
Automatic Malware removal tools