The Bitcoin giveaway scam steals money by asking people to send BTC to a specified wallet and promising to return two or ten times more. You might find the Bitcoin giveaway scam in video streams, websites, social media posts, forum posts, and personal messages. The sites promoting the scam work on desktop and mobile devices. The Bitcoin giveaway scam is dangerous because it costs victims real money – and there is likely no way of getting that money back.
Bitcoin Giveaway Scams quicklinks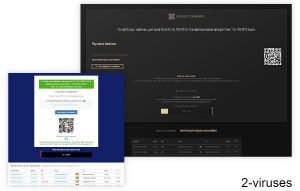 About the Bitcoin giveaway scam:
Type of threat
Scam.
How Bitcoin giveaway scam works
It asks you to send up from 0.1BTC to an address and falsely promises then ten times the amount will be sent back.
How the scam spreads
Streams on Youtube and other sites,

posts in social media by popular accounts.

How to avoid the Bitcoin giveaway scam
Avoid malware and malicious ads and websites (Combo Cleaner for Mac, Spyhunter for PC, Malwarebytes, others),

learn about online scams so that you can recognize them more easily in the future.
What is a Bitcoin giveaway scam?
Bitcoin being used to scam people is nothing new, but this is a slightly different type of malicious activity. The Bitcoin giveaway scam can cost you money.
In the last few months, malicious actors have been creating (or hijacking and converting) social media accounts to impersonate famous people and companies and stage fake Bitcoin and Etherium contests. In these contests, people are encouraged to send money up from 0.1BTC (which is currently worth an incredible amount – around $1,000) with the promise that they'll get double or tenfold the amount sent back to them. Supposedly, these giveaways are for promoting events or encouraging the adoption of cryptocurrency.
These streams happen on Youtube and other social media sites. The Twitter Bitcoin hack could be considered an example of a Bitcoin giveaway scam. There are more recent hacking events, too, where verified Twitter accounts were used to promote such giveaways.
The Bitcoin giveaways are fake, of course. They ask you to send an amount of BTC, promising to give back twofold or even tenfold. But they keep the money and give nothing back. For example, here are people's reports on one address that participated in a Bitcoin giveaway scam: Bitcoinabuse.com.
So, Bitcoin giveaway scams make money by tricking people into sending cryptocurrency to the scammers' wallet. But how do they make it believable?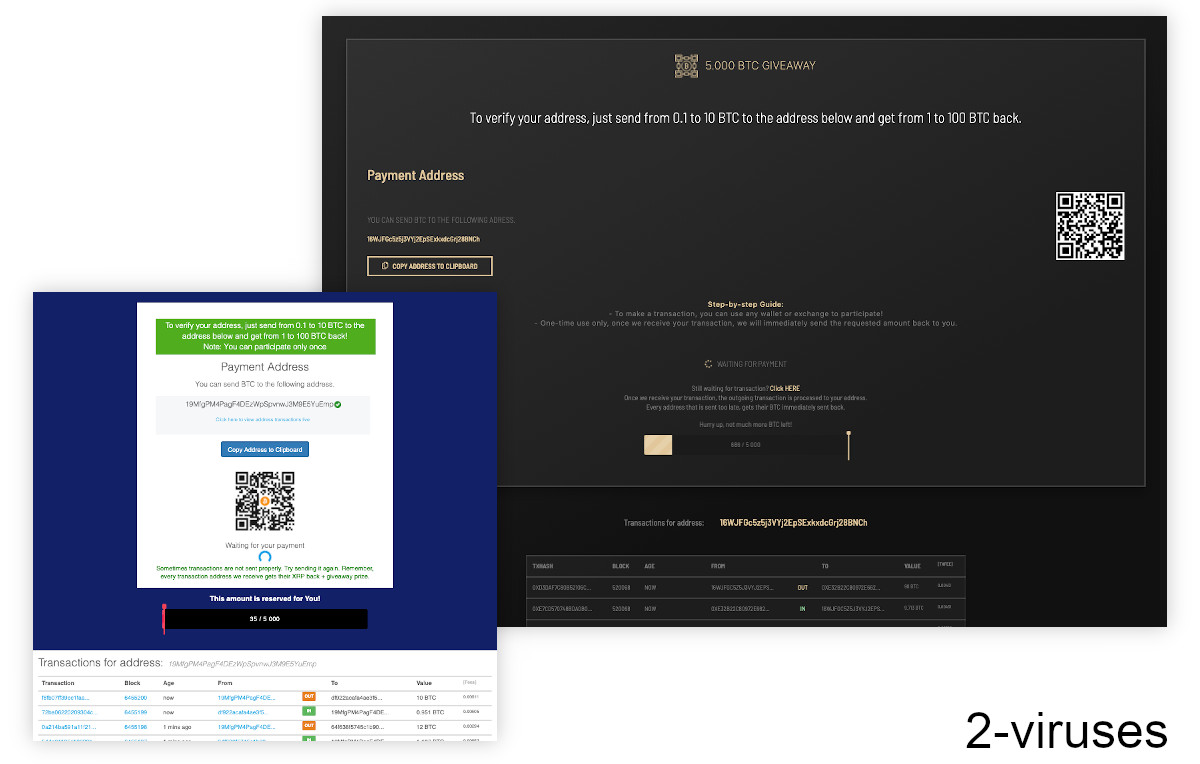 How Bitcoin giveaway scam sites work
A big, reputable, legitimate-looking social media account hosts the scam.
A timer and a limited reward fund cause anxiety.
A fake address tracker makes it look like people are participating and receiving rewards.
Marketing is needed for the Bitcoin giveaway scam. Malicious actors can hack or buy a prominent social media account, such as a Youtube channel or a Twitter that has a few thousand subscribers/followers. Then they change the name and appearance of the account to impersonate a famous person or company, like Tim Cook or Elon Musk. The Bitcoin giveaway scam will use the name of any company or person without those people's consent.
Youtube streams are used to promote the Bitcoin giveaway scam, often by scammers using the face of a famous rich person.
Apparently, to get their Bitcoin rewards, people are supposed to "verify" their address by sending an amount of money starting from 0.1BTC. Verifying your address by sending money? Where have I seen that before? Oh yes, other giveaway scams do this, too.
To stop people from breathing calmly and thinking things through, the Bitcoin giveaway scam presents them with a timer or a fund limit (usually, 5000BTC). And to make the Bitcoin giveaway scam look more believable, a fake tracker shows incoming and outgoing transactions, addresses sending in a small amount and being sent back tenfold, the 5000BTC melting in just a few minutes.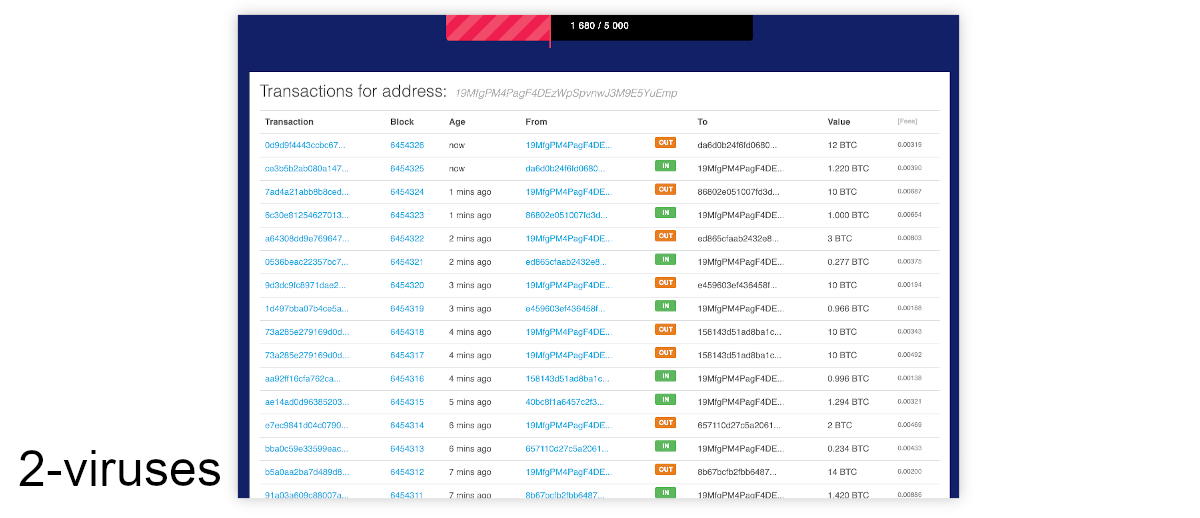 Transactions by Bitcoin addresses can be tracked publically, but the real trackers don't show any payments being sent out.
I organized some screenshots from a Bitcoin giveaway scam site. I was curious to see if the BTC would actually run out as time passed. Here are the results: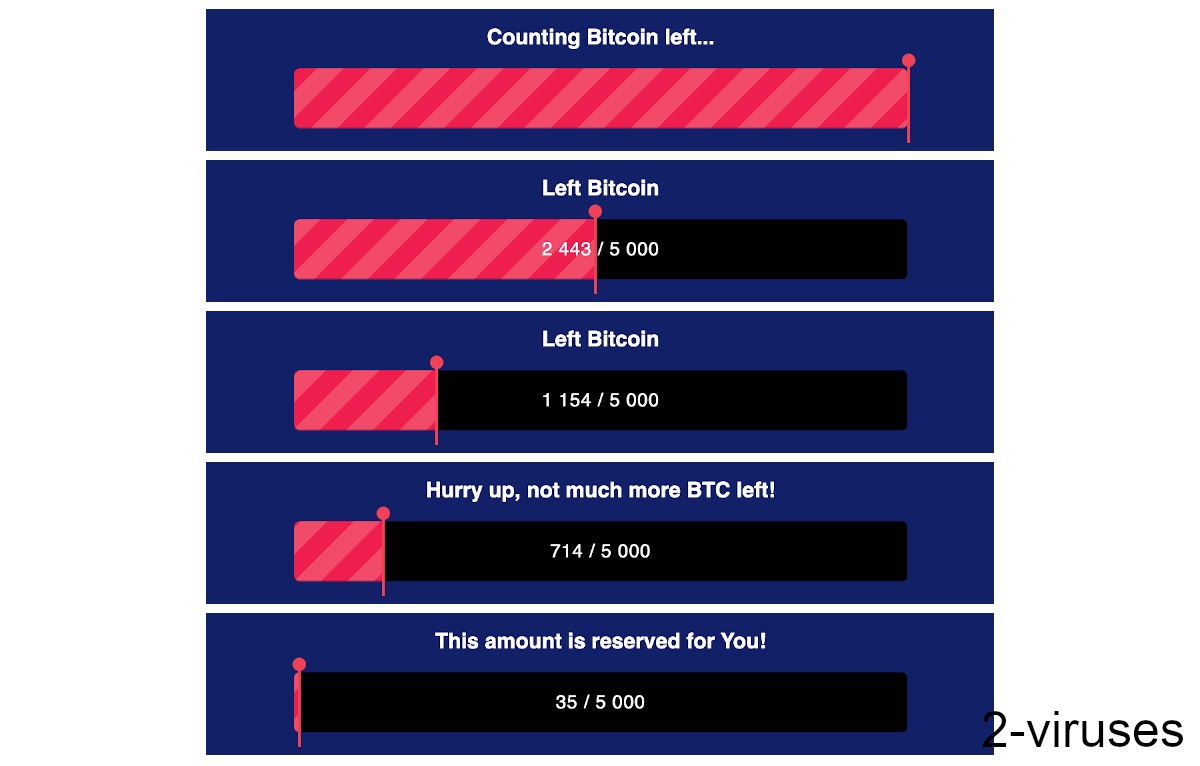 Like with most other scams that use a timer to encourage people to act more quickly, the Bitcoin giveaway scam doesn't actually punish those who delay too long.
Make no mistake – if you do send the money to the wallet provided by the Bitcoin giveaway scam, you will lose that money.
How to avoid Bitcoin giveaway scams
Block malicious websites
Sites that spread the Bitcoin giveaway scam include websites like Apple-event.org, Btc.wz.sk, and Adaevent.net, some of which are detected by anti-malware scanners as Malware and Phishing – Virustotal.com. You can use anti-malware programs to scan the websites you visit and block those that are malicious.
You can also use anti-malware programs (Combo Cleaner for macOS, Spyhunter for Windows, Malwarebytes, or whatever program you trust) to check your device for malware, adware, and spyware. And you should review what extensions are installed on your web browsers, as well as what sites are able to send notifications to your browser.
Deal with the Bitcoin giveaway scam
Don't believe things that are too good to be true. Even if a trusted character makes you promises, be suspicious. Check each address before sending BTC to it. See if the wallet is associated with any scams. Do not contact the scammers and reveal any information about yourself to them.
Fake giveaways like those done by the Bitcoin giveaway scam are well-known and you can consult reputable cryptocurrency websites to learn more.
But what if you did lose money to the Bitcoin giveaway scam?
Usually, there is no way to get back stolen cryptocurrency unless law enforcement gets involved. There are sites like Coinfirm that seek to help victims get their money back, but they take fees and aren't guaranteed to work. You can also contact the support of the platform that you used and firmly ask for a refund. Finally, you could publicize your story, warn others, and maybe even get the attention of someone who might be willing to help.
Automatic Malware removal tools