Advanced System Repair Pro, or Advanced SystemRepair Pro, is a program that isn't any sort of malware, but can be considered potentially unwanted.
Advanced System Repair Pro quicklinks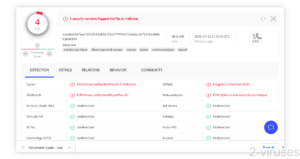 Advanced System Repair Pro is most popular in the United States and is a relatively new program. But it seems like not all users want to keep using the program — some installed Advanced System Repair Pro without meaning to, but then couldn't uninstall it. This is typical of fake optimizers and other problematic software. This behavior is partly why some anti-malware programs choose to warn their users about Advanced System Repair Pro being a potentially unwanted program.
Other PUPs include Advance PC Solutions, Advanced Driver Booster, One System Care, and many others. These programs aren't dangerous but some of their behavior might be unethical.
That said, this application is also well-liked by a lot of people and used regularly.
Advanced System Repair Pro features and removal:
Classification
Potentially unwanted program (PUP).
Distribution
Intentional installation,

fake security warnings,

bundling.

Problems
Pop-ups on your desktop to activate Advanced System Repair Pro,

sometimes installed without permission.

Removal
Check for malware automatically (Malwarebytes, Spyhunter, etc.),

stop unwanted processes,

uninstall Advanced System Repair Pro manually.
Is Advanced System Repair Pro safe?
Advanced System Repair Pro is safe to use, and some people have had a great experience with this program. It offers to remove malware, delete unnecessary files, help you optimize your startup programs, warn you about a defragmented disk, security holes, and other issues.
In those features, it's exactly the same as many fake optimizers, except that Advanced System Repair Pro doesn't try to scare you or severely misrepresent the issues.
However, it is still just a program that does all the same things that Windows does on its own, for free (except for registry cleaning, which Microsoft does not support because it's risky and won't improve the performance of your PC).
A few people have also complained that the program doesn't properly fix the issues it says it fixes, such as the drivers, or that the payment information (it's a subscription, not a one-time payment) is not presented clearly enough.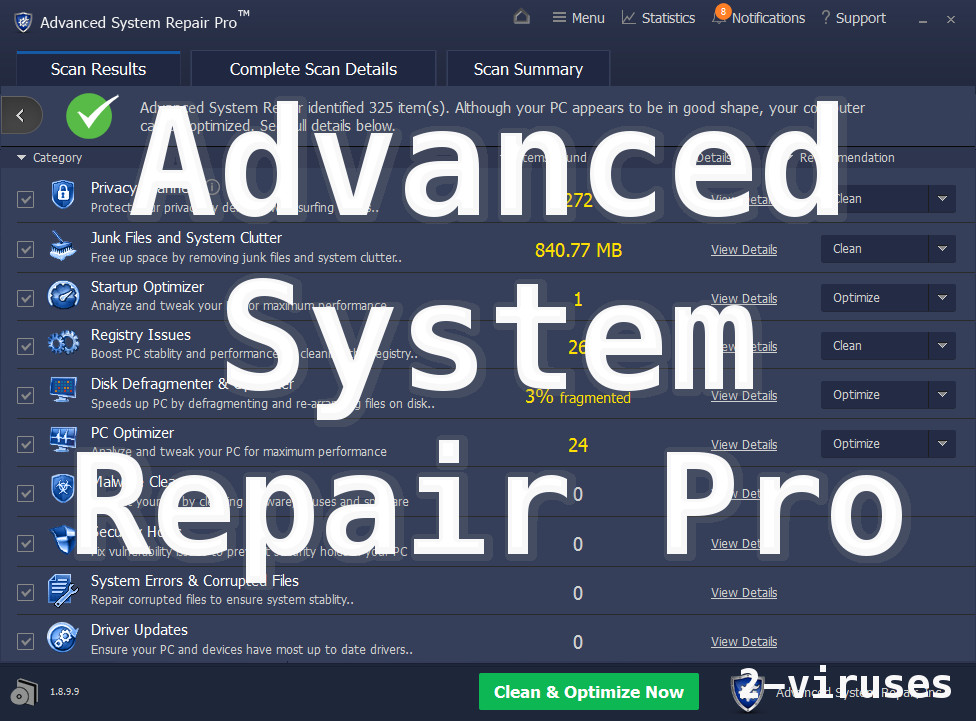 And some wanted to remove Advanced System Repair Pro simply because they didn't want to install it in the first place. This can happen thanks to adware pop-ups or bundling. Malicious ads that falsely claim that your computer is infected with viruses are used all the time to spread fake optimizers and rogue security software. And bundling is when a program gets downloaded and installed alongside another program without disclosing this properly.
While some like Advanced System Repair Pro and find it useful, others are annoyed by it running in the background, showing pop-up reminders to get the license, and being installed without permission.
For example, ads for Advanced System Repair impersonate the Microsoft support site by using its old layout and color scheme. They also show a Norton security seal that does not work. These things can make people think that Advanced System Repair is recommended by Microsoft and endorsed by reputable antivirus companies – both of which are false.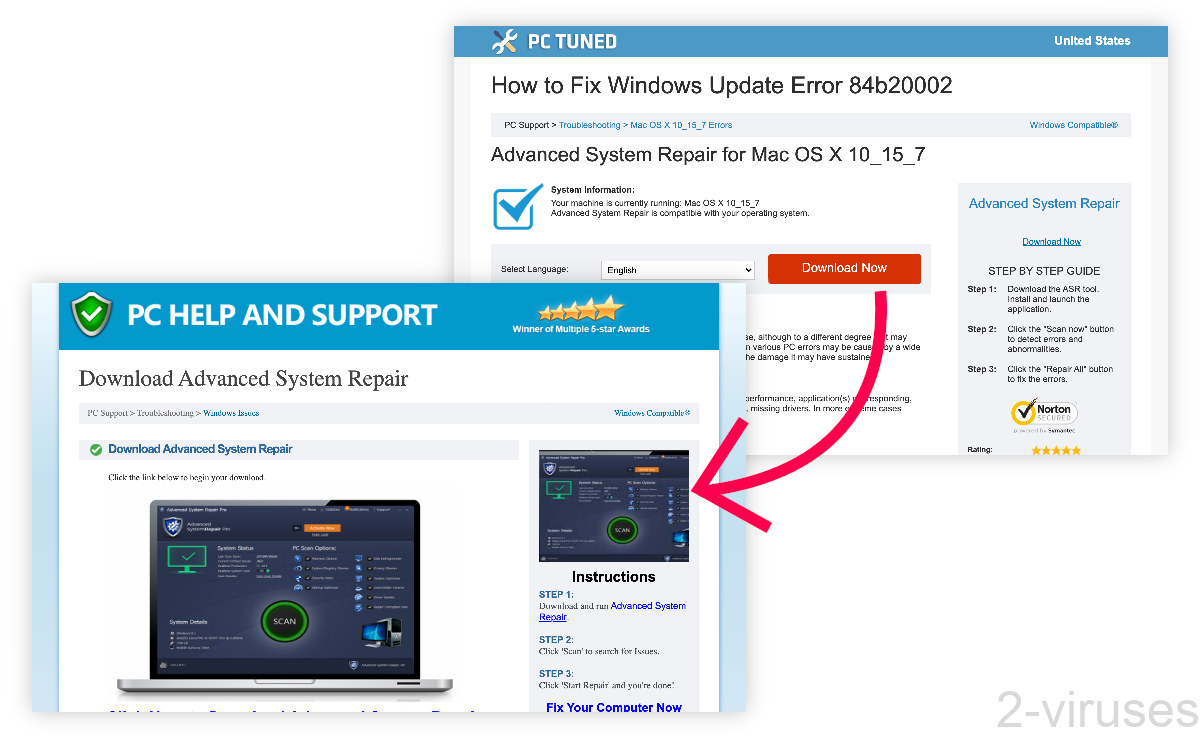 After downloading the Advanced System Repair installer, you can scan it with an antivirus program – Virustotal.com: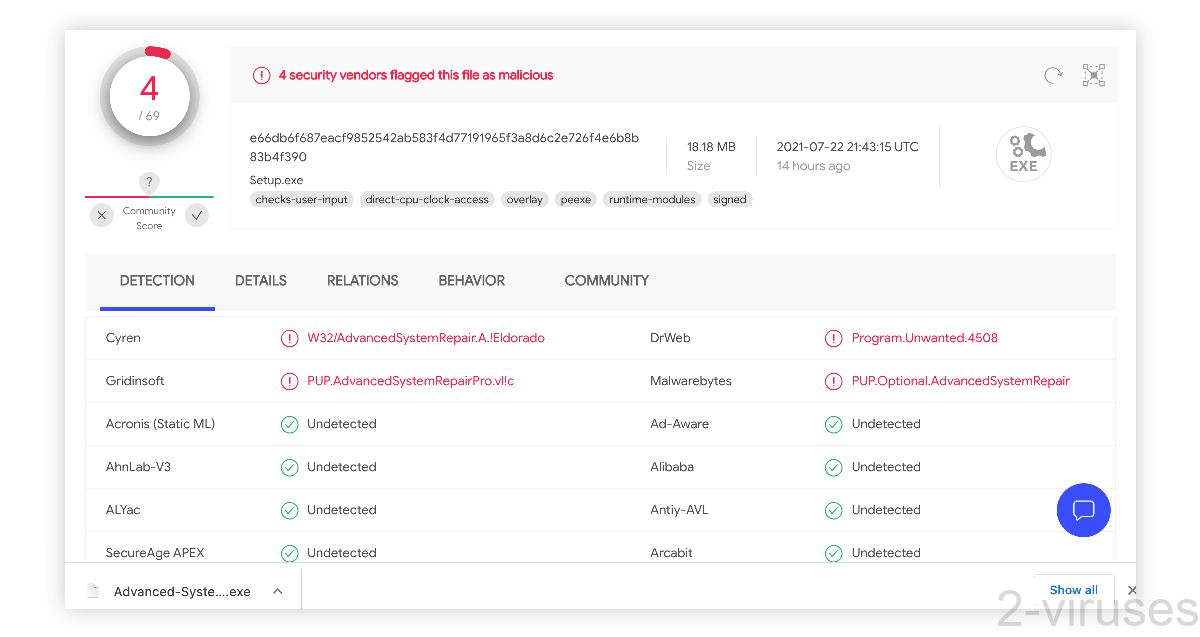 How to remove Advanced System Repair Pro
To be clear, if you have no problems with the program and want to keep using it, that's totally fine and you shouldn't feel pressured to remove it. Advanced System Repair Pro is noticeably better than a lot of fake optimizers out there.
However, if you're one of the people who installed it without wanting to and now have a hard time removing it, there are a few things you can do.
It's possible that a process on your computer is preventing Advanced System Repair Pro from being properly uninstalled. Malicious processes can be stopped from running by rebooting your computer in Safe Mode or by killing the process (either manually or with an automatic tool). It's also worth scanning your computer for malware (use any competent anti-malware program, like Malwarebytes). Also, if the Advanced System Repair Pro installation is recent, you can try using System Restore, which is capable of reversing some changes made to your computer, provided that you've previously created a restore point.
Automatic Malware removal tools
How to remove Advanced System Repair Pro using Windows Control Panel
Many hijackers and adware like
Advanced System Repair Pro
install some of their components as regular Windows programs as well as additional software. This part of malware can be uninstalled from the Control Panel. To access it, do the following.
Start→Control Panel (older Windows) or press Windows Key→Search and enter Control Panel and then press Enter (Windows 8, Windows 10).
Choose Uninstall Program (if you don't see it, click in the upper right next to "View by" and select Category).
Go through the list of programs and select entries related to Advanced System Repair Pro . You can click on "Name" or "Installed On" to reorder your programs and make Advanced System Repair Pro easier to find.
Click the Uninstall button. If you're asked if you really want to remove the program, click Yes.
In many cases anti-malware programs are better at detecting related parasites, thus I recommend installing Spyhunter to identify other programs that might be a part of this infection.